Forman School - Review #1
About the Author:

College Enrolled
purdue university
Home Town, State (Country)
weston , CT
Years Attended Boarding School
4
Activities During Boarding School
I was the president of the fast club my junior and senior year which was planning the weekend activities and i was also in national honor society my junior and senior year and was liaison my senior , i was also head prefect for the girls my senior year and just a prefect my junior year, I was captain of basketball and tennis both my junior and senior year and soccer my senior year.
Review

Description

purdue university

The school felt like home. I know everyone and I know it sounds cliche but it was it was my home away from home. I had dorm parents who I respected like parent. They took. . .

Clarkson University

There are two specific things that make Forman unique. The first being the location of the school. The second benign the immense about of different programs and extracurricular star Forman had to offer. . .

Bryant University

Forman was a transformative experience for me, both in terms of my education and my personal development. Also, Forman's small size, quaint campus and close-nit community made warming up to a new place and people. . .

New England college

I felt the school made me feel like I still had family there that cared about me even though it was my immediate family I have acquired some great friends and relationships . The teaching. . .

Parsons School of Design

Forman School is a unique school as it specializes in students that have some form of learning disability. With one on one classes and individual support students have the full support of the faculty and. . .

Show more reviews

(1

reviews)
April 20, 2018
Actually, there is no secret to getting your child into boarding school. Just a lot of hard work and a heavy commitment of time.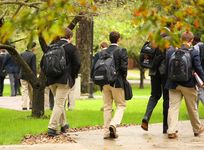 March 22, 2018
Some cynics think single-sex education is old-fashioned. The Kiski School shows how educating boys in a single-sex school is successful.
March 08, 2018
The wide range of fine academic, athletic, and other facilities found in boarding schools underscores the determination of schools to provide the very best for their students.