Reflections and Advice:
1.) What do you think makes your school unique relative to other boarding schools?
Prior to attending Westtown in 9th grade, I went to a public school with 1500 students. It was very hard for me there as the teachers' main priority was getting things done rather than making sure we understood the content being taught. I also struggled socially trying to fit in and make meaningful friendships which made me keep to myself more than I should have.Westtown is the complete opposite. I felt a part of the community and we all cared for each other and made sure we were being the best we could be. I soon found myself branching out to become a social butterfly and I am so glad Westtown gave me the opportunity to network with great people and make life long friends.
2.) What was the best thing that happened to you in boarding school?
I was once a shy persona and Westtown turned me into an outgoing young lady. Prior to coming to Westtown I had never been on a place with so many genuinely nice people and that's all I really needed to come out of my shell
3.) What might you have done differently during your boarding school experience?
Even though it might not seem like a big place, I would say make yourself known. Start a club, run for. Student leader position early, go on weekend trips. Don't just sit back and blend in with everyone else, try and stand out.
4.) What did you like most about your school?
It's a great place and I can't stress it enough. The people I met there have had a big and positive impact on me and even after you graduate you'll always find that it will always hold a special place in your heart.
5.) Do you have any final words of wisdom for visiting or incoming students to your school?
Go one weekend trips!!! I made so many new friends on those trips I wouldn't have made otherwise and formed closer relationships with the teachers that took us. Just one of the many ways to find your niche at Westtown
Academics:
1.) Describe the academics at your school - what did you like most about it?
One thing about Westtown I found special is that there was always help available. No matter the circumstance, the faculty and staff made a huge effort to make sure we the students were getting by the most out of our experiences in and out of the class.
Athletics:
1.) Describe the athletics at your school - what did you like most about it?
You are required to play at least 1 competitive sport all four years (2 for freshmen and sophomores) and the sports are geared more towards inclusivity and communitication while also striving to win.
Art, Music, and Theatre:
1.) Describe the arts program at your school - what did you like most about it?
Arts program is great. I was in choir and took clay while at Westtown and got to see a multitude of well put together plays throughout my time there. The teachers are so passionate which makes the students give it their all.
Extracurricular Opportunities:
1.) Describe the extracurriculars offered at your school - what did you like most about it?
I think what's great about this place is that there's always something to participate in and there as so many clubs that cater to a vast majority of the school. Even if there isn't students are always welcomed to make new clubs.
Dorm Life:
1.) Describe the dorm life in your school - what did you like most about it?
I loved living on dorm. I was a day student my freshman and sophomore year and was so excited to finally board however I remember crying the first night. It's important to remember that no one is going to put down your homesickness because you'll find that a lot of people suffer from it, but on the bright side it won't last very long
Dining:
1.) Describe the dining arrangements at your school.
I wasn't the biggest fan of the food at Westtown but what was good was that there was always something else to eat or I could go to the belfry. The kitchen staff do a great job with accommodating dietary restrictions as well.
Social and Town Life:
1.) Describe the school's town and surrounding area.
I love on west Chester so myself and a lot of my friends were very familiar with the the town, but it's not hard to navigate at all. The king of Prussia mall is only 15-20 minutes away and we are about 10 minutes from the borough of West Chester where you can find a multitude of restaurants and fun things to do.
2.) Describe the social life at your school - what did you like most about it?
I loved that the students get a long really well maybe because we are all going through the same process and taking the same classes. There aren't really instances of students being excluded and there's just enough people where you get to make close bonds with a lot of them.
Daily Schedule:
Weekday
Weekend
9:00 AM
Meeting for worship
Small Quaker school, tight group, not so much focused on strong academics as much as creating good individuals in society.. . .
Westtown has a beautiful campus. It was beautiful and especially safe to walk around any time of day. Also the style of teaching is very hands on and has small classes, usually with. . .
Two aspects of Westtown that stand out in particular are its sense of community, and the education driven towards social change. Its sense of community is in part due to the fact that Westtown is. . .
Show more reviews (

41 reviews

)
Mastering the Boarding School Selection Process: A 5-Step Guide
Discover the ultimate 5-step guide to choosing the perfect boarding school for your child. Explore essential factors, such as academics, campus facilities, extracurricular activities, and more. Make an informed decision to provide your child with an enriching and transformative educational experience. Read now!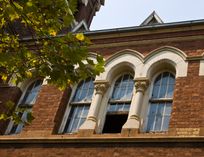 5 Founders and Their Boarding Schools
What prompts somebody to start a boarding school? The motives range from idealism to munificence right on through to capitalism. The common thread seems to be ample capital and a vision of what education can do.