Reflections and Advice:
1.) What do you think makes your school unique relative to other boarding schools?
Fishburne is small and compact. All classes are small so that everybody knows everybody else. At present the entire campus contains a total of five buildings which includes the Alumni House. It is situated in the center of a small Shenandoah Valley city so cadets are in walking distance of many stores, restaurants and other destinations off campus.
2.) What was the best thing that happened to you in boarding school?
I think one aspect that has stood out in my memories is that everything was very fair.
3.) What might you have done differently during your boarding school experience?
Good question.
4.) What did you like most about your school?
Fishburne has given me a sense of belonging. As an army brat, I was used to travel and new schools - I had continuity of place and people for four years. It gave me a place where I could see my achievements. I am still connected, being one of the directors of the Alumni Association and return there frequently. Full disclosure, my late wife grew up in the surrounding county and we returned often to visit her parents.
5.) Do you have any final words of wisdom for visiting or incoming students to your school?
It is a military school and is not co-ed.
Academics:
1.) Describe the academics at your school - what did you like most about it?
We had/have small classes with an instructor we knew outside the classroom as well. This continues to this day,. There was mandatory study period in the evening, in your room if you were doing well, in supervised study hall if you weren't. It was impossible not to perform.
Athletics:
1.) Describe the athletics at your school - what did you like most about it?
As a small school, large team athletics were not great when I was there, but in things like tennis, marksmanship, and track and field we were competitive if not great. These days our athletic teams do much better. These days cadets must participate in at least two activities each year.
Art, Music, and Theatre:
1.) Describe the arts program at your school - what did you like most about it?
When I was there, fairly skimpy, but there have been some periods with some good cadet theater.
Extracurricular Opportunities:
1.) Describe the extracurriculars offered at your school - what did you like most about it?
Almost everybody engaged in some extra-carricular activity. We had yearbook, newspaper, debate, YMCA, several clubs for things like chess. Do you want drill? That we had six days a week. - Not so these days.
Dorm Life:
1.) Describe the dorm life in your school - what did you like most about it?
Well, it is a military school and all male at that. Rooms were and still are fairly Spartan by most standards. All cadet rooms are in a single barracks building with the room door opening to an outside porch which is called the "stoop." This opens to a grass and brick quadrangle. These days each room has two cadets. There were plenty of gab sessions during free time.
Dining:
1.) Describe the dining arrangements at your school.
These days dining is cafeteria style with long tables set up by company and staff. Serving is fast and efficient and the food is very good by boarding school standards. I have always seen a salad bar and a selection of food at each meal. Today is totally different from when I was a cadet.
Social and Town Life:
1.) Describe the school's town and surrounding area.
Waynesboro is a small town but has a lot more things to do then when I was a cadet.
2.) Describe the social life at your school - what did you like most about it?
Not sure I'm an expert on what it is like today,.
The small size - then as now - makes Fishburne an ideal choice for a structured educational environment for boys 7-12. I came to FMS rom a large public high school where it was difficult. . .
I went to two different military academies during my stint at boarding schools, Massanutten Military Academy and Fishburne. I can say without a doubt that the fact that Fishburne was an all male school had. . .
Army JROTC which has held highest level of distinction for over 20 years due to stellar scores on annual RFI. Outstanding teachers and educational experience. Amazing alumni support. Small classroom and. . .
Show more reviews (

4 reviews

)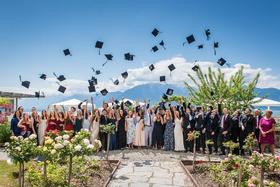 Nurturing Futures: A Journey through Boarding at Haut-Lac School in Switzerland
Nestled in the hills overlooking Lake Geneva in the French-speaking part of Switzerland lies an educational gem that embodies a unique blend of academic excellence, cultural richness and a profound sense of community. Founded over 30 years ago, Haut-Lac International Bilingual Day and Boarding School is now home to both 600 day students and a maximum of 30 boarders from around the world.
What To Wear at Your Job Interview
Navigating job interviews can be stressful, but knowing what to wear shouldn't be. Our comprehensive guide covers the essential dress code tips for men and women interviewing at boarding schools. Make your first impression count with style and professionalism.
Navigating the Modern Maze: Emerging Challenges for Boarding Schools
Explore the pressing challenges facing boarding schools, from marketing difficulties and rising insurance costs to facility maintenance and recruitment of competent trustees and teachers. This article delves into these complex issues and proposes innovative strategies to overcome them.