Reflections and Advice:
1.) What do you think makes your school unique relative to other boarding schools?
I went to two different military academies during my stint at boarding schools, Massanutten Military Academy and Fishburne. I can say without a doubt that the fact that Fishburne was an all male school had a significant positive impact on my performance compared to the co-ed Massanutten. All boys really allowed me to focus on myself and what I was doing to improve myself rather than worrying about how females would think about my actions and allowed me to gain more self-discipline than I was getting from Massanutten.
2.) What was the best thing that happened to you in boarding school?
I cannot stress just how much the ability to take on responsibility and be rewarded for doing the right thing really impacted me. The self-discipline, the moral fortitude, the understanding the responsibility falls on your shoulders as a leader as well as the credit usually not going to you but to your subordinates, I really can't express in words how deeply those lessons affect me and my work ethic to this day. Also, seeing the contrast between what the responsible cadets versus the jackass cadets really helped solidify that all your actions come back to you some way, if you screw around it will come back to bite you in the ass one way or another.
3.) What might you have done differently during your boarding school experience?
I would only suggest that new cadets take a good look at the cadets who get reamed regularly versus the leaders and chose wisely about where you want to end up. Trust me, even though it's hard and not much fun, it is so absolutely worth it in the end knowing you tried your best to be your best in a trying environment will give you an invaluable experience. I didn't want to go to military school, I certainly was not a fan of wearing a uniform, but understanding you are in that situation and it's better to accept a try to do well within the system you are in is infinitely better than trying to fight it, because you will not win.
4.) What did you like most about your school?
Having to deal with cadets acting in bad faith really teaches a lot. Being able to take on personal responsibility for your actions and the actions of others is something I never would have learned in the public schools I went to.
5.) Do you have any final words of wisdom for visiting or incoming students to your school?
All I can say is find the steakhouse in town if it's still open and have their breaded sugar sweet potato (I can't really remember what it's called but if you ask you'll find out), it's so good.
Academics:
1.) Describe the academics at your school - what did you like most about it?
While I will admit, I thought some education was not up to my level (they had to teach to the lowest common denominator in some classes considering people come from all over with all sorts of educational backgrounds) the teachers took it upon themselves to try to push the higher level student as much as they could while also dealing with the rambunctious not-so-high achievers in the class. Not an easy task, and I applaud their efforts. I thoroughly enjoyed some of the higher-level classes where they really could push the few cadets who were ready to take those courses.
Athletics:
1.) Describe the athletics at your school - what did you like most about it?
I was a cross-country runner for Fishburne and boy was every day running around Waynesboro breathtaking, those mountains are beautiful. Now obviously with such a small student population there was only so much talent the coaches had to work with in some areas, but I was impressed that my cross-country coach took it upon himself to offer me 5:30am runs if I wanted to get some extra miles in. I also enjoyed the fact that only 2/3 terms required sports, allowing students 1/3 terms to explore weightlifting or other activities instead of sports all the time after class, as some kids just aren't really into sports. I'm not a fan of most winter sports and being able to weightlift instead of having to join wrestling or another sport was great as I didn't have that option as Massanutten. The sports trainer/medical guy there was also a lifesaver, knowledgeable and really quite nice.
Art, Music, and Theatre:
1.) Describe the arts program at your school - what did you like most about it?
N/A. Not much of an artistic community at Fishburne. Probably could start a program if they wanted.
Extracurricular Opportunities:
1.) Describe the extracurriculars offered at your school - what did you like most about it?
Being in a company that had certain tasks throughout the day outside of classes was a great way to instill discipline amongst peers. Allowing the boys to go out on the town was also nice.
Dorm Life:
1.) Describe the dorm life in your school - what did you like most about it?
I can't say I was ever cold with those old radiators in the dorms, sometimes we even had to open the window in the winter to cool off. Small rooms and small bunks, but pretty on par for what you should expect in a military school. Can't really complain about anything except getting clothes lost in the laundry when the laundry service took our clothes (wasn't a serious problem).
Dining:
1.) Describe the dining arrangements at your school.
I'm not really a fan of cafeteria food, but frankly the food was pretty good at Fishburne. Usually a decent amount of options to choose from. Wasn't fun having to wait to eat as a rat, but hey that's the price you pay for being at the bottom, option to move upward is always there.
Social and Town Life:
1.) Describe the school's town and surrounding area.
Small town, not a whole lot going on, but a few nice small restaurants and a movie theater. Can't remember the name of the steakhouse in town but I'd always go there if I could. Obviously would have been fun if it were in a big city, but I don't think any of the boys are at Fishburne to "have fun" haha. we are there to be educated and learn discipline and other valuable life skills.
2.) Describe the social life at your school - what did you like most about it?
We were free to hang out on weekends and I really enjoyed some bonding that took place over some of those long weekends. Not a whole lot to do so it forced us to be creative.
Daily Schedule:
Weekday
Weekend
1:00 AM
chores if any needed to be done
I went to two different military academies during my stint at boarding schools, Massanutten Military Academy and Fishburne. I can say without a doubt that the fact that Fishburne was an all male school had. . .
One aspect that Fishburne fostered was brotherhood. Every guy there was your brother. You leaned on your brothers and faced adversity together and that is what made that school and the relationships that I built. . .
Army JROTC which has held highest level of distinction for over 20 years due to stellar scores on annual RFI. Outstanding teachers and educational experience. Amazing alumni support. Small classroom and. . .
Show more reviews (

4 reviews

)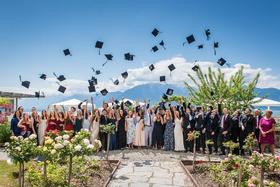 Nurturing Futures: A Journey through Boarding at Haut-Lac School in Switzerland
Nestled in the hills overlooking Lake Geneva in the French-speaking part of Switzerland lies an educational gem that embodies a unique blend of academic excellence, cultural richness and a profound sense of community. Founded over 30 years ago, Haut-Lac International Bilingual Day and Boarding School is now home to both 600 day students and a maximum of 30 boarders from around the world.
What To Wear at Your Job Interview
Navigating job interviews can be stressful, but knowing what to wear shouldn't be. Our comprehensive guide covers the essential dress code tips for men and women interviewing at boarding schools. Make your first impression count with style and professionalism.
Navigating the Modern Maze: Emerging Challenges for Boarding Schools
Explore the pressing challenges facing boarding schools, from marketing difficulties and rising insurance costs to facility maintenance and recruitment of competent trustees and teachers. This article delves into these complex issues and proposes innovative strategies to overcome them.