Reflections and Advice:
1.) What do you think makes your school unique relative to other boarding schools?
The small size - then as now - makes Fishburne an ideal choice for a structured educational environment for boys 7-12. I came to FMS rom a large public high school where it was difficult to chart my own path. At Fishburne, I learned leadership skills that not only prepared my for college but also for life. JROTC Honor Unit with Distinction is top notch. You can also play any sport or participate in any program you desire.
2.) What was the best thing that happened to you in boarding school?
The friendships I made and the opportunity to discover my strengths and talents.
3.) What might you have done differently during your boarding school experience?
Nothing.
4.) What did you like most about your school?
I really liked the diversity of the student body. We had boys from all over the U.S. and all over the world. Fishburne was my first exposure to international classmates: Latin and South America; the Middle East and Asia. To this day I remain close friends to this day with many of my former FMS classmates.
5.) Do you have any final words of wisdom for visiting or incoming students to your school?
The small size of the school is probably one of its best attributes. You can't get lost at Fishburne. Faculty, staff and the alumni network have only gotten stronger since I was a cadet.
Academics:
1.) Describe the academics at your school - what did you like most about it?
Classes are small, structured with individual instruction for each cadet. Great faculty that seems to get better each year. Class sizes are small (1:9 instructor/student ratio) so you won't get lost in the crowd. The classes provided me individual attention by some of best teachers I've ever had.
Athletics:
1.) Describe the athletics at your school - what did you like most about it?
Every cadet is able to participate in any sport he desires. No tryouts - just try your best. To this day, Football, Lacrosse, Basketball teams consistently perform at high levels in statewide games and meets.
Art, Music, and Theatre:
1.) Describe the arts program at your school - what did you like most about it?
Great opportunities to explore the visual and performing arts, especially if you've always had the desire, but never had the chance.
Extracurricular Opportunities:
1.) Describe the extracurriculars offered at your school - what did you like most about it?
The wide variety of sports and activities are impressive for such a small school. You can explore your interests and it also a chance to travel around the state for games. meets and tournaments.
Dorm Life:
1.) Describe the dorm life in your school - what did you like most about it?
Rooms are small but comfortable. Almost all cadets have a roommate. At Fishburne I learned how to make my bed to military specs and keep it ship shape, a habit I keep to this day.
Dining:
1.) Describe the dining arrangements at your school.
Surprisingly good food cooked three times a day in he cafeteria/mess hall.
Social and Town Life:
1.) Describe the school's town and surrounding area.
Located in a small town in the shadow the Blue Ridge. Plenty of opportunities for hiking, skiing, swimming in nearby Sherando state park and biking the Blue Ridge Parkway. So many other schools we looked at were in the middle of nowhere with nothing to offer on weekends.
2.) Describe the social life at your school - what did you like most about it?
Dances and socials with nearby girls' schools was fun. You could focus on classes during the week without distractions and still have fun on weekends.
I went to two different military academies during my stint at boarding schools, Massanutten Military Academy and Fishburne. I can say without a doubt that the fact that Fishburne was an all male school had. . .
One aspect that Fishburne fostered was brotherhood. Every guy there was your brother. You leaned on your brothers and faced adversity together and that is what made that school and the relationships that I built. . .
Army JROTC which has held highest level of distinction for over 20 years due to stellar scores on annual RFI. Outstanding teachers and educational experience. Amazing alumni support. Small classroom and. . .
Show more reviews (

4 reviews

)
Mastering the Boarding School Selection Process: A 5-Step Guide
Discover the ultimate 5-step guide to choosing the perfect boarding school for your child. Explore essential factors, such as academics, campus facilities, extracurricular activities, and more. Make an informed decision to provide your child with an enriching and transformative educational experience. Read now!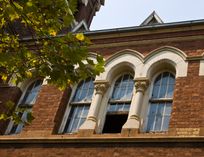 5 Founders and Their Boarding Schools
What prompts somebody to start a boarding school? The motives range from idealism to munificence right on through to capitalism. The common thread seems to be ample capital and a vision of what education can do.