Reflections and Advice:
1.) What do you think makes your school unique relative to other boarding schools?
Blue Ridge is nestled into the Blue Ridge Mountains offering all sorts of outdoor activities.as well we are about 20 minutes from one of the most beautiful colleges Univ. of Virginia.
2.) What was the best thing that happened to you in boarding school?
My experience at Blue Ridge is one that I haven't forgotten even 30 years later. It taught me so many things such as how to handle responsibility, be accountable and how to develop and maintain a work ethic. I was awarded all prep in my Junior and Senior year for soccer, as well I was a standout baseball player and wrestler. These things have suited me well in my life as I coach a very high level of soccer with my daughter and I have the ability to work wit 5 year olds teaching them the fun aspects of soccer.
3.) What might you have done differently during your boarding school experience?
I wouldn't have done anything differently because what I did when I got there Is to take it seriously and to focus on why I am there. My advice is to prepare yourself and be ready to work hard but don't forget to have fun , never let the fun supersede the work needed to be successful though.
4.) What did you like most about your school?
Everything , all aspects of the school for me worked hand in hand with each other. Thus making it a very enjoyable experience for me and the countless others in my class.
5.) Do you have any final words of wisdom for visiting or incoming students to your school?
Just come to Blue Ridge ready to work and also take full advantage of all the opportunities that will be available to you . There is so much to learn at Blue Ridge , don't miss out on this once in a lifetime experience.
Academics:
1.) Describe the academics at your school - what did you like most about it?
Academics were very challenging , really preparing you for what is next in college. What I liked is how you were able to have individualized attention when you struggled or didn't understand certain aspects of a course. Teachers were all very good and well educated, class sizes were very small so it allowed myself and others to pay close attention.
Athletics:
1.) Describe the athletics at your school - what did you like most about it?
Athletics were my favorite aspect of Blue Ridge , we were and are highly competitive in all sports winning numerous titles and always in the hunt for more. You were supposed to participate in some sport which I think is great because if you didn't you would just sit around, the facilities are world class and the coaches typically are very strong and able to teach and coach at a high level. Blue Ridge offers numerous sports from Baseball to equestrian.
Art, Music, and Theatre:
1.) Describe the arts program at your school - what did you like most about it?
I wasn't involved in any of those departments but from what I recall it was always full of talented people and being able to watch plays and music events was a main highlight of my time at school.
Extracurricular Opportunities:
1.) Describe the extracurriculars offered at your school - what did you like most about it?
We did all sorts of things from adopting a highway to working with the community at large running camps for various things from sports to drama. There was always something to do extracurricularly.
Dorm Life:
1.) Describe the dorm life in your school - what did you like most about it?
Dorm life was always fun , we would all hang out listening to music , talking sports and about the girls schools . Having a roommate was cool as well because you develop a unique bond and friendship with that person. I am still in contact with the 2 roommates I had while I was there. We always had plenty of snack food and the rooms were just big enough for 2 people without feeling cramped.
Dining:
1.) Describe the dining arrangements at your school.
With what I remember the food selection was always adequate and the dining area was always open with plenty of space to sit. We didn't have assigned seating and the cafeteria hours were suitable to come back and get a hot chocolate or fruit.
Social and Town Life:
1.) Describe the school's town and surrounding area.
Not much going on in the town where Blue Ridge is located so we would go into Charlottesville and go to the malls, movies , hang out on UVA campus etc.
2.) Describe the social life at your school - what did you like most about it?
We were able to go to dances at other girls schools , hang out on the weekend , take weekend passes with friends , etc. there was always something to do in a social atmosphere.
Daily Schedule:
Weekday
Weekend
9:00 AM
Prepare for pass or sporting event
Over all, Blue Ridge School is a fantastic place for those who love the out doors. Not only is the Outdoor Program #1 in the country, but the campus is located on 400 acres of. . .
Blue Ridge is a one of a kind boarding school. This gem is hidden back at the feet of the Blue Ridge Mountains. The campus is one of the most beautiful that I have ever. . .
In my family nearly every male for the past eight generations has attended a boarding school. My father went to Woodberry Forest, his father went to Episcopal HS in Alexandria, and his father went. . .
Show more reviews (

4 reviews

)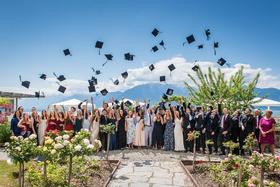 Nurturing Futures: A Journey through Boarding at Haut-Lac School in Switzerland
Nestled in the hills overlooking Lake Geneva in the French-speaking part of Switzerland lies an educational gem that embodies a unique blend of academic excellence, cultural richness and a profound sense of community. Founded over 30 years ago, Haut-Lac International Bilingual Day and Boarding School is now home to both 600 day students and a maximum of 30 boarders from around the world.
What To Wear at Your Job Interview
Navigating job interviews can be stressful, but knowing what to wear shouldn't be. Our comprehensive guide covers the essential dress code tips for men and women interviewing at boarding schools. Make your first impression count with style and professionalism.
Navigating the Modern Maze: Emerging Challenges for Boarding Schools
Explore the pressing challenges facing boarding schools, from marketing difficulties and rising insurance costs to facility maintenance and recruitment of competent trustees and teachers. This article delves into these complex issues and proposes innovative strategies to overcome them.