Reflections and Advice:
1.) What do you think makes your school unique relative to other boarding schools?
The mandatory work program for every student and the balanced mix of academic, athletic, and art exposure required developed ability to focus.
2.) What was the best thing that happened to you in boarding school?
get the most out of life attitude and great preparation and love for further learning are the biggest assets gained
3.) What might you have done differently during your boarding school experience?
been a little less self assured
4.) What did you like most about your school?
outdoor life
5.) Do you have any final words of wisdom for visiting or incoming students to your school?
participate in all the school has to offer.
Academics:
1.) Describe the academics at your school - what did you like most about it?
faculty emphasis on comprehensive research, and exploring issues from all sides
Athletics:
1.) Describe the athletics at your school - what did you like most about it?
mandatory participation in sports allows ever student to develop mind body connection.
Art, Music, and Theatre:
1.) Describe the arts program at your school - what did you like most about it?
the connection of art to science and history develops thought pathways that lead to innovation in all endeavors
Extracurricular Opportunities:
1.) Describe the extracurriculars offered at your school - what did you like most about it?
for me the outing club was extremely important developing a connection with the spiritual world
Dorm Life:
1.) Describe the dorm life in your school - what did you like most about it?
my time involved in all school activities meant the dorm was a place to study and rest, I was fortunate to have a single room Jr. and Sr. year.
Dining:
1.) Describe the dining arrangements at your school.
family stile meals develop a sense of community and sharing of interests beyond ones narrow ones
Social and Town Life:
1.) Describe the school's town and surrounding area.
Plymouth is great small town easy walking, biking distance from campus.
2.) Describe the social life at your school - what did you like most about it?
school life is so rich and full it is hard to separate social life from all other aspects of it
Nestled in rural New Hampshire a unique aspect of Holderness school is its proximity to the White Mountains and the integral part they play over the course of a students education at Holderness. Weekend trips. . .
The one thing about Holderness that I thought was incredibly unique, and one of my favorite aspects of the school, is the sense of community. I don't think I've ever been as close to a. . .
Holderness is a very unique school. Aside from the down to earth culture and genuine connections you will make with faculty, two things that make it unique are 'Special Programs' in the spring and the. . .
Show more reviews (

5 reviews

)
Mastering the Boarding School Selection Process: A 5-Step Guide
Discover the ultimate 5-step guide to choosing the perfect boarding school for your child. Explore essential factors, such as academics, campus facilities, extracurricular activities, and more. Make an informed decision to provide your child with an enriching and transformative educational experience. Read now!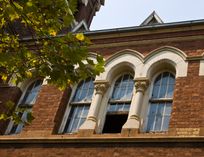 5 Founders and Their Boarding Schools
What prompts somebody to start a boarding school? The motives range from idealism to munificence right on through to capitalism. The common thread seems to be ample capital and a vision of what education can do.