Reflections and Advice:
1.) What do you think makes your school unique relative to other boarding schools?
My two years at Holderness prepared me well for life by teaching me about civic pride and community participation through the student jobs program. I learned that I could overcome adversity and be self-reliant though the Outward Bound program. I competed at a high level in sports and learned the importance of a combined life of athleticism and scholarship. Formal dress for classes helped me to distinguish the difference between leisure time (and attire) and business time (and appropriate attire.) My most influential teacher (and coach) at Holderness taught me that the fullest life is one in which you work hard and play hard and when you demand your money's worth.
2.) What was the best thing that happened to you in boarding school?
I think the Outward Bound program probably had the greatest impact on my life during my two years at Holderness. The experience opened my eyes to potential I hadn't realized I possessed. My U.S. history teacher and ski coach also had a great effect on my approach to living, inspiring me with confidence and a thirst for knowledge and excellence.
3.) What might you have done differently during your boarding school experience?
My advice to anyone heading off to boarding school would be embrace change and challenge yourself at every opportunity.
4.) What did you like most about your school?
More than anything, I see that Holderness encouraged me to participate in a community to work toward a common good, while pushing myself beyond what I thought possible.
5.) Do you have any final words of wisdom for visiting or incoming students to your school?
I'm sure the school has changed drastically since I was a student there. I'm glad, though, it has retained the core programs aimed at engendering self-reliance and community service.
Academics:
1.) Describe the academics at your school - what did you like most about it?
Small classes. Teachers who were not only well-versed in their respective subjects but taught with enthusiasm. My ecology teacher imbued in me a new found appreciation for wildlife and the delicate balance of our ecosystems. He also ran a wildlife refuge center where we would go on field trips.
Athletics:
1.) Describe the athletics at your school - what did you like most about it?
Holderness offered high-level team athletics and students were expected to put equal effort into sports as academic pursuits. Alpine skiers were required to also participate in a Nordic team sport.
Art, Music, and Theatre:
1.) Describe the arts program at your school - what did you like most about it?
I enjoyed working in fine arts studio.
Extracurricular Opportunities:
1.) Describe the extracurriculars offered at your school - what did you like most about it?
Recreational sports also were encouraged at Holderness. I played a lot of tennis even though I wasn't on the team, having chosen lacrosse as my spring team sport.
Dorm Life:
1.) Describe the dorm life in your school - what did you like most about it?
I shared a double room my junior year, but had a single my senior year. The dorm advisors were a great resource and always available.
Dining:
1.) Describe the dining arrangements at your school.
We had formal dinner every night of the week. Student served and cleared. The headmaster would give a report if the day's events after the meal. Otherwise, meals were relaxed, with plenty of good food available.
Social and Town Life:
1.) Describe the school's town and surrounding area.
We would walk into downtown Plymouth where there was a single movie theater and few restaurants.
2.) Describe the social life at your school - what did you like most about it?
We sometimes had dances with girl's schools, but otherwise only had 13 girl (who were very popular, as you might imagine) day students at the school. We had mandatory Chapel once a week. Plymouth State College wound host rock concerts in its field house from time to time.
Nestled in rural New Hampshire a unique aspect of Holderness school is its proximity to the White Mountains and the integral part they play over the course of a students education at Holderness. Weekend trips. . .
The one thing about Holderness that I thought was incredibly unique, and one of my favorite aspects of the school, is the sense of community. I don't think I've ever been as close to a. . .
Holderness is a very unique school. Aside from the down to earth culture and genuine connections you will make with faculty, two things that make it unique are 'Special Programs' in the spring and the. . .
Show more reviews (

5 reviews

)
Mastering the Boarding School Selection Process: A 5-Step Guide
Discover the ultimate 5-step guide to choosing the perfect boarding school for your child. Explore essential factors, such as academics, campus facilities, extracurricular activities, and more. Make an informed decision to provide your child with an enriching and transformative educational experience. Read now!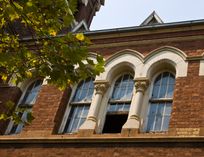 5 Founders and Their Boarding Schools
What prompts somebody to start a boarding school? The motives range from idealism to munificence right on through to capitalism. The common thread seems to be ample capital and a vision of what education can do.