Reflections and Advice:
1.) What do you think makes your school unique relative to other boarding schools?
Small classes sizes, from 2-15 people really forced me to be interested and taught me it's better to have attempted to do work than not do it at all - which frankly I was able to blend in while at public school. Holderness gave me the opportunity to learn my own study habits, participate in class and actually enjoy learning. Equally important to the education matters, the athletic focus. At Holderness, everyone played a sport every season and the teams weren't huge - so they offered a variety of options and levels so that Varsity really was Varsity. None of that political parent run stuff in public school where someone makes the team just because they are a senior, or their parent is a teacher - the teams were based on merit which elevated everyone's level of play. It groomed me and many others for D1.
2.) What was the best thing that happened to you in boarding school?
I know that if I had not gone to Holderness for those two years, I would not have been the athlete I was in college. I may have made the team, but my time at Holderness allowed me to get stronger, faster and more prepared to play against a higher level of competition. I played Division One lacrosse and was a highly respected captain and teammate by fellow players and my coaches.Most recently I received my Masters Degree in Interior Design. If you had asked me in high school if I would get a Masters, I would have emphatically said no. Holderness set me up to know I could achieve anything if I wanted it.
3.) What might you have done differently during your boarding school experience?
I wouldn't have brought so many shoes (I didn't wear half of them). When you're new say hi to everyone - at Holderness there was an unwritten rule that you smile and say hi to everyone you walk past on the paths at school and it opens up an opportunity for conversation and friendship. Live in the moment, enjoy boarding school, there is nothing else like it in the world. And work towards the future you want, Holderness and other boarding schools are literally designed to help you achieve your life's goals.
4.) What did you like most about your school?
The campus is beautiful, I felt at home the first day I toured there. The teachers and coaches were like big brothers/sisters and parents to me, I felt safe and cared for. I also appreciated the dress code, it helped me mature my personal style and express myself in subtle ways I still use today, 15 years later.
5.) Do you have any final words of wisdom for visiting or incoming students to your school?
If the Housemans are still there - live there! Cheeseburgers at Snack Bar (not revolutionary but I ate them all the time!) Take an art class, the top-floor studio is beautiful and light-filled.
Academics:
1.) Describe the academics at your school - what did you like most about it?
Small classes with teachers who you could connect with and joke around with in conjunction with learning. Respecting your teachers was easy, because they respected you. Also because they held other positions in the school, like dorm parent, coach etc. Structured study halls were incredibly helpful! Before Holderness I really didn't get all my work done because I could always find something else to do, or take a nap, but at Holderness everyone is in study hall at the same time and it's an easy time to get your stuff done and then socialize with your friends at Snack Bar afterwards.
Athletics:
1.) Describe the athletics at your school - what did you like most about it?
Supremely competitive in the best way. I can only share opinions on the Varsity level, but there was no slacking off, we had a lot of fun especially our lacrosse team, Coach Weymo is one of the funniest, most intense and competitive people I've ever met. He always made practice fun and we were in excellent shape always working on new plays. The facilities were better than anything I had ever experienced as a high schooler and I'm sure they have only gotten better since I've left. They also had racquetball courts which was a fun activity to do in your free time and there was an annual tournament for teachers and students to play in. The hockey rink was open to the elements when I was there which made watching games a little more of an event - lots of layers, huddled together cheering on our classmates.
Art, Music, and Theatre:
1.) Describe the arts program at your school - what did you like most about it?
I really love the arts and participated in Advanced Art which was only myself and another student - so we got a lot of one on one time with Kathryn Fields the teacher and an talented artist. It you wanted to do something and Holderness didn't have the stuff, they would help you achieve it. I was interested in jewelry making and they worked with me and a local jeweler to set up an apprenticeship which was a great experience. The art gallery on campus featured a bunch of amazing art and in hindsight I which I had gone there even more than I did. I was not involved in music or theatre, however I was so pleased with the music performances I attended both by my fellow students (mandatory) and by professionals.
Extracurricular Opportunities:
1.) Describe the extracurriculars offered at your school - what did you like most about it?
I don't recall many extra-curricular activities outside of school, meals and athletics frankly. But keep in mind I was only there two years and that was over 10 years ago. In any free time I had, we'd play games outside, tennis, whiffleball, ride bikes/scooters, hang out at Snack Bar - there was always something to do and someone to do it with, I really loved that. I also helped in the School Store where they sold sweatshirts etc.
Dorm Life:
1.) Describe the dorm life in your school - what did you like most about it?
I loved that I lived with 7 other girls attached to a family home (who were awesome) and everyone was different yet got along. It's a fun and comfortable environment to live in because you always had someone to hang with, go a eat with or just watch a movie. Our dorm parents would often host us for a cereal, ice cream / movie night which was fun. We were never short of snacks in our room!I will say, the Lights Out rule drove me nuts! I am a night owl so it was frustrating having to shut your lights out at a certain time only to sit there in the dark wide awake.
Dining:
1.) Describe the dining arrangements at your school.
I loved that we had sit-down dinners a few times a week where everyone looked sharp and you were assigned seats so you could get to know everyone in the school in all grades. I attribute these dinners to my ability to talk to anyone now. The food in general was really good, I'm a big eater and I was always excited about something and never felt dissatisfied with meals.
Social and Town Life:
1.) Describe the school's town and surrounding area.
Plymouth is a cute, "Main Street" college town. We would go to Goodwill for costumes or a few small shops in town but considering Holderness campus had everything we needed we didn't go that frequently. We would sometimes walk down to the Irving for junk food that was just under the bridge.
2.) Describe the social life at your school - what did you like most about it?
I liked that everyone knew each other and even if you were in different dorms you either had a class or played a sport with everyone at one time or another. I never felt excluded or left out. The school dances and concerts were the best! And Snack Bar is like a low-key party every night. I'd usually get a snack, play ping-pong or just hang out with my friends.
Daily Schedule:
Weekday
8:30 AM
Classes (2-3 of them)
1:30 PM
Classes (1-2 of them)
7:30 PM
Study Hall / Break / Snack Bar
Weekend
8:15 AM
Classes (1-3 of them)
12:00 AM
Sports - Bus leaves for Mountains in winter!! :)
4:00 PM
Bus leaves Mountain to return back to school
8:00 PM
Concert or something fun to do on campus
My two years at Holderness prepared me well for life by teaching me about civic pride and community participation through the student jobs program. I learned that I could overcome adversity and be self-reliant though. . .
Small classes sizes, from 2-15 people really forced me to be interested and taught me it's better to have attempted to do work than not do it at all - which frankly I was able. . .
Holderness is a very unique school. Aside from the down to earth culture and genuine connections you will make with faculty, two things that make it unique are 'Special Programs' in the spring and the. . .
Show more reviews (

5 reviews

)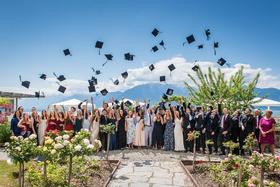 Nurturing Futures: A Journey through Boarding at Haut-Lac School in Switzerland
Nestled in the hills overlooking Lake Geneva in the French-speaking part of Switzerland lies an educational gem that embodies a unique blend of academic excellence, cultural richness and a profound sense of community. Founded over 30 years ago, Haut-Lac International Bilingual Day and Boarding School is now home to both 600 day students and a maximum of 30 boarders from around the world.
What To Wear at Your Job Interview
Navigating job interviews can be stressful, but knowing what to wear shouldn't be. Our comprehensive guide covers the essential dress code tips for men and women interviewing at boarding schools. Make your first impression count with style and professionalism.
Navigating the Modern Maze: Emerging Challenges for Boarding Schools
Explore the pressing challenges facing boarding schools, from marketing difficulties and rising insurance costs to facility maintenance and recruitment of competent trustees and teachers. This article delves into these complex issues and proposes innovative strategies to overcome them.