Reflections and Advice:
1.) What do you think makes your school unique relative to other boarding schools?
Wyoming Seminary had exceptionally small classes when I attended in the sixties. Generally classes were no larger than 12 students. Rules were strictly enforced but there was a sense of "home" that made life comfortable. Deportment and manners were paramount and there were many wonderful extra-curricular options.
2.) What was the best thing that happened to you in boarding school?
Boarding school instilled in me a lifelong love of learning, an appreciation of the fine arts (particularly Opera, Theater, and Ballet), and a commitment to the appreciation of diversity. It allowed me to form bonds of friendship that exist to this day. I learned to appreciate the value of gracious behavior and to acquire a great sense of humor! At age 66 I still fall back on things I learned while in Boarding School and am forever grateful that I had a family that was in a position to give me this gift!
3.) What might you have done differently during your boarding school experience?
I would have studied harder!!!!!!
4.) What did you like most about your school?
The ability to live with many different students from all over the world.
5.) Do you have any final words of wisdom for visiting or incoming students to your school?
Take advantage of as many of the opportunities ope to you! Study hard and have fun! Take as many Advanced Placement classes as you can. MOST IMPORTANTLY..... Become as fluent as possible in a second language!!!!
Academics:
1.) Describe the academics at your school - what did you like most about it?
The school had an excellent English Department where I cultivated a life long interest in all forms of literature. I gained an appreciation of Shakespeare at an early age and loved reading The Grapes of Wrath, Emporer Jones, Chicago, Gone With the Wind, and many plays including the works of Hellman, Chekov, Sartre, etc. Our sports teams were exceptional and there was a Music Department that afforded us the opportunity to study piano, voice , etc and there were regular trips to the opera in Philadelphia.
Athletics:
1.) Describe the athletics at your school - what did you like most about it?
I was not athletic but I enjoyed supporting all teams. There were many fine athletes at the school and the games were always exciting and generated campus excitement. Sports were not mandatory other than required in Physical Education class. Sports facilities were average and not as robust as many comparable schools.
Art, Music, and Theatre:
1.) Describe the arts program at your school - what did you like most about it?
There was a separate Music School at Wyoming Seminary that was superb. Regular classical recitals took place throughout the year and teachers were exceptionally talented and experienced. I studied classical piano when I attended. There was definitely a commitment to all of the arts.
Extracurricular Opportunities:
1.) Describe the extracurriculars offered at your school - what did you like most about it?
Four school societies existed and each student was assigned to one as a member. Social activities were numerous and included dances, homecoming activities, plays, trips, lectures, etc.
Dorm Life:
1.) Describe the dorm life in your school - what did you like most about it?
Dorm life was comfortable and rules were strictly enforced. Teachers resided on each floor of a dormitory and their doors were always open to students. Friendships were quickly formed and there was no form of hazing that existed. There was no access to food or snacks after 7:00 pm and room assignments were open for discussion after one semester.
Dining:
1.) Describe the dining arrangements at your school.
All were assigned seats in the dining room that changed every 2 weeks. A teacher and his/her family sat at the head of each table. Table manners and polite conversation were of paramount importance and coats and ties were required of boys and dresses for girls. Quality of good was generally pretty good.
Social and Town Life:
1.) Describe the school's town and surrounding area.
We had to sign out to go into town and were encouraged to go in small groups. There was virtually no interaction with young people from the town.
2.) Describe the social life at your school - what did you like most about it?
Great opportunity to meet students from other states and abroad. I had classmates from Iran, England, Sweden, Korea, US Virgin Islands, etc.
I believe "Sem" is special because it is not a boarding school in the strictest sense. Half of the students at Sem live nearby and commute while the other half live on campus. . .
One aspect that makes Sem unique is Society Day. It is a campus wide event at the end of the school year. The students divide up into four teams and participate in a variety of. . .
Diversity was and still is a huge aspect of the boarding school! The ability to learn from countless cultures and people allowed me to expand my horizon and my worldview. It made me a better. . .
Show more reviews (

2 reviews

)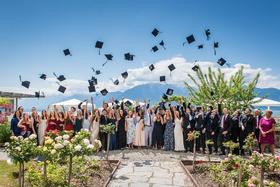 Nurturing Futures: A Journey through Boarding at Haut-Lac School in Switzerland
Nestled in the hills overlooking Lake Geneva in the French-speaking part of Switzerland lies an educational gem that embodies a unique blend of academic excellence, cultural richness and a profound sense of community. Founded over 30 years ago, Haut-Lac International Bilingual Day and Boarding School is now home to both 600 day students and a maximum of 30 boarders from around the world.
What To Wear at Your Job Interview
Navigating job interviews can be stressful, but knowing what to wear shouldn't be. Our comprehensive guide covers the essential dress code tips for men and women interviewing at boarding schools. Make your first impression count with style and professionalism.
Navigating the Modern Maze: Emerging Challenges for Boarding Schools
Explore the pressing challenges facing boarding schools, from marketing difficulties and rising insurance costs to facility maintenance and recruitment of competent trustees and teachers. This article delves into these complex issues and proposes innovative strategies to overcome them.