Reflections and Advice:
1.) What do you think makes your school unique relative to other boarding schools?
Wyoming Seminary had exceptionally small classes when I attended in the sixties. Generally classes were no larger than 12 students. Rules were strictly enforced but there was a sense of "home" that made life comfortable. Deportment and manners were paramount and there were many wonderful extra-curricular options.
2.) What was the best thing that happened to you in boarding school?
Boarding school instilled in me a lifelong love of learning, an appreciation of the fine arts (particularly Opera, Theater, and Ballet), and a commitment to the appreciation of diversity. It allowed me to form bonds of friendship that exist to this day. I learned to appreciate the value of gracious behavior and to acquire a great sense of humor! At age 66 I still fall back on things I learned while in Boarding School and am forever grateful that I had a family that was in a position to give me this gift!
3.) What might you have done differently during your boarding school experience?
I would have studied harder!!!!!!
4.) What did you like most about your school?
The ability to live with many different students from all over the world.
5.) Do you have any final words of wisdom for visiting or incoming students to your school?
Take advantage of as many of the opportunities ope to you! Study hard and have fun! Take as many Advanced Placement classes as you can. MOST IMPORTANTLY..... Become as fluent as possible in a second language!!!!
Academics:
1.) Describe the academics at your school - what did you like most about it?
The school had an excellent English Department where I cultivated a life long interest in all forms of literature. I gained an appreciation of Shakespeare at an early age and loved reading The Grapes of Wrath, Emporer Jones, Chicago, Gone With the Wind, and many plays including the works of Hellman, Chekov, Sartre, etc. Our sports teams were exceptional and there was a Music Department that afforded us the opportunity to study piano, voice , etc and there were regular trips to the opera in Philadelphia.
Athletics:
1.) Describe the athletics at your school - what did you like most about it?
I was not athletic but I enjoyed supporting all teams. There were many fine athletes at the school and the games were always exciting and generated campus excitement. Sports were not mandatory other than required in Physical Education class. Sports facilities were average and not as robust as many comparable schools.
Art, Music, and Theatre:
1.) Describe the arts program at your school - what did you like most about it?
There was a separate Music School at Wyoming Seminary that was superb. Regular classical recitals took place throughout the year and teachers were exceptionally talented and experienced. I studied classical piano when I attended. There was definitely a commitment to all of the arts.
Extracurricular Opportunities:
1.) Describe the extracurriculars offered at your school - what did you like most about it?
Four school societies existed and each student was assigned to one as a member. Social activities were numerous and included dances, homecoming activities, plays, trips, lectures, etc.
Dorm Life:
1.) Describe the dorm life in your school - what did you like most about it?
Dorm life was comfortable and rules were strictly enforced. Teachers resided on each floor of a dormitory and their doors were always open to students. Friendships were quickly formed and there was no form of hazing that existed. There was no access to food or snacks after 7:00 pm and room assignments were open for discussion after one semester.
Dining:
1.) Describe the dining arrangements at your school.
All were assigned seats in the dining room that changed every 2 weeks. A teacher and his/her family sat at the head of each table. Table manners and polite conversation were of paramount importance and coats and ties were required of boys and dresses for girls. Quality of good was generally pretty good.
Social and Town Life:
1.) Describe the school's town and surrounding area.
We had to sign out to go into town and were encouraged to go in small groups. There was virtually no interaction with young people from the town.
2.) Describe the social life at your school - what did you like most about it?
Great opportunity to meet students from other states and abroad. I had classmates from Iran, England, Sweden, Korea, US Virgin Islands, etc.
One aspect that makes Sem unique is Society Day. It is a campus wide event at the end of the school year. The students divide up into four teams and participate in a variety of. . .
The first aspect of Wyoming Seminary that I really appreciated was the English department curriculum. Deviating from the "normal" high school English curriculum, Sem offered fun theme based trimester courses for juniors and seniors, such. . .
Diversity was and still is a huge aspect of the boarding school! The ability to learn from countless cultures and people allowed me to expand my horizon and my worldview. It made me a better. . .
Show more reviews (

2 reviews

)
Mastering the Boarding School Selection Process: A 5-Step Guide
Discover the ultimate 5-step guide to choosing the perfect boarding school for your child. Explore essential factors, such as academics, campus facilities, extracurricular activities, and more. Make an informed decision to provide your child with an enriching and transformative educational experience. Read now!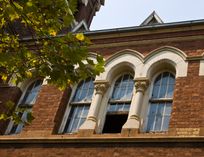 5 Founders and Their Boarding Schools
What prompts somebody to start a boarding school? The motives range from idealism to munificence right on through to capitalism. The common thread seems to be ample capital and a vision of what education can do.