Reflections and Advice:
1.) What do you think makes your school unique relative to other boarding schools?
I believe "Sem" is special because it is not a boarding school in the strictest sense. Half of the students at Sem live nearby and commute while the other half live on campus and board. I think this interaction between day and boarding students gave me a unique experience. I was able to have classes and play on teams with people from all over the country/world. The program I participated in allowed me (a local day student) to live in the dorms during my senior year to bridge the gap between day and boarding students.
2.) What was the best thing that happened to you in boarding school?
I was voted best all around athlete at high school graduation, and absolutely loved playing sports in high school. The entire community would come together at basketball games to cheer us on. I also loved the relationships I formed with the faculty there. Even though I had some young and inexperienced teachers, I also had some of the best teachers in my 20+ years of schooling. I have a handful of inspiring classes and teachers I distinctly remember from my time at Sem.
3.) What might you have done differently during your boarding school experience?
I think it is a very good experience and great preparation before going away to college.
4.) What did you like most about your school?
The community and sporting events.
5.) Do you have any final words of wisdom for visiting or incoming students to your school?
If you find an instructor you like, take as many of their classes as you can. That is what you will remember when you leave. Bring back coffee house (if it's gone) - a late night event featuring poetry, music, and other talents in the basement of the dorm.
Academics:
1.) Describe the academics at your school - what did you like most about it?
I like the vast selection of courses available to me. I was able to take specialized history classes like 1950's and a lot of AP classes were offered as well. I was well prepared for my college courses in terms of course load, homework, writing skills, etc.
Athletics:
1.) Describe the athletics at your school - what did you like most about it?
I loved the athletic program at Sem. I was a 3-sport, year round varsity athlete. I especially liked that, living on campus, it was so easy to go between class and practice or games. The fields were mostly right there on campus so the convenience was great. I liked that we were one of the first schools to have a women's lacrosse programs in the area and many of our coaches are staples in the community.
Art, Music, and Theatre:
1.) Describe the arts program at your school - what did you like most about it?
We had a great theater program, with plays and performances regularly throughout the year. I never participated but the variety offered was great and the community was always invited. We also have a performing arts program that continues through the summer as well.
Extracurricular Opportunities:
1.) Describe the extracurriculars offered at your school - what did you like most about it?
We had a great student activities committee and many events that included the boarding students as well. We incorporated things like international food night to learn about all the various cultures represented at our school. We planned haunted houses and dances, events based on the seasons. We also have something called Society Day where the entire school is separated onto 4 teams and compete throughout the year in many different activities and events.
Dorm Life:
1.) Describe the dorm life in your school - what did you like most about it?
I liked being able to get up and go to class and to practice and dinner, all within steps from each other. I liked that the young faculty lived in the dorms with us - to this day they are still some of my closest friends. My double room was huge and very spacious.
Dining:
1.) Describe the dining arrangements at your school.
It was right below the dorms so always easy and convenient with decent food options.
Social and Town Life:
1.) Describe the school's town and surrounding area.
Not much to do in the town so there was always something happening on campus for the students. We provided van trips to the mall for shopping. There are some restaurants and shops within walking distance to the school as well.
2.) Describe the social life at your school - what did you like most about it?
I liked that we had many events on campus. The boarding students were very close because they had more opportunity to socialize and spend time together. Some events were put on to include the day students as well and students could often be found hanging out on campus after school, regardless if they played a sport or not.
One aspect that makes Sem unique is Society Day. It is a campus wide event at the end of the school year. The students divide up into four teams and participate in a variety of. . .
The first aspect of Wyoming Seminary that I really appreciated was the English department curriculum. Deviating from the "normal" high school English curriculum, Sem offered fun theme based trimester courses for juniors and seniors, such. . .
Diversity was and still is a huge aspect of the boarding school! The ability to learn from countless cultures and people allowed me to expand my horizon and my worldview. It made me a better. . .
Show more reviews (

2 reviews

)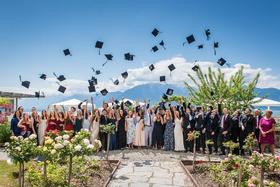 Nurturing Futures: A Journey through Boarding at Haut-Lac School in Switzerland
Nestled in the hills overlooking Lake Geneva in the French-speaking part of Switzerland lies an educational gem that embodies a unique blend of academic excellence, cultural richness and a profound sense of community. Founded over 30 years ago, Haut-Lac International Bilingual Day and Boarding School is now home to both 600 day students and a maximum of 30 boarders from around the world.
Navigating the Modern Maze: Emerging Challenges for Boarding Schools
Explore the pressing challenges facing boarding schools, from marketing difficulties and rising insurance costs to facility maintenance and recruitment of competent trustees and teachers. This article delves into these complex issues and proposes innovative strategies to overcome them.
What To Wear at Your Job Interview
Navigating job interviews can be stressful, but knowing what to wear shouldn't be. Our comprehensive guide covers the essential dress code tips for men and women interviewing at boarding schools. Make your first impression count with style and professionalism.