Reflections and Advice:
1.) What do you think makes your school unique relative to other boarding schools?
One aspect that makes Sem unique is Society Day. It is a campus wide event at the end of the school year. The students divide up into four teams and participate in a variety of activities, similar to an olympic style event. Everyone is involved and each society gets their own t-shirts. The hype gets built up throughout the year and it is just a ton of fun. One aspect of it that I find very exciting is that they carry legacies. For example, if someone gets placed on the Florentine society and they have a younger sibling or child end up attending Sem, they will be a member of Florentine as well.Another aspect are free bells. If a student was in good academic standing, they would get study hall replaced with free bells where the student is not locked in a room and can do whatever they want as long as they stay on campus during that bell period.
2.) What was the best thing that happened to you in boarding school?
The best thing that has happened to me in boarding school is it allowed me to grow up and prepare for college. Between the academics and the social aspect it is pretty much a college setting in high school. I loved having the freedoms as long as I took care of my work. They make students be accountable for their work and knowing I did what I had to do, it was an enjoyable time while I matured to an adult.
3.) What might you have done differently during your boarding school experience?
One thing I would have done differently is open up a bit more. The beginning is the easiest time to make friends as everyone is getting to know each other. If this is done you will have friends from all over the world for the rest of your life.
4.) What did you like most about your school?
I liked the freedoms and the structure of the school. I am very serious about my academics and Sem was the place to be for me. I liked to do my work without being pressured and locked in to do it. I felt it was much more tolerable having freedoms of when and where to do your work.
5.) Do you have any final words of wisdom for visiting or incoming students to your school?
Get involved. It will be the best decision you can make for friendships and to build your college resume. Be sure to attend as many sporting events you can. They are a lot of fun!
Academics:
1.) Describe the academics at your school - what did you like most about it?
The academics at Seminary are very challenging. Coming from a public school, there was definitely an adjustment, but the environment encouraged students to do more work. I felt much more prepared for college and had practically no adjustment to the college academics.What I liked most about it was the positivity. If a student does poorly on a test, they do not get in trouble. Since it is a small school, the faculty are able to check on the student and see what went wrong and help them do better to succeed. They are very positive in teaching.
Athletics:
1.) Describe the athletics at your school - what did you like most about it?
The athletics are the top in the area. There are a variety of sports and what is most known is the wrestling program as they are top of the country every year.I really enjoyed the ice hockey. Being one of the only Americans, it was a fun experience playing with teammates from all over the world and learning their cultures.
Art, Music, and Theatre:
1.) Describe the arts program at your school - what did you like most about it?
The visual arts, music, and theatre program are taken very seriously at Sem. There are many faculty who support it. The addition of the new KCCA building for the arts helps the program tremendously as well. I enjoyed watching their events as they are very professional.
Extracurricular Opportunities:
1.) Describe the extracurriculars offered at your school - what did you like most about it?
There are many extracurriculars at Sem. Whether it's a sport, the theatre, or the hacky sack club, there is something for everyone. The Sem community is all about getting involved and I like that because it can help shy students take that first step of joining a club.
Dorm Life:
1.) Describe the dorm life in your school - what did you like most about it?
The dorms are old fashioned but kept in good shape. You can have 1 or 2 roommates, or none at all. Every floor has a dorm parent who lives on campus which is usually a teacher. A common thing about Sem is it being a positive community which definitely applies to the dorms. Check in is at 11 which can be a pain but they are very structured with the dorm life.
Dining:
1.) Describe the dining arrangements at your school.
There are 3 meals a day. These are the only times to eat on campus. The food is a hot topic at Sem. It is delicious and buffet style. They have a variety of meals and they are planned at the beginning of every week. For dinner, there is assigned seating once or twice a week for "family style." Students are randomly assigned to a table with a teacher and it is a way to get to know other people.
Social and Town Life:
1.) Describe the school's town and surrounding area.
The surrounding area is in the middle of Kingston. It is a small town but lots of locations around Sem. There is a Walgreen's across the street along with a bank and some restaurants nearby. The most notable place is right next to Sem which is called Sweet Treet. It is a locally owned breakfast place that is delicious and not expensive, two attributes that a prep student would love.
2.) Describe the social life at your school - what did you like most about it?
The social life is much different than my public school. It is much less judgmental and there is not as much bullying. Sem is a tight knit community where everyone pretty much gets along.
Daily Schedule:
Weekday
7:15 AM
Wake up, prepare for day, eat breakfast
2:45 PM
End of school day, get ready to leave for hockey
6:00 PM
Hang out with friends
10:00 PM
End of study hall. Maybe hang out with friends for a bit and then go to sleep.
Weekend
9:00 AM
Wake up, eat breakfast
10:00 AM
Hang out with friends
12:00 AM
Go to rink, prepare for game
2:30 PM
Play game (times depended but this is just an estimate)
6:00 PM
Get back to Sem, hang out with friends, eat dinner
8:00 PM
Work on some homework
I believe "Sem" is special because it is not a boarding school in the strictest sense. Half of the students at Sem live nearby and commute while the other half live on campus. . .
One aspect that makes Sem unique is Society Day. It is a campus wide event at the end of the school year. The students divide up into four teams and participate in a variety of. . .
Diversity was and still is a huge aspect of the boarding school! The ability to learn from countless cultures and people allowed me to expand my horizon and my worldview. It made me a better. . .
Show more reviews (

2 reviews

)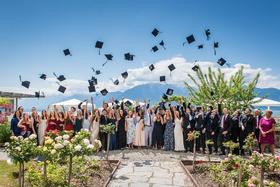 Nurturing Futures: A Journey through Boarding at Haut-Lac School in Switzerland
Nestled in the hills overlooking Lake Geneva in the French-speaking part of Switzerland lies an educational gem that embodies a unique blend of academic excellence, cultural richness and a profound sense of community. Founded over 30 years ago, Haut-Lac International Bilingual Day and Boarding School is now home to both 600 day students and a maximum of 30 boarders from around the world.
What To Wear at Your Job Interview
Navigating job interviews can be stressful, but knowing what to wear shouldn't be. Our comprehensive guide covers the essential dress code tips for men and women interviewing at boarding schools. Make your first impression count with style and professionalism.
Navigating the Modern Maze: Emerging Challenges for Boarding Schools
Explore the pressing challenges facing boarding schools, from marketing difficulties and rising insurance costs to facility maintenance and recruitment of competent trustees and teachers. This article delves into these complex issues and proposes innovative strategies to overcome them.