Reflections and Advice:
1.) What do you think makes your school unique relative to other boarding schools?
This is a small school that focuses on empowering girl's to be leaders. The empowerment comes from leadership programs, debate team, athletic opportunities, small class sizes, and a family atmosphere through the Big/Sister program.
2.) What was the best thing that happened to you in boarding school?
I started to believe in myself and was able to stand up for what I believe in. I found my voice, I have no problem speaking up now and making myself heard. Winning the US History prize as a junior was a big deal for me, I was not the best student, but found a love of History and was able to dive deep into the subject.
3.) What might you have done differently during your boarding school experience?
I would actually read the required summer reading, I was busted the first day of the school for reading cliff notes. This is a small place they notice when you don't do your homework.
4.) What did you like most about your school?
Its a Family.
5.) Do you have any final words of wisdom for visiting or incoming students to your school?
Check out the barn even if you don't ride.
Academics:
1.) Describe the academics at your school - what did you like most about it?
Challenging. Academics are taken very seriously, but the small class size allows for individualized attention. Study Hall is a great time to focus on getting things done, its a block of time that is built into the schedule that helps you carve out time to focus.I liked that my teachers knew my name, they knew my story. They wanted to help me and see me . succeed.
Athletics:
1.) Describe the athletics at your school - what did you like most about it?
Competitive. Athletics are a part of everyday life, practice and games are a huge part of the student experience. When I was here the basketball team was very good and the whole school traveled to the playoff games, we painted our faces and the school spirit was intense. We compete against much larger school and win. Our Equestrian program is top notch and travels to many shows throughout the area. We are also about to upgrade the fitness center which is very exciting. There are many different types of athletics, your typical teams, individual sports and group fitness classes.
Art, Music, and Theatre:
1.) Describe the arts program at your school - what did you like most about it?
We put on a major show every winter. In my time we did, Anything Goes, Nunsense 2, and the Boyfriend. Currently they have rock band which is very unique. Every student has an art requirement, there are visual arts, crafts, music or theater options.
Extracurricular Opportunities:
1.) Describe the extracurriculars offered at your school - what did you like most about it?
There are many options for student clubs, they change each year depending on student interest. StuCo is the student government, student activities plans the social events.
Dorm Life:
1.) Describe the dorm life in your school - what did you like most about it?
Dorms are in the same building as classes, no need to walk through rain and snow. Some rooms have their own bathrooms. Proctor/RA's and houseparents are around to help deal with life issues, each hallway has its own washer and dryer and common rooms.
Dining:
1.) Describe the dining arrangements at your school.
The food rocks! The bread is amazing and the brunch on the weekends includes custom made omelets and home fries. The salad bar is awesome, and the food includes gluten and allergy free options. Formal dinner does happen a few times a year but not every night, you do need to dress up and the tables are assigned.
Social and Town Life:
1.) Describe the school's town and surrounding area.
Rural. Greenfield is a very small town, surrounded by mountains in the Pioneer Valley. There are many colleges and other schools in the area.
2.) Describe the social life at your school - what did you like most about it?
There many options to interact with other schools, through dances, debate, athletics.
The reason I chose my school was because I am an equestrian and the barn at my high school was at the end of the driveway. The reason I stayed was because I found a. . .
What makes Stoneleigh-Burnham unique is its incredibly small student body (no more than 160 students) and the fact that it's the only all-girl's school in New England to offer the International Baccalaureate program. Not. . .
SBS truly has a community; a close knit space that allows any and everyone to grow however they please. The support I found in so many of the teachers, and on so many different occasions. . .
Show more reviews (

12 reviews

)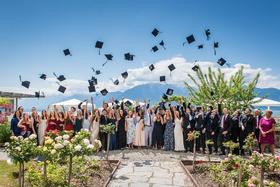 Nurturing Futures: A Journey through Boarding at Haut-Lac School in Switzerland
Nestled in the hills overlooking Lake Geneva in the French-speaking part of Switzerland lies an educational gem that embodies a unique blend of academic excellence, cultural richness and a profound sense of community. Founded over 30 years ago, Haut-Lac International Bilingual Day and Boarding School is now home to both 600 day students and a maximum of 30 boarders from around the world.
Navigating the Modern Maze: Emerging Challenges for Boarding Schools
Explore the pressing challenges facing boarding schools, from marketing difficulties and rising insurance costs to facility maintenance and recruitment of competent trustees and teachers. This article delves into these complex issues and proposes innovative strategies to overcome them.
What To Wear at Your Job Interview
Navigating job interviews can be stressful, but knowing what to wear shouldn't be. Our comprehensive guide covers the essential dress code tips for men and women interviewing at boarding schools. Make your first impression count with style and professionalism.