Reflections and Advice:
1.) What do you think makes your school unique relative to other boarding schools?
Attending Stoneleigh-Burnham was one of the greatest experiences I had as I journeyed toward becoming an independent, self-motivated young woman. Unlike the standard high school and other boarding schools, Stoneleigh offers a greater acceptance of individuality and promotes that kind of thinking. I learned to trust myself and to be more confident.
2.) What was the best thing that happened to you in boarding school?
Being there helped me to become more confident; I cannot think of a better recommendation for a young woman than that.
3.) What might you have done differently during your boarding school experience?
I cannot think of anything.
4.) What did you like most about your school?
I lived being independent and feeling trusted and responsible.
5.) Do you have any final words of wisdom for visiting or incoming students to your school?
Living at school, away from my parents, actually strengthened my relationship with them.
Academics:
1.) Describe the academics at your school - what did you like most about it?
The individual attention from faculty who wanted to see us succeed helped me to become more confident and inspired. I was well prepared for college and graduate school.
Athletics:
1.) Describe the athletics at your school - what did you like most about it?
The athletic programs were awesome! The coaches/trainers saw the students as individuals and tried to help us improve. Because we live on campus and don't have 7-hours of classes wasting our time each day, finding a balance between academic and athletic success was easy.
Art, Music, and Theatre:
1.) Describe the arts program at your school - what did you like most about it?
I am not a theatre person. I loved the music program. No pressure, but I learned to live playing the piano again which has remained with me, even when I was in college
Extracurricular Opportunities:
1.) Describe the extracurriculars offered at your school - what did you like most about it?
Mountain Day!!! Best day. Every year.
Dorm Life:
1.) Describe the dorm life in your school - what did you like most about it?
The dorms were nice, comfortable enough.
Dining:
1.) Describe the dining arrangements at your school.
Great selection of food for everyone, including homemade items as well.
Social and Town Life:
1.) Describe the school's town and surrounding area.
Beautiful scenery and trails. I went into town rarely. I didn't need to.
2.) Describe the social life at your school - what did you like most about it?
We had dances and movies. Perhaps could have had more.
Daily Schedule:
Weekday
Weekend
The reason I chose my school was because I am an equestrian and the barn at my high school was at the end of the driveway. The reason I stayed was because I found a. . .
What makes Stoneleigh-Burnham unique is its incredibly small student body (no more than 160 students) and the fact that it's the only all-girl's school in New England to offer the International Baccalaureate program. Not. . .
SBS truly has a community; a close knit space that allows any and everyone to grow however they please. The support I found in so many of the teachers, and on so many different occasions. . .
Show more reviews (

12 reviews

)
Mastering the Boarding School Selection Process: A 5-Step Guide
Discover the ultimate 5-step guide to choosing the perfect boarding school for your child. Explore essential factors, such as academics, campus facilities, extracurricular activities, and more. Make an informed decision to provide your child with an enriching and transformative educational experience. Read now!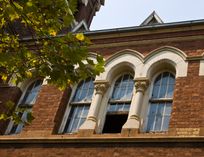 5 Founders and Their Boarding Schools
What prompts somebody to start a boarding school? The motives range from idealism to munificence right on through to capitalism. The common thread seems to be ample capital and a vision of what education can do.