Reflections and Advice:
1.) What do you think makes your school unique relative to other boarding schools?
SBS provided two things I was looking for in a boarding school: a small tight knit community and a rigorous academic program combined with opportunities for social growth as well.
2.) What was the best thing that happened to you in boarding school?
SBS played a crucial role in making me the person I am today. Not only did I receive a top notch education, but I also formed life long friendships and learned valuable life lessons that have stayed with me and paved the way to where I am now. I became a strong student with good study skills, time management know how, the ability to express myself in writing and verbally. I became a strong women with good moral character that understand the value of loyalty and honesty. I became a team player and developed a strong work ethic. All of these things blossomed at SBS because of the supportive atmosphere. I could test the waters of adulthood without judgment. I could take risk without fear of ridicule. Without a doubt SBS was the right choice for me at exactly the right time and I am forever grateful for my time there.
3.) What might you have done differently during your boarding school experience?
I was so terribly homesick my entire first semester. All I wanted to do was go home. I had a really hard time adjusting to being away from my family, but eventually it got better. I made friends and began to get involved in theater and other activities that kept me busy and I started to think less and less about leaving and more and more about what was next. My best advice is to go all in form the beginning. Seek any and all opportunities for engagement, something will stick and you will be swept up and before you know it it will be winter break.
4.) What did you like most about your school?
SBS offered a tight knit and supportive place to grow both academically and socially. The ability to forge lifelong relationships with teachers and peers was by far the greatest gift.
5.) Do you have any final words of wisdom for visiting or incoming students to your school?
Give SBS a chance, it will change your life for the better and will always be a place you will be glad you called home.
Academics:
1.) Describe the academics at your school - what did you like most about it?
For me the small class sizes and relationships forged with faculty were the greatest academic benefit. You got to know everyone in your classes and everyone's strengths and weaknesses and we would all help each other study and work on homework together. Faculty was always accessible and available to offer help. I never felt like I was going it alone I always had support from by teachers and my peers.
Athletics:
1.) Describe the athletics at your school - what did you like most about it?
I was not involved in athletics, except for managing a few teams.
Art, Music, and Theatre:
1.) Describe the arts program at your school - what did you like most about it?
For a small school we had great visual arts, music and theater programs. I was very involved in theater production during my time at SBS and was able to get hands on experience right from the start that opened so many doors for me on in my career.
Extracurricular Opportunities:
1.) Describe the extracurriculars offered at your school - what did you like most about it?
There was never a dull moment at SBS, there was always something going on and plenty of ways to be involved in not only the SBS community but the local and global community as well.
Dorm Life:
1.) Describe the dorm life in your school - what did you like most about it?
SBS offers nice dorm rooms, good layout with ample living and storage space. I lived in the same dorm all 3 years I was at SBS and enjoyed the familiarity of my hall. the biggest issue for us back in the late 90's was always the line for the pay payphone and getting phone calls, but I think that is now a trial of the past :)
Dining:
1.) Describe the dining arrangements at your school.
SBS offered great dining services with a good quality and variety of foods. The dining hall is nice and bright and homey with an amazing view of the property and always felt like you were sitting town to a family meal with your peers.
Social and Town Life:
1.) Describe the school's town and surrounding area.
Greenfield is a beautiful, small, rural New England town. It offers enough options for outings and activities but is safe and friendly.
2.) Describe the social life at your school - what did you like most about it?
Social life at SBS was a good mix of activities and down time. While we often took a trip to town or the movies on weekends, we also watched a game or gathered in one of the common rooms for a movie. There was not a lot of pressure to party or go out seeking adventure. We all liked to hang out together and you could always find a group to slide into, whatever your interest was.
Daily Schedule:
Weekday
3:00 PM
Sports/Dance/Riding
Weekend
10:00 AM
Outing or on campus activity
6:00 PM
Outing or on campus activity
Attending Stoneleigh-Burnham was one of the greatest experiences I had as I journeyed toward becoming an independent, self-motivated young woman. Unlike the standard high school and other boarding schools, Stoneleigh offers a greater acceptance of. . .
SBS provided two things I was looking for in a boarding school: a small tight knit community and a rigorous academic program combined with opportunities for social growth as well. . .
The reason I chose my school was because I am an equestrian and the barn at my high school was at the end of the driveway. The reason I stayed was because I found a. . .
Show more reviews (

12 reviews

)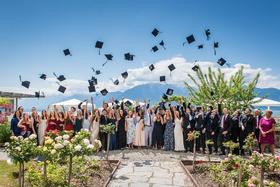 Nurturing Futures: A Journey through Boarding at Haut-Lac School in Switzerland
Nestled in the hills overlooking Lake Geneva in the French-speaking part of Switzerland lies an educational gem that embodies a unique blend of academic excellence, cultural richness and a profound sense of community. Founded over 30 years ago, Haut-Lac International Bilingual Day and Boarding School is now home to both 600 day students and a maximum of 30 boarders from around the world.
What To Wear at Your Job Interview
Navigating job interviews can be stressful, but knowing what to wear shouldn't be. Our comprehensive guide covers the essential dress code tips for men and women interviewing at boarding schools. Make your first impression count with style and professionalism.
Navigating the Modern Maze: Emerging Challenges for Boarding Schools
Explore the pressing challenges facing boarding schools, from marketing difficulties and rising insurance costs to facility maintenance and recruitment of competent trustees and teachers. This article delves into these complex issues and proposes innovative strategies to overcome them.