Reflections and Advice:
1.) What do you think makes your school unique relative to other boarding schools?
The reason I chose my school was because I am an equestrian and the barn at my high school was at the end of the driveway. The reason I stayed was because I found a community I would have given anything to be a part of. Every girl at Stoneleigh-Burnham was encouraged, no, pushed to be great. Good was simply not acceptable.
2.) What was the best thing that happened to you in boarding school?
I was never really very good at making friends before high school. I was always the weirdo nerd who stayed off to herself mostly, which many people who know me now would find strange because I am very friendly, open and talkative. At SBS I finally found a place that allowed me to experiment and really grow into myself. I would not be the person I am today without the influence of the environment of my high school and my friends and teachers there. I do not think I would be as strong, confident, or have experienced the success I have.
3.) What might you have done differently during your boarding school experience?
Truthfully, I do not think I would change a thing. Every experience I have had, both the good and the bad, have shaped me into the person I am today. I think that people need the challenges they have just as much as the good things, maybe even more than the good things, because we really find our strengths in a crucible.
4.) What did you like most about your school?
I liked being able to find myself and try new things. I needed an environment where I could be pushed to achieve and not be afraid to fail, because I did. I think that the most important thing about high school is to be in that kind of environment where you can fail, because it shapes you, and to some degree, separates those who see a lot of success from those who don't. And I think that the earlier you get into that kind of environment, the earlier that success will come.
5.) Do you have any final words of wisdom for visiting or incoming students to your school?
My advice to new students is to not be picky about who you spend time with, and FAIL. You will learn more about yourself when you fail than when you succeed and this school is a place where you can do that. Also, make friends with as many international students as you can. I have been to Germany and Hungary to visit friends, and my best friend went to China our junior year.
Academics:
1.) Describe the academics at your school - what did you like most about it?
The academics were very challenging and really pushed me to learn the material. My first semester at college was incredibly easy after coming from this school. I also loved that the teachers and students around me were just as interested in learning as I was and that academic conversations about the Arab-Israeli crisis became debates in the dining hall during lunch and dinner. The environment around us was competitive in that it pushed everyone to work hard, but not so much that anyone was put down for struggling in any particular subject. The workload tended to feel very manageable - I rarely felt overwhelmed with classwork- but when I got to college, I began to wonder if we had a high workload just because everything was so easy. Yet I never spent obscene amounts of time on homework.
Athletics:
1.) Describe the athletics at your school - what did you like most about it?
I loved that after eighth grade, when I started here, I never had to take PE ever again. My PE was riding my horse, and it saved me so much time. I still found myself using the fitness center, because I wanted to be fit so that I could be an effective rider for my horse. I loved that our sports were the PE requirement, because (and this was true for many of my friends) PE was never my favorite class. I wasn't good with anything involving a ball, but I could still be involved with physical activity in a way that boosted my confidence rather than what often felt like a waste of my time. We had a really good variety of sports and I know at least one person who started a new sport at our school when she saw another one she wanted to have.
Art, Music, and Theatre:
1.) Describe the arts program at your school - what did you like most about it?
We had a very open visual arts, music and theater program. Anyone was welcome and we had people from all aspects of life. All students are required to spend at least two of the three trimesters each year in some sort of arts program. Furthermore, the majority of the concerts for music and dance were required attendance, and were generally very good. The same went with the winter play every year. My personal favorite was being in the school's rock band, where we could choose what songs we wanted to play and how we wanted to play them.
Extracurricular Opportunities:
1.) Describe the extracurriculars offered at your school - what did you like most about it?
Any sort of extra-curricular someone wanted to do was really an option. If it didn't already exist, it wasn't hard to create new clubs. Our school has a very good debate society - some of my friends competed at the world level while I was there. We ranged from that to a low-key community service club (which I was part of) that worked throughout the school's community and the local areas around the school trying to engage the students in giving back to the community. Another girl I knew started the multi-cultural club whose goal was to celebrate the diversity of cultures that the international students (about a third of the student body) brought to our school and educate girls on them.
Dorm Life:
1.) Describe the dorm life in your school - what did you like most about it?
Living in the dorms meant being very close with peers and even teachers. I didn't have a traditional relationship with many of my high-school teachers, because some of them lived on campus or were on duty at nights. This could range from cooking lessons to watching TV shows with them. With the other students, it was almost like being at college four years early. Some of my favorite memories are the large group card games in the common rooms or dorm rooms. I don't go to the same college as my best friend and it's weird because it's the first time in three years she hasn't lived down the hall from me. I miss her so much it hurts sometimes, because she, like many of the other students at my high school, is like my sister. The underlying sisterhood of our dorms was so prevalent and made high school something to love.
Dining:
1.) Describe the dining arrangements at your school.
I liked that there was a clear attempt at variety made by the kitchen staff, who were always very friendly and happy to accommodate us in any way they could. Admittedly it was still dining hall food, but it was generally pretty good. The dining hall itself is actually a really nice room with giant windows that look out onto the front of the school and the barn. I loved sitting in the big picture window during brunch on the weekend mornings with a fresh waffle (yes there was a waffle maker on the weekends), especially in the fall watching the leaves change. It was absolutely beautiful.
Social and Town Life:
1.) Describe the school's town and surrounding area.
Greenfield was very unique. The food was the best part of it. It wasn't hard to get to many of the local restaurants and each had its own charms. I found the first mac and cheese that I ever liked at one. I've been to it almost every time I've returned to visit and it was where I had my eighteenth birthday. For a small city, Greenfield has very wide variety of restaurants, serving almost everything from American to Chinese to Indian food.
2.) Describe the social life at your school - what did you like most about it?
I liked that while yes, there were friend groups, no one was really excluded from much. Most people would think that an all-girls school would be full of very catty people, and yes one would occasionally pop up, but catty girls never stayed long. The general society of SBS was very accepting contrary to what one might expect.
Daily Schedule:
Weekday
6:00 PM
Dinner was 5:30-6:30 but most people get there around 6
7:00 PM
clubs, rock band if you're in it
7:30 PM
Study hall starts for upper school
10:30 PM
Lights out for 9th/10th grade
11:00 PM
In rooms for 11th/12th grade
The reason I chose my school was because I am an equestrian and the barn at my high school was at the end of the driveway. The reason I stayed was because I found a. . .
What makes Stoneleigh-Burnham unique is its incredibly small student body (no more than 160 students) and the fact that it's the only all-girl's school in New England to offer the International Baccalaureate program. Not. . .
SBS truly has a community; a close knit space that allows any and everyone to grow however they please. The support I found in so many of the teachers, and on so many different occasions. . .
Show more reviews (

12 reviews

)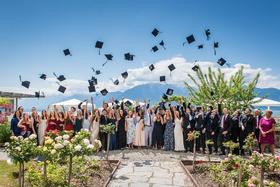 Nurturing Futures: A Journey through Boarding at Haut-Lac School in Switzerland
Nestled in the hills overlooking Lake Geneva in the French-speaking part of Switzerland lies an educational gem that embodies a unique blend of academic excellence, cultural richness and a profound sense of community. Founded over 30 years ago, Haut-Lac International Bilingual Day and Boarding School is now home to both 600 day students and a maximum of 30 boarders from around the world.
Navigating the Modern Maze: Emerging Challenges for Boarding Schools
Explore the pressing challenges facing boarding schools, from marketing difficulties and rising insurance costs to facility maintenance and recruitment of competent trustees and teachers. This article delves into these complex issues and proposes innovative strategies to overcome them.
What To Wear at Your Job Interview
Navigating job interviews can be stressful, but knowing what to wear shouldn't be. Our comprehensive guide covers the essential dress code tips for men and women interviewing at boarding schools. Make your first impression count with style and professionalism.