Reflections and Advice:
1.) What do you think makes your school unique relative to other boarding schools?
Small Class sizes. Individual attention between student and teacher. Mandatory student hall every night and classes are held on Saturdays.
2.) What was the best thing that happened to you in boarding school?
At Brewster Academy I was exposed to a variety of very talented and special students and teachers. I learned to develop self confidence in myself and to appreciate my fellow students as individuals. The Brewster teachers exposed me to a vast new world of knowledge from American History to World Literature through short stories. I even gained an appreciation of Shakespeare while at Brewster.
3.) What might you have done differently during your boarding school experience?
You are in a very special academic environment so take one day at a time and appreciate all your fellow students individual talents and gifts.
4.) What did you like most about your school?
The self pride that I developed while at Brewster and the lack of cliches.
5.) Do you have any final words of wisdom for visiting or incoming students to your school?
I would highly recommend to a new Brewster Academy student to stake out a nice quite place, under a tree and over looking the lake to be able to reflect in silence.
Academics:
1.) Describe the academics at your school - what did you like most about it?
I loved that fact that the teachers were very knowledgeable in their specific fields and they all showed passion in teaching their courses.
Athletics:
1.) Describe the athletics at your school - what did you like most about it?
Very competitive basketball program.
Art, Music, and Theatre:
1.) Describe the arts program at your school - what did you like most about it?
Very laid back attitude towards the Arts. Each individual student was allowed to develop their own love for the Arts.
Extracurricular Opportunities:
1.) Describe the extracurriculars offered at your school - what did you like most about it?
Brewster Academy was very active in the community of Wolfeboro, NH. Student were able to help as teachers' aides that the local elementary school. Students ran local clean ups of Winnipesaukee Lake in Wolfeboro, NH.
Dorm Life:
1.) Describe the dorm life in your school - what did you like most about it?
I had a great roommate while at Brewster Academy. Great food. Student body was very diverse from local New Hampshire students to inner city students from Boston and NYC. We even had several foreign students from Bermuda, Germany and Puerto Rico.
Dining:
1.) Describe the dining arrangements at your school.
We needed to get properly dressed at dinner each night. We also had the opportunity to share dinner with different school officials.
Social and Town Life:
1.) Describe the school's town and surrounding area.
Brewster Academy is located in the the heart of Wolfeboro, NH. Students could easily walk to the the town center and thus mingle with the locals. You really felt like one of the Wolfeboro community.
2.) Describe the social life at your school - what did you like most about it?
Social life was really what each individual student made of it. There was really no peer pressure placed on the students to do anything that they really didn't want to do.
Daily Schedule:
Weekday
Weekend
The biggest thing that makes Brewster unique is the location. Brewster is located right on the water front of Lake Winni, and directly in the center of the town of Wolfeboro. Students are able. . .
Most people are attracted to Brewster for the campus, but the community is worth so much more than the photographs. In all my years of education, I have never met faculty and staff so devoted. . .
Being in a small town located on a lake (the only Lakes region boarding school that was on a lake may I add) made our school not only unique but also gorgeous. Our classes. . .
Show more reviews (

7 reviews

)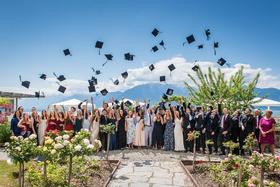 Nurturing Futures: A Journey through Boarding at Haut-Lac School in Switzerland
Nestled in the hills overlooking Lake Geneva in the French-speaking part of Switzerland lies an educational gem that embodies a unique blend of academic excellence, cultural richness and a profound sense of community. Founded over 30 years ago, Haut-Lac International Bilingual Day and Boarding School is now home to both 600 day students and a maximum of 30 boarders from around the world.
What To Wear at Your Job Interview
Navigating job interviews can be stressful, but knowing what to wear shouldn't be. Our comprehensive guide covers the essential dress code tips for men and women interviewing at boarding schools. Make your first impression count with style and professionalism.
Navigating the Modern Maze: Emerging Challenges for Boarding Schools
Explore the pressing challenges facing boarding schools, from marketing difficulties and rising insurance costs to facility maintenance and recruitment of competent trustees and teachers. This article delves into these complex issues and proposes innovative strategies to overcome them.