Reflections and Advice:
1.) What do you think makes your school unique relative to other boarding schools?
Proctor Academy had some very unique offerings, most notably their study abroad and experiential learning programs. At the time of my attendance, students could choose to spend a trimester in Spain or France, and Proctor has since expanded their offerings into South America and elsewhere. They also offer both Mountain and Ocean Classroom, the former of which I was a participant in the spring of my junior year. This program takes 10 students to California to live out of a minibus (camping every nite) and integrates an English and Science curriculum into an outdoors focused atmosphere. We rock climbed in Joshua Tree, backpacked in Big Sur, Yosemite, and the Lost Coast while studying the beatnik poets and the California environment.
2.) What was the best thing that happened to you in boarding school?
I loved mountain classroom, I thought that for a junior in high school it was an unbelievable opportunity to see and learn about different parts of our country that one might not otherwise encounter until college or after. I'm sure that all the other traveling programs were similarly eye opening. Living in a dorm certainly helped prepare me to do the same when I got to college, and when I got to college certainly felt like I had a bit of a head start on those just adjusting to dorm life for the first time. It was also great to meet fellow students from all over the country (and world) and led to long lasting relationship with people all over the country!
3.) What might you have done differently during your boarding school experience?
Bring plenty of snacks! Prepare to learn how to live on your own; many high school freshman may have to learn how to do their own laundry and how to be organized with your belongings in a small space. Living with a roommate can certainly pose challenges- they may be messy, or you may not get along, but these are all challenges that facing will help you to become an adult in ways that non boarding school students may not until they get to college. Get involved, make friends, and have fun! It is an extremely fortunate opportunity in ways you may not realize til you are older, so embrace it while you can.
4.) What did you like most about your school?
I loved their focus on the outdoors and experiential learning, illustrated by their location and the various programs offered.
5.) Do you have any final words of wisdom for visiting or incoming students to your school?
Check out the music studio, the chapel (which was always open and had a piano I used to go play at night). Get out in the woods and see if you can find the various forts and structures erected by students over the years. I loved living in the Farm dorm my senior year...very comfortable and small.
Academics:
1.) Describe the academics at your school - what did you like most about it?
The academic environment was very supportive. Teachers were very accessible (your history teacher may also happen to be your dorm parent), many offering extra help sessions during study hall hours at night. We referred to teachers by their first names, creating a very comfortable relationship. For students with diagnosed learning disabilities or struggling with organizational and time management skills, the Learning Skills program offered a dedicated, one- or two-on-one tutor with which you would meet for a full class block several times a week. Class sizes were small, maybe 16-20 kids tops, and I was even lucky enough to have a music theory class in which it was just me and the teacher. We would meet in his living room (he was a dorm parent) and have coffee while we studied! I found the workload to be manageable, especially due to the 2-hour study hall every night, but it was important to be organized with your time. I was a much better English and history student than I was in math and science, and was able to balance this out well by taking higher level English classes and more intermediate math and science classes. In both cases, it was an appropriate level of challenge. Proctor also had some unique offerings based on their surroundings, most notable the Forestry class, which took advantage of their acres of woods surrounding campus. While Proctor certainly focused on college prep, it did not have the intense competitive atmosphere that I imagine one might at a school like Exeter or Andover. Many students went off to small, liberal arts colleges as opposed to the Harvards or Cornells of the world.
Athletics:
1.) Describe the athletics at your school - what did you like most about it?
Proctor required an extracurricular activity for every trimester, one of which must be a competitive sport. Our most competitive programs were varsity hockey and basketball, each of which would regularly send a handful of players onto Division 1 or 3 schools. Aside from that were all the other traditional offerings-soccer, football, baseball, etc. My favorite part of the athletic department was there extensive winter sport offerings, including competitive snowboarding, ski racing and jumping, as well as recreational skiing and riding at Mt. Sunapee. Some more unique extracurriculars included kayaking and woods team, in which students would help to manage the campus' extensive woods under the supervision of the Forestry teacher. Proctor had its own hockey rink, basketball court, and gym, as well as its own Blackwater Mountain, a small ski hill across the road.
Art, Music, and Theatre:
1.) Describe the arts program at your school - what did you like most about it?
As mentioned before, my focus was largely on the music program during my time at Proctor. They have a state of the art digital recording studio, and offer plenty of music classes. I never participated in any theatre productions, but the scene was alive and well at Proctor. They had a great PAC as well as a black box theatre. The teachers were enthusiastic and encouraging at all times, and I found plenty of opportunity to improve my skills as a musician as well as to learn about recording and engineering, the other side of music.
Extracurricular Opportunities:
1.) Describe the extracurriculars offered at your school - what did you like most about it?
Proctor had a student government, which was led by the Student Leader and Assistant Student Leader, both seniors elected by the student body. One of the dorms was called "Eco Dorm" in which environmentally focused students could apply to live in an atmosphere focused on preserving and cleaning up the environment. There were volunteer organizations in which students would help out the community-raking leaves, shoveling snow for our neighbors. My senior year there was a huge rainstorm that caused massive flooding in the area and the next day was spent volunteering to help out up sandbags and other preventative measures instead of holding classes. There were dance programs, photography clubs, straight/gay alliance, and even equestrian offerings. Students also, of course, had free reign to hike the surrounding woods. I saw a moose one day, as well as encountering a beaver "workshop" full of the makings of the beavers next dam.
Dorm Life:
1.) Describe the dorm life in your school - what did you like most about it?
Dorms varied in size but remained small as possible. Seniors could apply to get a single room, but most students lived a with a roommate in a reasonably sized room. Each dorm had a common room featuring a small kitchen, tv and laundry, and would meet weekly to discuss individual duties and chores to keep up the dorms. Seniors could have a mini fridge in their room. 3 of the dorms were heated by huge wood furnaces of which it was the students responsibility to keep full. Autumn was a beautiful time to be in New Hampshire, and the schools woodsy surroundings certainly lent a clean, healthy atmosphere to the campus.
Dining:
1.) Describe the dining arrangements at your school.
Meals were optional, and didn't require a shirt and tie, as some schools do. I attended most meals, including breakfast. Lunch featured a great sandwich bar as well as the daily hot offering. Seating was unassigned, and teachers and students ate side by side. The food was decent, and there was always bread, peanut butter and jelly, and cereal available if you really didn't like what was in the menu. Dish duties rotated between advisor groups, so every once in while you would be responsible with your fellow advisers to handle the dishes at breakfast, lunch and dinner. The cafeteria was only open during mealtimes, but you could take food to go back to your dorm if you thought you might get hungry again.
Social and Town Life:
1.) Describe the school's town and surrounding area.
Proctor is in East Andover, New Hampshire, a very small town offering only a gas station convenience store and a Pizza Chef. Pizza Chef was a popular alternative to the cafeteria. The surrounding area was very rural, so an appreciation for the outdoors is definitely a plus. Concord was about an hour away, and teachers would offer bus trips to the movies, etc, on the weekends to boost the social life.
2.) Describe the social life at your school - what did you like most about it?
Dorm life certainly has its pros and cons, but I enjoyed it for the most part. Students would congregate at the Wise Center, a student center featuring a snack bar, juke box, ping pong tables, etc., as well as tables and couches to relax at. On the weekends, perhaps a student band might play a show at the Wise Center. I imagine that for the freshman and sophomores, the excitement of being out of your parents house and surrounded by other kids in your dorm would go a long way for a good social life. Some juniors and seniors would start to go home for the weekend, or to a friends house that was nearby.
Daily Schedule:
Weekday
Weekend
1:00 PM
Free time, hike, play music etc
Proctor was a small school, about 350(400?) Kids, one thing that attracted me to the proctor in particular was the ski hill blackwater located on campus as I love skiing. Also, the size of the. . .
Proctor is a unique school due to the experiential learning model. This includes a variety of off-campus programs including programs in Spain, France, Costa Rica, and Ocean classroom and mountain classroom. Proctor also owns over. . .
The off-campus programs that Proctor has to offer make it particularly unique in relation to other boarding schools. I was lucky enough to participate in Ocean Classroom, which is an off-campus program where we sail. . .
Show more reviews (

9 reviews

)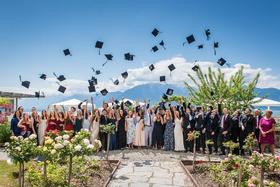 Nurturing Futures: A Journey through Boarding at Haut-Lac School in Switzerland
Nestled in the hills overlooking Lake Geneva in the French-speaking part of Switzerland lies an educational gem that embodies a unique blend of academic excellence, cultural richness and a profound sense of community. Founded over 30 years ago, Haut-Lac International Bilingual Day and Boarding School is now home to both 600 day students and a maximum of 30 boarders from around the world.
What To Wear at Your Job Interview
Navigating job interviews can be stressful, but knowing what to wear shouldn't be. Our comprehensive guide covers the essential dress code tips for men and women interviewing at boarding schools. Make your first impression count with style and professionalism.
Navigating the Modern Maze: Emerging Challenges for Boarding Schools
Explore the pressing challenges facing boarding schools, from marketing difficulties and rising insurance costs to facility maintenance and recruitment of competent trustees and teachers. This article delves into these complex issues and proposes innovative strategies to overcome them.