Reflections and Advice:
1.) What do you think makes your school unique relative to other boarding schools?
Proctor was a small school, about 350(400?) Kids, one thing that attracted me to the proctor in particular was the ski hill blackwater located on campus as I love skiing. Also, the size of the school and campus layout/location were very appealing as I enjoy a right knit community and wanted to experience a more natural environment than I had in New York.
2.) What was the best thing that happened to you in boarding school?
I remember the teams I was on very fondly; I played baseball and basketball in middle school, but never felt the kind of comradery and support there that I did at proctor. The mix of supervision and independence also helped me prepare for life in college and beyond, giving me a better sense of accountability. Most of all, I value the friendships I had during this time in my life, whether those friendships have sustained or not, I will always remember the people at proctor.
3.) What might you have done differently during your boarding school experience?
There were definitely times when I felt attacked by certain staff at the school, stemming from incidents that had occurred either on my own or with other students, and those feelings stayed with me for a while when I was there. I regret not being able to let go of those feelings as I feel I didn't get as involved as I could have/as open about how I felt in general. I know this is probably common in highschool age kids, but I do wish I could have seen these things a little different then.
4.) What did you like most about your school?
The people, by far. The environment, sports programs, and events were all a lot of fun, but by far the people I met/made friends with are some of my best memories.
5.) Do you have any final words of wisdom for visiting or incoming students to your school?
Go say hey to Ed at the wise snack bar, go hike up past the tennis courts up to mega.. (hopefully the teepee is still there?), and make sure to get to know your dorm mates! You'll make some seriously good friends and have a Lotta fun.
Academics:
1.) Describe the academics at your school - what did you like most about it?
The small class size was a major advantage for proctor, compared to some other schools. Also, the layout of class scheduling allowed for a time to focus on work while also maintaining a social life. The diversity of the staff was somewhat minimal, although the teachers I had were all extremely invested in their teaching and students, (more so than some of my college professors at my first college...). There were also a range of classes ranging from a more technical stuff to more experiential hands on stuff. This is definitely something I'd emphasize to prospective students.
Athletics:
1.) Describe the athletics at your school - what did you like most about it?
The athletics program was great, proctor being perfect for me as I was much more into sports like skiing/mountain biking. I had never mountain biker before proctor, and although many say it is more of an individual activity, I felt a strong companionship with my teammates and coaches who pushed me to improve while making sure to have a good time. Looking back on my school experience as a whole, the proctor athletics program is something I remember very fondly. There were also a wide range of team sports and other activities, football, doccor, etc, as well as things like theater production and music/sound production. Participation was mandatory, but I feel this was very beneficial to me and there were a wide range of options to choose from.
Art, Music, and Theatre:
1.) Describe the arts program at your school - what did you like most about it?
I was not very involved in the theater/music/arts programs, which were offered largely through after-school activities (as alternatives to sports programs), although if remember correctly also as classes. I took a few art courses, pottery being one, and metal and wood shop respectively as others. The facilities were very well equipped, and the teachers were highly passionate and involved in my and the other student's work. Wood shop was my favorite, with Greg Allen. I would have never thought I could have made anything of value going into the class but ended up loving it and making several projects which I still have today. The teachers in the arts were undoubtedly just as involved and passionate about their work and their students work as the academic teachers at proctor. I also attended several plays/talent shows which I enjoyed.
Extracurricular Opportunities:
1.) Describe the extracurriculars offered at your school - what did you like most about it?
There were a good deal of clubs and activities at proctor organized by teachers/students alike, some less formal than others. A group of friends and I organized an early morning roller blading Meetup, which we did for a few months my sophomore year which was a lot of fun. Another was polar swim, which I regret not doing all the time I was there, (I only started doing polar swim junior year), where we went to the frozen over a pond at 5am and jumped through a hole in the ice and sat in the sauna afterwards until we left for classes. The size of the community made it easy to hear about opportunities like these and I never had any feelings of exclusivity from any club/organized events.
Dorm Life:
1.) Describe the dorm life in your school - what did you like most about it?
Dorm life at proctor was a little weird to adjust tonat first, but very quickly I became close with many of my dorm mates and still have friends today, 6 years later, that I made my first day at proctor. Again, the size of the school made it easy to get to know almost everybody, and overall I felt pretty comfortable and "at home" with my dorm mates and dorm parents. After the first year, you had some jurisdiction over what dorm you could end up in and who to room with, which would increase as you moved up towards senior year.
Dining:
1.) Describe the dining arrangements at your school.
There was access to local places, like Pizza hut, and Jake's mart, along with kitchens in each dorm and a great dining hall. Between the dining hall, walking distance from all dorms, local good spots, and periodic trips out to malls, we had a good mix of school cafeteria food and our own cooked food.
Social and Town Life:
1.) Describe the school's town and surrounding area.
The town, Andover, was very small, we would see locals at the skatepark and passing through campus sometimes but I can't say I got to know any of them significantly. The area was heavily wooded with mountains all around, extremely beautiful and a great place to get out and play.
2.) Describe the social life at your school - what did you like most about it?
Again, the size of the school really made it seem like a tight-knit community. While I did have my own smaller group of regular friends, I found myself making some more friends as I stated longer, either from incoming classes or grades above me. Everyone was recognizable and for the most part friendly and welcoming (despite some typical highschool issues/drama which you will find anywhere as everyone is growing and learning about life).
Daily Schedule:
Weekday
Weekend
Proctor is a unique school due to the experiential learning model. This includes a variety of off-campus programs including programs in Spain, France, Costa Rica, and Ocean classroom and mountain classroom. Proctor also owns over. . .
The off-campus programs that Proctor has to offer make it particularly unique in relation to other boarding schools. I was lucky enough to participate in Ocean Classroom, which is an off-campus program where we sail. . .
Proctor is unique in way too many ways to describe, but I will name a few. First, you get the opportunity to go abroad in high school! A four year student can have the opportunity. . .
Show more reviews (

9 reviews

)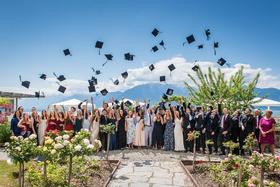 Nurturing Futures: A Journey through Boarding at Haut-Lac School in Switzerland
Nestled in the hills overlooking Lake Geneva in the French-speaking part of Switzerland lies an educational gem that embodies a unique blend of academic excellence, cultural richness and a profound sense of community. Founded over 30 years ago, Haut-Lac International Bilingual Day and Boarding School is now home to both 600 day students and a maximum of 30 boarders from around the world.
Navigating the Modern Maze: Emerging Challenges for Boarding Schools
Explore the pressing challenges facing boarding schools, from marketing difficulties and rising insurance costs to facility maintenance and recruitment of competent trustees and teachers. This article delves into these complex issues and proposes innovative strategies to overcome them.
What To Wear at Your Job Interview
Navigating job interviews can be stressful, but knowing what to wear shouldn't be. Our comprehensive guide covers the essential dress code tips for men and women interviewing at boarding schools. Make your first impression count with style and professionalism.