Reflections and Advice:
1.) What do you think makes your school unique relative to other boarding schools?
The one thing about Holderness that I thought was incredibly unique, and one of my favorite aspects of the school, is the sense of community. I don't think I've ever been as close to a group of people, students and faculty alike.
2.) What was the best thing that happened to you in boarding school?
I changed a lot at Holderness. I was always a very lazy student who always was smart, but never applied myself to school. At Holderness, I was able to become a much more dedicated student as it added a lot of structure to my academics. Holderness also allowed me to become much more comfortable around other people than before as I always was surrounded by people who would never judge me for anything.
3.) What might you have done differently during your boarding school experience?
Through the first week I thought I hated Boarding School. After a couple of weeks I started to realize how close everyone at school was and how easy it was to fit in. While at first its a little awkward because nobody really knows each other yet, it gets much better.
4.) What did you like most about your school?
Overall, my favorite part about Holderness was the people, and how close you get with them. through my three years at Holderness I met people who I am much closer with than anyone I grew up with. This school allows students and faculty to become extremely close, having almost a feel of a big family, as corny as that sounds.
5.) Do you have any final words of wisdom for visiting or incoming students to your school?
Learn how to order pizza from Manny's.
Academics:
1.) Describe the academics at your school - what did you like most about it?
The academics at Holderness were fairly difficult. That being said, the staff and other students help make the tougher workload much more manageable. Study hall for two hours every night on weekdays, where everyone went to various places based off grade, was a huge help for me. There has never been another setting I've been in throughout my entire life where I am more productive than these study halls. It was always easy to find other students who were working on the same assignments as me that were willing to help me out.The teachers at Holderness were also a huge key to being successful. Teachers at Holderness were pretty much like students who were a lot smarter than you are. They are extremely easy to talk to and build relationships with. This made it extremely easy when it came to asking questions to asking for extra help. Having such a unique relationships with my teachers at Holderness made learning and being successful much easier than I thought it would be.
Athletics:
1.) Describe the athletics at your school - what did you like most about it?
Athletics at Holderness were definitely a high point for me. Being forced to play three sports (unless one opts to take an art class as a substitute) helped the athletic program as awhile at Holderness. No matter what sport you play, or if you even play sports to begin with, there is something to do where you can be active and surrounded by your friends. For example, I don't play a fall sport, so when I went to Holderness I needed to pick up a new sport to play. A bunch of my friends and I decided to play JV soccer, and even though we were all terrible at the sport, nobody really cared and every practice was more fun than the last. Varsity sports have the same feel but there is a much more competitive side.
Art, Music, and Theatre:
1.) Describe the arts program at your school - what did you like most about it?
I did not really participate in arts, music, or theater. However, I did go to many of the performances put on by these groups, and they did an awesome job every time. Highlights included the school musical, and concerts put on by various students, which were all very good, even to someone like me who doesn't have too big of an interest in these things.
Extracurricular Opportunities:
1.) Describe the extracurriculars offered at your school - what did you like most about it?
Extracurricular activities at Holderness were great. I was a member of the debate club and the Investment club. The story behind the creation of the debate club is one of my favorite memories from Holderness. One night at study hall, three of my closest friends and I got into what was probably close to a two hour debate. After it was over, we all talked about how fun that was, and how we should start doing it on a regular basis. This two versus two style arguments went on for a little, then more people started coming, so we decided to just make it an official club for the school, and for the rest of the year we held weekly or bi-weekly debates. It was this kind of close companionship with my friends, as well as the ease in which we were able to start a club and gain so many members so fast which is why I loved Holderness so much.
Dorm Life:
1.) Describe the dorm life in your school - what did you like most about it?
Dorm life was awesome. I got put into a dorm of eight guys my first year, Lewis dorm. Spending a year in a small dorm with the same seven guys was an invaluable experience. To this day, our dorm "Group chat" still gets daily texts from all of us keeping in touch with each other. Everything that has to do with dorm life at Holderness was positive. All the dorm parents were very nice and understanding, and while they were very strict about being back to the dorm on time, a simple text to one of them about a pizza delivery being late, or about staying an extra minute to finish up work was all that was needed in order to avoid any trouble.
Dining:
1.) Describe the dining arrangements at your school.
Dining was easily my least favorite part about holderness. While everything was as good as could be expected, as far as how the table were set up and the system for getting food. The big let down for me was the food itself. While they did provide a solid variety of options, none of them were very good. Every now and then they would do something very well, but these were few and far between.
Social and Town Life:
1.) Describe the school's town and surrounding area.
Holderness is only a short, 10 or so minute, walk from downtown Plymouth, a college town home to Plymouth State University. This was very valuable as everything one would need at boarding school was only a short walk away from school. Plymouth also has very good places to eat if there isn't anything happening on a given night at campus. Other than Plymouth, there are tons of amazing hiking trails and places to walk all surrounding campus.
2.) Describe the social life at your school - what did you like most about it?
Social life wasn't fantastic at Holderness. Events were run every weekend, but most of them weren't really of interest to most students. most of my weekend nights were spent playing pickup basketball, walking into Plymouth, or just hanging out in someones dorm room. There were still lots of ways to have fun on weekends at Holderness, but most of them weren't through school organized activities.
My two years at Holderness prepared me well for life by teaching me about civic pride and community participation through the student jobs program. I learned that I could overcome adversity and be self-reliant though. . .
Small classes sizes, from 2-15 people really forced me to be interested and taught me it's better to have attempted to do work than not do it at all - which frankly I was able. . .
Holderness is a very unique school. Aside from the down to earth culture and genuine connections you will make with faculty, two things that make it unique are 'Special Programs' in the spring and the. . .
Show more reviews (

5 reviews

)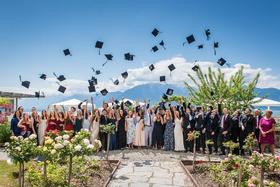 Nurturing Futures: A Journey through Boarding at Haut-Lac School in Switzerland
Nestled in the hills overlooking Lake Geneva in the French-speaking part of Switzerland lies an educational gem that embodies a unique blend of academic excellence, cultural richness and a profound sense of community. Founded over 30 years ago, Haut-Lac International Bilingual Day and Boarding School is now home to both 600 day students and a maximum of 30 boarders from around the world.
What To Wear at Your Job Interview
Navigating job interviews can be stressful, but knowing what to wear shouldn't be. Our comprehensive guide covers the essential dress code tips for men and women interviewing at boarding schools. Make your first impression count with style and professionalism.
Navigating the Modern Maze: Emerging Challenges for Boarding Schools
Explore the pressing challenges facing boarding schools, from marketing difficulties and rising insurance costs to facility maintenance and recruitment of competent trustees and teachers. This article delves into these complex issues and proposes innovative strategies to overcome them.