Reflections and Advice:
1.) What do you think makes your school unique relative to other boarding schools?
We have sit-down meals everyday of the weekday. The tables rotate every two weeks so you really get to know different faculties and students. We also have Irving-Marshall week, so students are divided into two societies and compete in sports and a spoken word event at the end of winter semester. A lot of school spirit and really great event.
2.) What was the best thing that happened to you in boarding school?
I think boarding school really allow me to try things outside of my comfort zone and I grew up a lot as a person and picked up new interests and passions. I am a lot more certain of what I want when I graduated than when I started. I was shy when I first came in but I gained a lot more confidence.
3.) What might you have done differently during your boarding school experience?
I would advise you to really try new things and challenge yourself. Do not waste your time on gossips and don't care too much for what people think. In the end it is your personal growth that matters.
4.) What did you like most about your school?
I like the faculty the most. They are really the nicest persons that you will meet, and they have helped me so much in finding my path and grow up. I miss them so much.
5.) Do you have any final words of wisdom for visiting or incoming students to your school?
Try MOE at least once in your time at Mercersburg. It is amazing.
Academics:
1.) Describe the academics at your school - what did you like most about it?
I like the teacher-student relationship. All the teachers are really approachable and give really good guidance both inside and outside of the classrooms. The history department is very strong, and the teachers really care about the student's well being.
Athletics:
1.) Describe the athletics at your school - what did you like most about it?
I didn't participate but the outdoor program is bomb, there are skiing, hiking, rock-climbing, biking and many other options. Since we are pretty rural, you do venture out into the wild, which is a rare experience.
Art, Music, and Theatre:
1.) Describe the arts program at your school - what did you like most about it?
The music and theatre program is not super but it is pretty good for a school our size. The visual art program is great. We have some talented students art show every year.
Extracurricular Opportunities:
1.) Describe the extracurriculars offered at your school - what did you like most about it?
I like the variety, especially the outdoor program. You really get to try something new that you haven't done before. The club and organizations are a bit lacking, because most clubs are only in names and not that active, but that is changing from what I heard.
Dorm Life:
1.) Describe the dorm life in your school - what did you like most about it?
The teachers live in the dorm with students. You get really close with people in your dorm because you see them all the time. The dorm rules are pretty strict but still very reasonable. We have a zero-tolerance policy so drugs and alcohol are strictly banned.
Dining:
1.) Describe the dining arrangements at your school.
Dining hall is ok. Meals are mandatory which can be annoying at times. Freshman 15 is real because of the desserts you will gulp down.
Social and Town Life:
1.) Describe the school's town and surrounding area.
The town is tiny and there is not much to it. There are a couple restaurants in town but generally not much variety besides greesy pizza and fake Chinese food.
2.) Describe the social life at your school - what did you like most about it?
Everybody knows everybody, which can be a plus or minus depending on what you are looking for. It feels like a small liberal art college because you develop some very deep friendships.
Mercersburg has an incredibly beautiful campus. It is a place for reflection as much as anything else. The gothic chapel is designed by the architect who built Princeton University's chapel, and it carries a rich. . .
Mercersburg has a unique community in that everyone is so connected and there really is a sense of family among the students and teachers. Everyone is incredibly kind, welcoming, ambitious, and curious. the relationships I. . .
Mercersburg had a rotating class schedule, and kept all classes under an hour. This way, students were able to learn for concentrated amounts of time, four hours a week, while not experiencing their least favorite. . .
Show more reviews (

17 reviews

)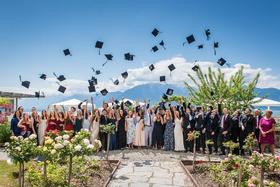 Nurturing Futures: A Journey through Boarding at Haut-Lac School in Switzerland
Nestled in the hills overlooking Lake Geneva in the French-speaking part of Switzerland lies an educational gem that embodies a unique blend of academic excellence, cultural richness and a profound sense of community. Founded over 30 years ago, Haut-Lac International Bilingual Day and Boarding School is now home to both 600 day students and a maximum of 30 boarders from around the world.
What To Wear at Your Job Interview
Navigating job interviews can be stressful, but knowing what to wear shouldn't be. Our comprehensive guide covers the essential dress code tips for men and women interviewing at boarding schools. Make your first impression count with style and professionalism.
Navigating the Modern Maze: Emerging Challenges for Boarding Schools
Explore the pressing challenges facing boarding schools, from marketing difficulties and rising insurance costs to facility maintenance and recruitment of competent trustees and teachers. This article delves into these complex issues and proposes innovative strategies to overcome them.