Reflections and Advice:
1.) What do you think makes your school unique relative to other boarding schools?
This school was different from a lot of other boarding schools in the area because it fostered an environment where everyone wanted everyone else to achieve. Unlike other schools where every student made sure that they became their schools selection to Harvard, students at NMH helped others to become better students. NMH was one of those "hold the door" communities. It's a small thing that can mean a lot. To me it meant that no matter who you were, people helped to make the path ahead easier for you.
2.) What was the best thing that happened to you in boarding school?
The best thing that happened to me in boarding school was graduation. Not because I wanted to leave, but because it was then that I realized how many people had put effort into my success. I was up there getting my diploma and I had to walk in front of all of the teachers and students who had helped make me the person who was standing on that stage. That really humbled me. I wouldn't have been able to make it through high school alone, but luckily, I had more help than I could hope for.
3.) What might you have done differently during your boarding school experience?
I've always regretted not trying more things. There are so many things available that can be tried. That doesn't mean you'll enjoy everything. But that helps shape who you are. By learning what you don't like in high school you can avoid finding out about that in the future when it may be too late.
4.) What did you like most about your school?
Can I say everything? All of my friends know that I loved my experience at NMH. I can't say this for sure, but I believe that NMH will prove to have a bigger role in shaping my life than the next three years of college will. NMH was everything I wanted from a school and more. Of course, I enjoyed the breaks from school, but by the end of the summer I just wanted to get back to the hill in Gill that had taught me so much.
5.) Do you have any final words of wisdom for visiting or incoming students to your school?
If you're a girl, I lived in Upper South Crossley and I can say that we have the best staff of any other dorm on campus. Also, the dollar burgers at the snack bar are really good and definitely worth more than a dollar.
Academics:
1.) Describe the academics at your school - what did you like most about it?
What I liked most about the academics at NMH was that the class sizes were always small, I don't think I had a class of more than 20 people at any point during my NMH career. Classes were innovative; we didn't just get lectured or do handouts every day. Teachers really did what they could to keep students involved and active. Classes were also 1 hour and 20 minutes long. Although it sounds like this would be difficult because of the sustained attention required, it really made things easier. Labs, artwork, and even essays could be completed during that span of time. Students didn't have to pack up their lab materials just to spend time setting up again the next day. As for what classes were offered, there was no limit. Even if there was something that you really wanted to pursue that wasn't on the curriculum, you just had to chose a teacher to be your "professor" for an independent study. You could get credit for work you did on your own. And although everyone wanted to succeed, no one wanted to push down others to get higher. We learned that working together makes everything easier.
Athletics:
1.) Describe the athletics at your school - what did you like most about it?
The athletics department at my school is well funded and competitive with other schools. The facilities, especially the fields, are incredible. It is amazing that we are able to have the turf that we have at the high school level. What I liked most is that teams were designed to improve the skills of the individual players. Our system of progression from JV to Varsity was the central focus for most of the teams on campus. The team worked for the betterment of each individual, as well as the team itself. Many of the most important things I learned in high school happened on the field or rink. From communication to leadership, I became a better person because of the athletic program at NMH.
Art, Music, and Theatre:
1.) Describe the arts program at your school - what did you like most about it?
Unlike so many other private schools in New England, the Arts are not left behind by the Science and Humanities. Our art center is the newest facility on campus and it boasts two theaters, several studios and practice rooms including a dark room for photography and a recording studio for music. In addition to that, the art center has several computer rooms equipped with music and digital design applications to help students succeed in the modern world of technology. And above all, our Arts program has some of the most dedicated staff members at NMH.
Extracurricular Opportunities:
1.) Describe the extracurriculars offered at your school - what did you like most about it?
From Model United Nations to Debate Team to Hogger Radio and many many more, NMH offers extracurriculars for every interest. Personally, I was part of the Gender and Sexuality Alliance. And, honestly, this club helped me discover who I really as well as educating me, and many others, about the complicated topic of gender and sexuality. Our radio station, Hogger Radio, let me jam with some of my friends and expose people to music that they way not have heard before. Although not the biggest part of my NMH career, the extracurriculars at the school helped keep me well rounded.
Dorm Life:
1.) Describe the dorm life in your school - what did you like most about it?
It sounds cliché, but our dorm was family. And although it seems unlikely, everyone was able to connect with each other in one way or another. The rooms were mostly doubles and were chosen by a room draw at the end of every year. In the unlikely scenario that you and your roommate did not get along, transfers were possible and as easy as they could be. The support system available for us in the dorm worked on three levels, but rarely made it to the third. The first levels consisted of our Resident Leaders. These are students who have shown the ability to lead and communicate with others exceptionally. These students are in place to allow students in the dorm to have someone to talk to that isn't an adult. Although all RL's are mandated reporters, they still offered a space to talk about problems that did not need to be discussed with an adult. For those problems there was the second level: the Dorm Parents and Dorm Head. The dorm parents are faculty who address the problems in the dorm first. They is always at least one faculty present in the dorm every night ready to be woken at 2 am for emergencies. And these people weren't just there for emergencies, they really did work as your parents while at school. The last level was the dorm dean, this level of support was for more extreme cases. The deans oversee any serious problems that occur in the dorm. Honestly, I can't really tell you more about their job because they are not often needed.
Dining:
1.) Describe the dining arrangements at your school.
I'm going to make it simple: we have the best food out of all the preparatory schools in New England. And although I can't find the source that said that, I know that it is true because the food is exceptional. I'm in college now, and I really miss my boarding school food. The dining hall is open from 6am to 9pm with grazing hours in between meal times. The food is set up buffet style for the most part with more options than you could possibly need at any given meal. Like I said, I miss this food.
Social and Town Life:
1.) Describe the school's town and surrounding area.
I love NMH and I will try my best to put it in a good light but that is hard to do when it is in the middle of nowhere. Honestly, the one thing that NMH lacks is its proximity to a town. The nearest town is Northfield, about a half hour walk from the school. Northfield does have a small grocery store and some convenience stores but it really is mostly residential. It is home to the Northfield Creamie which has some of the best ice cream I have ever had. Besides Northfield there is Greenfield, about 15 minutes away and Northampton about 30 minutes away. There are shuttles to and from Greenfield and Northampton every weekend. Greenfield has stores and a cinema while Northampton has some of the best restaurants in the region. Even though we're still in the middle of nowhere, we do have access to some pretty towns in Western Massachusetts.
2.) Describe the social life at your school - what did you like most about it?
Everyone was always really friendly with everyone else and you always saw familiar faces. NMH is pretty small, about 600 students, so you get to know a lot of people pretty well. Students make an effort to include everyone. The Student Center has pool tables, an arcade machine, ping pong tables, and an air hockey machine. On top of all that, it has the Pres Box which is a snack bar that you can order from even after the dining hall has closed. The student center is a place for students to go and have fun, it serves no other purpose.
Daily Schedule:
Weekday
9:15 AM
X- block: School meeting or Advising meeting
11:30 AM
Class (or lunch depends on the schedule)
1:00 PM
Free Period (4 blocks a day but only 3 classes = 1 free period)
3:15 PM
End of the school ay
6:30 PM
Orchestra, Choir, and some clubs
8:00 PM
Study Hall until 10
Weekend
1:00 PM
Sports practice or games. Time varies
NMH allows students to dive into the community and passions. The college like scheduled of four classes allowed me to seamlessly transition into college academics. Also NMH has a four hour per week work program. . .
Northfield Mount Hermon School helped me become the man I am today.The best thing about NMH was its sense of community. I like to think that I knew almost everyone there, while everyone knew me. . .
This school was different from a lot of other boarding schools in the area because it fostered an environment where everyone wanted everyone else to achieve. Unlike other schools where every student made sure that. . .
Show more reviews (

12 reviews

)
Mastering the Boarding School Selection Process: A 5-Step Guide
Discover the ultimate 5-step guide to choosing the perfect boarding school for your child. Explore essential factors, such as academics, campus facilities, extracurricular activities, and more. Make an informed decision to provide your child with an enriching and transformative educational experience. Read now!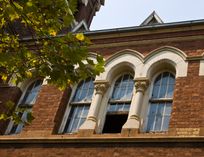 5 Founders and Their Boarding Schools
What prompts somebody to start a boarding school? The motives range from idealism to munificence right on through to capitalism. The common thread seems to be ample capital and a vision of what education can do.