Reflections and Advice:
1.) What do you think makes your school unique relative to other boarding schools?
All girls, religious, mandatory church/ religious studies, volunteer, arts, athletics.
2.) What was the best thing that happened to you in boarding school?
I learned to live independently and resolve issues on my own. I learned to take responsibility for my actions and face the consequences. College was not new or hard but rather a different opportunity with its own challenges which is unlike what many students face for their first time and struggle with, i was a seasoned pro. The knowledge i obtained through my courses still comes in handy today as well as my study methods.
3.) What might you have done differently during your boarding school experience?
I would have not brought so much stuff i thought i would have needed. I practicly packed up my whole room at home and moved into half the space... Start simple and acquire what you need later on, and it also gives you something to do on the weekends. Get a good start, because you will be living socially with those around you be kind to everyone and don't form opinions on your fellow students till you really get to know them. My maid of honor was my worst enemy because we came from rival schools growing up, so for the first 6 months we didn't like each other. Now we are best friends, so give everyone a chance and it will allow you to settle in nicer. I always remember the girls who were rude and unkind and they had a harder transition through the whole of school because of it.
4.) What did you like most about your school?
I liked the campus, and the area around Monterey. It is beautiful and fun to explore. The studies and extra curricular actives are what you make of them, and i enjoyed what i got out of them.
5.) Do you have any final words of wisdom for visiting or incoming students to your school?
The on campus families are a great resource and i was so happy to become close with one family who helped me through hard times. They become your family and are great people to come to when your family are miles away.
Academics:
1.) Describe the academics at your school - what did you like most about it?
The academics are what you make of them. If you want to choose an easy track you can, and the school will be like any rigorous public school. If you choose to take the more difficult courses this can be the most challenging academic part of your schooling career. There are many options available to further your studies and many clubs to further your resume and interests but they are self driven, no-one will make you choose these options. If you are a boarding student there is a mandatory study time which you are allowed 2 hours to do homework. Unlike day students who have parents dictating their schedules, boarding students have limited times to study as meal times are mandatory and social times can be distracting. So these two hours must be spent wisely and for your first two years a mandatory bed time makes it impossible to complete all of your work if not done in that time period. This thought me to complete homework during the day periods and after class, which made college much easier and i was able to carry a heavier coarse load allowing me to obtain two degrees in 5 years.
Athletics:
1.) Describe the athletics at your school - what did you like most about it?
The athletics are competitive and individual sports can allow for success, but all team sports fluctuate with class year given the types of students as teammates. The swimming facility is world class and was new my junior year. As a boarding student i was not allowed to play my sports on a club level though because of school rules which forced me to step back at the competitive level i was used to playing. But day students are allowed to do whatever they want. Everyone is required to do an after school activity, but if your not into sports music and theatre are your other two options.
Art, Music, and Theatre:
1.) Describe the arts program at your school - what did you like most about it?
I was never involved theatre, but we were all required to watch the performances and i enjoyed them very much. I did take private voice, piano, and drum lessons and the music department provided instructors which i enjoyed. The music room is open to boarding students till 9pm so you can go at any times all afternoon, i believe this has been remodeled since i left.
Extracurricular Opportunities:
1.) Describe the extracurriculars offered at your school - what did you like most about it?
There were many different types of volunteer opportunities as well as organizations so many in fact that it is impossible for anyone to join all of them. There are options for other religions and beliefs, and you can also create your own program if you choose.
Dorm Life:
1.) Describe the dorm life in your school - what did you like most about it?
Dorm life takes some getting used to. The Freshman year is the most restricted with off campus privileges, but it gets better the older you get. The dorms were older and definitely have a unique feel. The furniture is set in place and doesn't move which means equal space between roommates. My brothers school had furniture you could arrange which made for walls in-between roommates and different options. Our dorms are an open floorplan split down the middle. Juniors are split between the three buildings where they are divided between Freshman, Sophomores, and Seniors. I liked the grounds and how the dorms were uphill to campus so it felt separate.
Dining:
1.) Describe the dining arrangements at your school.
Meal periods are mandatory check in so everyone attends. There are meals where we eat with other classes and dress nicely once a week with a member of staff at the table. All other meals are set by class and a nice place to congregate. The food was always good, but i always wished there was a vegetarian option other then salad. This has probably changed given the new dietary wave that has crossed the US lately. The cafeteria closes between meals so its always a good idea to have snacks in your dorm and something to cook with like a water heater.
Social and Town Life:
1.) Describe the school's town and surrounding area.
The ocean is a 10 min walk from campus, and there is a school bus that goes to the main street in Monterey, Carmel, and the mall (DMC). Those are the main areas students go, but there are other options as well. The Monterey bay aquarium is a short cab ride, as well as a few different hikes and beaches.
2.) Describe the social life at your school - what did you like most about it?
Your classmates become your friends, i knew very little people outside of school, mostly as a boarding student. We go out on weekends together, eat together, study together, and live together. You are constantly surrounded by others, at first it can be overwhelming but it can also be fun and exciting. Boarding students become more close then day students and at first there is a divide that occurs, but as time goes on that all changes. 10 years later i am still close with my friends.
Daily Schedule:
Weekday
3:00 AM
Sports, Theatre, Music
Weekend
5:00 PM
Back to Campus final check in
10:00 PM
Movie with friends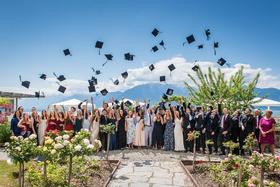 Nurturing Futures: A Journey through Boarding at Haut-Lac School in Switzerland
Nestled in the hills overlooking Lake Geneva in the French-speaking part of Switzerland lies an educational gem that embodies a unique blend of academic excellence, cultural richness and a profound sense of community. Founded over 30 years ago, Haut-Lac International Bilingual Day and Boarding School is now home to both 600 day students and a maximum of 30 boarders from around the world.
What To Wear at Your Job Interview
Navigating job interviews can be stressful, but knowing what to wear shouldn't be. Our comprehensive guide covers the essential dress code tips for men and women interviewing at boarding schools. Make your first impression count with style and professionalism.
Navigating the Modern Maze: Emerging Challenges for Boarding Schools
Explore the pressing challenges facing boarding schools, from marketing difficulties and rising insurance costs to facility maintenance and recruitment of competent trustees and teachers. This article delves into these complex issues and proposes innovative strategies to overcome them.