Deerfield Academy - Review #2
About the Author:

College Enrolled
St. Lawrence University
Home Town, State (Country)
South Deerfield, MA
Years Attended Boarding School
4
Activities During Boarding School
Skiing, Softball, Proctor, Tour Guide, Community Service.
Review

Description

St. Lawrence University

The teacher-student relationship at Deerfield played a huge role in my Deerfield experience. First off, there is a great teacher student ratio, making class sizes small, which allows students to get to know teachers more. . .

St. Lawrence University

Deerfield is set in a historic New England village preserved from the 18th century. History and heritage are therefore prevalent in all aspects of life at the school. The campus matches the lovely. . .

Colby College

The most important things about my Deerfield experience were the relationships I fostered with peers and teachers. There is something about Deerfield that attracts interesting people and you don't have to dig deep to. . .

Princeton University

Two aspects of Deerfield that make it unique as a high school are the dynamics of a student body of 600 and the school spirit. The school has a tight-knit atmosphere because the student body is. . .

Middlebury College

Deerfield is a small school (600 students) that emphasizes community. If you pay a visit and take a tour you will hear and feel that consistently. I loved that aspect and now that I am. . .

Show more reviews

(1

reviews)
April 20, 2018
Actually, there is no secret to getting your child into boarding school. Just a lot of hard work and a heavy commitment of time.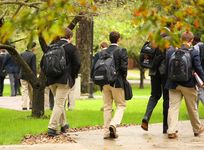 March 22, 2018
Some cynics think single-sex education is old-fashioned. The Kiski School shows how educating boys in a single-sex school is successful.
March 08, 2018
The wide range of fine academic, athletic, and other facilities found in boarding schools underscores the determination of schools to provide the very best for their students.