Reflections and Advice:
1.) What do you think makes your school unique relative to other boarding schools?
Deerfield is set in a historic New England village preserved from the 18th century. History and heritage are therefore prevalent in all aspects of life at the school. The campus matches the lovely town tactfully, yet also fosters modern design--in the newer buildings--without compromising the overall appearance of the place. Students can't help but appreciate the authenticity of a place where history and heritage literally dictate how everything looks and operates.
2.) What was the best thing that happened to you in boarding school?
I was able to choose what academic strength I ultimately wanted to foster the most, and for me this was writing. I was not forced to take complex science courses that I didn't want or need to take to further my education; instead I was able to work closely with caring teachers and really hone my skills. The campus literary magazine was something to strive for, and my writing improved greatly.
3.) What might you have done differently during your boarding school experience?
It is easy to be intimidated when surrounded by very, very qualified peers, so my advice would be to be brave and open-minded when approaching new potential friends. By senior year, everyone is surprised by the friendships they have developed in spite of initial first impressions.
4.) What did you like most about your school?
I liked the beautiful campus and the academic freedoms that students could use to develop as thinkers, rather than just test-takers. The faculty always inspired students and encouraged this.
5.) Do you have any final words of wisdom for visiting or incoming students to your school?
Grilled Chocolate Chip Muffins are a must have at the Greer Snack Bar. Definitely go for a hike up to the rock and look at the beautiful Deerfield River Valley.
Academics:
1.) Describe the academics at your school - what did you like most about it?
Teachers at Deerfield are allowed the freedom to teach what they are passionate and extra knowledgeable about, which fosters more enthusiastic learning among students. Very few courses, even those with "AP" designations, are taught specifically with standardized testing in mind, which means students take away more actual knowledge and spend less time memorizing quickly forgotten facts. All students, basically, are extremely qualified and bright, which makes peer driven discussions advanced and interesting.
Athletics:
1.) Describe the athletics at your school - what did you like most about it?
Deerfield students enjoy excellent athletic facilities, including a state of the art athletic building, an Olympic size swimming and diving center, a brand new squash center and excellently maintained outdoor fields. Many sports programs are nationally competitive and good coaching and post graduate student recruiting allows Deerfield to remain at the foremost of national sports, especially lacrosse and squash. There are a lot of lower-level and recreational opportunities for students of all levels, too, and each team has a designated space/field to use. Some kind of activity is required every trimester; most students opt to participate in a sport, but community service, theater or arts exemptions are also options.
Art, Music, and Theatre:
1.) Describe the arts program at your school - what did you like most about it?
A wide range of arts classes are available, from introductory courses where students learn the foundations of art, to much more advanced courses where students are allowed significant artistic freedoms. A brand new arts facility was opened about two years ago, which includes a beautiful gallery, several different theaters, and an inspiring space in which to learn and make art.
Extracurricular Opportunities:
1.) Describe the extracurriculars offered at your school - what did you like most about it?
A very wide range of clubs is available at Deerfield and it is very easy for students to get involved. These can be altruistic/service oriented, academic, artistic, musical, political, athletic, or just plain fun clubs. Most students participate in some sort of extracurricular activity and it is also very easy for students to set up a club or group that may not already exist. Funding is available for groups, too!
Dorm Life:
1.) Describe the dorm life in your school - what did you like most about it?
Dorm life is extremely fun. The dorms are mostly nice, and even the older ones, which are not as state of the art, have a lot of character. Most students live in singles; almost nobody has to live in a double if they don't want to, and there is no additional cost for a single. Proctors are typically very influential players in the lives of underclassmen; two or three senior proctors live on every freshman floor and act as a surrogate older brother or sister for underclassmen. Dorm bonding is important and highly encouraged by faculty and administration, especially through "feeds," late night snack sessions, and outings. For upper classmen, there is a nice range of dorm choices from tiny, intimate dorm buildings to very large, more college-esq dorms.
Dining:
1.) Describe the dining arrangements at your school.
The dining hall is more or less the center of campus and the food is quite good. Sit down meals are required for most lunches and several dinners each week. These formal meals are served by rotating student waiters. Class dress is required and proper manners are required. Students sit at the same table of 9 students and 1 faculty member for 3 weeks at a time, and these tables are randomly assigned, meaning students have an opportunity to meet and talk with lots of peers with whom they may not have otherwise crossed paths.
Social and Town Life:
1.) Describe the school's town and surrounding area.
The town is tiny and very rural. It is beautiful to drive and walk through and a few very cute stores--namely Richardson's Candy Kitchen and the William's Sugar House--are within walking distance, but there is not much else in the area besides houses. For dining and shopping, Greenfield is a short (10 minute) cab ride away. This town has a few good options for food, as well as a movie theater and some stores, but it's still a pretty small place.
2.) Describe the social life at your school - what did you like most about it?
It's easy to meet people at Deerfield with the range of clubs, sports, activities, dorms, classes and sit down tables. My closest friends were from dorms and sports teams. Peers are generally smart and interesting people, and there are lots of great conversations to be had.
One unique aspect of living in the Pioneer Valley is all the outdoor activities that come along with it. Whether it be biking, hiking to the rock, running the small loop, or swimming in the. . .
Deerfield is smaller than many other boarding schools in New England, leading to a very tight-knit community. Each student gets to know people in every grade level very well. The tradition of sit-down meals help. . .
Deerfield has a very student-centered learning environment that encourages students to learn to ask for help and use all the resources available to them. Deerfield also has "feeds," when the hall associate on duty for a. . .
Show more reviews (

11 reviews

)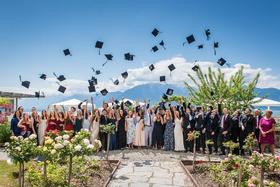 Nurturing Futures: A Journey through Boarding at Haut-Lac School in Switzerland
Nestled in the hills overlooking Lake Geneva in the French-speaking part of Switzerland lies an educational gem that embodies a unique blend of academic excellence, cultural richness and a profound sense of community. Founded over 30 years ago, Haut-Lac International Bilingual Day and Boarding School is now home to both 600 day students and a maximum of 30 boarders from around the world.
What To Wear at Your Job Interview
Navigating job interviews can be stressful, but knowing what to wear shouldn't be. Our comprehensive guide covers the essential dress code tips for men and women interviewing at boarding schools. Make your first impression count with style and professionalism.
Navigating the Modern Maze: Emerging Challenges for Boarding Schools
Explore the pressing challenges facing boarding schools, from marketing difficulties and rising insurance costs to facility maintenance and recruitment of competent trustees and teachers. This article delves into these complex issues and proposes innovative strategies to overcome them.