Reflections and Advice:
1.) What do you think makes your school unique relative to other boarding schools?
The location of The Lawrenceville alone is enough to differentiate it from most other competitive boarding schools tucked away in New England. Nestled in a quiet town just 5 miles from Princeton, you get the experience of every other school but have quick and easy access to both Philadelphia and New York City. The campus is also stunning--landscape designed by Frederick Law Olmsted, of Central park fame. Required attendance to a religious ceremony (of any sort for learning purposes) each trimester.
2.) What was the best thing that happened to you in boarding school?
I would have never been prepared for college in the same way had I not attended Lawrenceville.
3.) What might you have done differently during your boarding school experience?
I would have attended earlier and joined more clubs. I only attended my final two years of high school.
4.) What did you like most about your school?
The sense of community pride is unparalleled.
5.) Do you have any final words of wisdom for visiting or incoming students to your school?
Chocolate croissants at the Jigger Shop. Amazing.
Academics:
1.) Describe the academics at your school - what did you like most about it?
The small class size and Harkness method of teaching allowed students to dive into material while having access to brilliant professors in an unintimidating environment. The diversity and depth of classes rivals a college course catalog, and the unique tri-mester set-up allows students to easily organize their academic lives in addition to extracurriculars.
Athletics:
1.) Describe the athletics at your school - what did you like most about it?
Competitive and well-supported athletics program across the board, for girls and boys. Mandatory participation in something (sports or arts) all three trimesters.
Art, Music, and Theatre:
1.) Describe the arts program at your school - what did you like most about it?
Minimal experience with arts programming, but as a viewer/consumer, the theater program at Lawrenceville is top notch.
Extracurricular Opportunities:
1.) Describe the extracurriculars offered at your school - what did you like most about it?
Ample opportunities for volunteer work, arts involvement, and athletics (both competitive and non-competitive).
Dorm Life:
1.) Describe the dorm life in your school - what did you like most about it?
Freshman live together in two adjoining dorms. Sophomores and Juniors are divided up into "Houses" like Harry Potter that you live in for two years. You have opportunities for House athletic competition and academic competition that builds a deep sense of community. Seniors live together again in two dorms but you also have the option to serve as a Prefect in a Freshman or House dorm. Great social life with "Feeds" on Saturday (late night food in Houses). Most dorm rooms are doubles on campus.
Dining:
1.) Describe the dining arrangements at your school.
Amazing dining halls: one for freshman, one for sophomores, juniors, and seniors, and one for seniors only.
Social and Town Life:
1.) Describe the school's town and surrounding area.
Cute town with a coffee shop, bagel shop, a number of small restaurants, and a pizza shop. Short bus ride to Princeton, NJ which has a wealth of shopping options.
2.) Describe the social life at your school - what did you like most about it?
Very close community with diverse options for clubs, dances, etc.
The house system is unique to different boarding schools and the dress code.. . .
What makes Lawrenceville unique from other boarding schools is definitely its house and harkness method. Harkness is especially unique because it allows for students to everyday engage critically with the text they are reading and. . .
One of the most notable aspects of Lawrenceville is the house system. It is often compared to Harry Potter. After freshman year all students are sorted into the houses they will live in their sophomore. . .
Show more reviews (

3 reviews

)
Mastering the Boarding School Selection Process: A 5-Step Guide
Discover the ultimate 5-step guide to choosing the perfect boarding school for your child. Explore essential factors, such as academics, campus facilities, extracurricular activities, and more. Make an informed decision to provide your child with an enriching and transformative educational experience. Read now!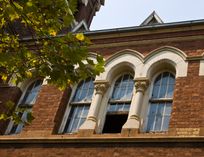 5 Founders and Their Boarding Schools
What prompts somebody to start a boarding school? The motives range from idealism to munificence right on through to capitalism. The common thread seems to be ample capital and a vision of what education can do.