Reflections and Advice:
1.) What do you think makes your school unique relative to other boarding schools?
Phillips Andover has the motto 'Non SIbi' or 'Not For Self' which is taken very seriously and has been engrained in the culture of the academy for over 200 years. Non Sibi day is celebrated at Andover every spring. Classes are canceled (generally on a Friday) and every student joins a group to perform community service ranging from road cleanup to sorting donated medical supplies for hospitals abroad. 'Non Sibi' really makes Andover unique because the reverberations of the motto are felt in the day to day hum of the campus. In addition, Andover employs a Harkness style of teaching for all its english and history courses, meaning all class sessions are discussion based and require preparation for each day.
2.) What was the best thing that happened to you in boarding school?
There is definitely something to be said about being at a place like Andover. Managing a sport every season on top of extremely rigorous academics and living away from home for the first time. I certainly grew up quickly within my first year on campus, and having the support of all the boys in my dorm and on my teams was an absolute necessity for success. Whatever you do, there will be a special group of people that you find and you can't imagine your Andover experience without.
3.) What might you have done differently during your boarding school experience?
I would have made a more decided effort to extend myself to some of my peers and try to build relationships with them because everyone at Andover is incredibly interesting and influential for one reason or another. There were people that I really became close with only a few weeks before graduation, and I remember wishing that I had been closer to them earlier in my Andover career.
4.) What did you like most about your school?
The thing that makes Andover are the people. Every personality on campus is a complex and sophisticated one, and finding myself among all these incredible students and athletes was the greatest experience.
5.) Do you have any final words of wisdom for visiting or incoming students to your school?
Extend yourself to as many of your peers as you can. The kids that are at places like Andover are special, and the people you have these relationships with will be your friends for life.
Academics:
1.) Describe the academics at your school - what did you like most about it?
The harkness style courses were great for me because english and history are my stronger subjects, but aside from my personal bias in that regard, the harkness method creates a class dynamic that is special. I had to rely on my classmates on a daily basis more than anywhere else because we were all part of a system where success was dependent on everyone's participation. Not to mention, conversing with such depth everyday makes you learn about all members of the class as you begin to notice their interests and strengths. Andover is second to none in terms of having small and personal classes, which creates a more intimate environment. The instructors want to see everybody work cohesively and expect a lot out of the class. Nowhere else have I experienced working with such an intelligent and diverse group of people.
Athletics:
1.) Describe the athletics at your school - what did you like most about it?
The athletics programs at Andover will forever be some of my greatest memories. I played football for Coach Modeste in the fall and baseball for Coach Graber in the spring. The tradition of excellence in athletics there is unparalleled, as Andover retains the oldest private school football rivalry in the country with Phillips Exeter. Every single year in early November, the two teams meet to compete for a chance at history in front of 3,000-4,000 people in an absolutely electric atmosphere. Andover requires that its students participate in a sport every season, but there are options for everyone whether you'd like to be playing in front of hundreds of people on the football team or just working on your fitness in a FIT class taught by Andover's strength coaches. The possibilities for sports each season are extensive and can be a large time commitment or a small one. The coaching at Andover is the best at any boarding school, every coach I worked with had years of experience and drove us everyday to be the most well rounded and successful athletes we could be. Lastly, Andover's facilities are flawless, with a brand new sports building being completed this year. The new building overlooks the football field and has a complete indoor track.
Art, Music, and Theatre:
1.) Describe the arts program at your school - what did you like most about it?
I did not have too deep an involvement with the music and arts at Andover, but I did take an art course and a music course as a graduation requirement. I took a basic drawing course which ended up being quite challenging (I am utterly talentless when it comes to the arts). My music course was actually really rewarding and taught the basics of composing and reading music. Our final exam involved composing a basic song on Sibelius. Despite my lack of talent, the teachers I had were experts in their fields and loved working with kids of all skill levels.
Extracurricular Opportunities:
1.) Describe the extracurriculars offered at your school - what did you like most about it?
The club rally at Andover is another very exciting day that features every student run club on campus stage a booth to try and attract members. The options are quite literally endless and if there is something that Andover doesn't have that you would like to see, it's very simple to start your own club. Andover has Model UN, mock trial, and debate, to things like economics club and racket tennis.
Dorm Life:
1.) Describe the dorm life in your school - what did you like most about it?
Living in the dorms at Andover has forged some of the greatest relationships that I will have for the rest of my life. I had a group of new sophomores (like myself) that all lived on my floor in Foxcroft hall along with a couple post graduates, and having everybody kind of be new at the same time was fun. Also, the residential life at Andover is divided into five "clusters" Flagstaff, Pine Knoll, Abbott, West Quad North, and West Quad South. The best thing about the cluster system is that there is a different feel for everybody, pine knoll is on one side of campus with the picturesque bird sanctuary that has tons of pine trees and more natural surfaces, while flagstaff has a more urban feel with the brick cookie cutter dorms and the tower of Samuel Phillips hall right near it in the center of campus. The housing system is relatively stress free and very fair. You can enter the housing lottery and draw a number or opt to block with a couple of your friends in a big dorm. You can even get a group of your closest classmates ( 4 of you, up to 11 in some places) and live in a house with only one or two faculty members. That situation is known as a stack and a few houses on campus are available each year to be stacked by close groups of friends. Stacks are really houses and don't resemble dorms at all. Most dorms at Andover have doubles of the one room and two room variety, a few triples with three rooms exist but not many, and singles are available also.
Dining:
1.) Describe the dining arrangements at your school.
The food in Paresky Commons is very good compared to any dining hall out there. Aramark Co. provides the food and the staff in Commons is quite friendly. There are two chefs available on the first floor for custom made stir fry during lunch and dinner hours, and there are two entrees served on both sides of the second floor. Breakfast is 7am to 9:30am, then there are three lunch periods throughout the class day, and dinner is served 5pm-7pm. There is no assigned seating and everyone eats meals in Commons so it turns into a really great communal space where you can see everyone.
Social and Town Life:
1.) Describe the school's town and surrounding area.
The town of Andover itself is perfect for the needs of the school. The center of town is a 4-5 minute walk from campus directly down main street, and the local CVS accepts BlueCard (student ID that Andover students can transfer funds to). There lots of places that will deliver food to campus in addition to restaurants well within walking distance.
2.) Describe the social life at your school - what did you like most about it?
There is a student activities board comprised of students and faculty members that come up with ideas for dances and student activities on the weekends. There are a number of big social events that are tradition on campus and happen every year. These events are greatly anticipated by the student body and are very well funded and executed.
Daily Schedule:
Weekday
Weekend
11:00 AM
Generally, prep for sports games in the fall
As I look back on my life, I found the English Department profoundly brilliant. The level of reading (weekly) was extraordinary. The level of commitment of the faculty was genuine.. . .
Our campus has a cluster system which means we have five somewhat distinct residential communities. It definitely helps build smaller communities within Andover's larger student body. Another thing that was unique about Andover was their. . .
Andover has a need-blind admissions policy, which means that they don't take into account someone's ability to pay for the school when deciding whether or not to admit them. This makes the school much diverse. . .
Show more reviews (

13 reviews

)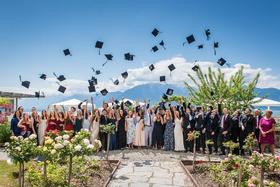 Nurturing Futures: A Journey through Boarding at Haut-Lac School in Switzerland
Nestled in the hills overlooking Lake Geneva in the French-speaking part of Switzerland lies an educational gem that embodies a unique blend of academic excellence, cultural richness and a profound sense of community. Founded over 30 years ago, Haut-Lac International Bilingual Day and Boarding School is now home to both 600 day students and a maximum of 30 boarders from around the world.
What To Wear at Your Job Interview
Navigating job interviews can be stressful, but knowing what to wear shouldn't be. Our comprehensive guide covers the essential dress code tips for men and women interviewing at boarding schools. Make your first impression count with style and professionalism.
Navigating the Modern Maze: Emerging Challenges for Boarding Schools
Explore the pressing challenges facing boarding schools, from marketing difficulties and rising insurance costs to facility maintenance and recruitment of competent trustees and teachers. This article delves into these complex issues and proposes innovative strategies to overcome them.