Reflections and Advice:
1.) What do you think makes your school unique relative to other boarding schools?
While I never expected to attend a religious school, nor do I consider myself particularly religious, attending George School with its background in Quakerism was such an amazing experience. Teachers really seem to relate to students and are extremely approachable. I know that all of my teachers there truly cared about not only my academic success but about my well-being as a member of the community.
2.) What was the best thing that happened to you in boarding school?
It truly is difficult for me to identify a singular best thing that happened to me during my time at GS. Part of me would say that I really have grown to appreciate how GS developed my time management skills and made for a truly seamless transition to college, or how the academic rigor made me a great candidate for the colleges of my choice. But perhaps the best benefit of time career at George School were the connections I made with who are still to this day my best friends. Its almost impossible for me to imagine a life without them, and while we all went separate ways to different colleges, they are still people that I feel like I connect with so deeply and I cannot understate how grateful I am to have had these people in my life, both then and now.
3.) What might you have done differently during your boarding school experience?
My advice to kids would be utilize your teachers as much as you can while you're there. They truly care about you and want you to succeed in school, but also to succeed in life. They are experienced as educators but also as mentors and they are ALWAYS willing to help you with whatever you need, whether that be tutoring in a class you're struggling with or if you're having a tough time away from home or are in a fight with a friend. This is something I have learned is absolutely invaluable, especially at what can be such a bumpy an confusing time in life, I am so grateful to every faculty and staff member at GS for making my experience there so worthwhile.
4.) What did you like most about your school?
Everything is great! The classes, the teachers, the students, the dorms. The campus is absolutely GORGEOUS (especially in the fall.)
5.) Do you have any final words of wisdom for visiting or incoming students to your school?
Going to boarding school is what you make of it, there are amazing resources for you at GS and even though the academics can be challenging, it's well worth the effort. Get involved, try to get to know as many people as possible (you will definitely know them all by name since the school is small, but really try to get to KNOW as people as you can.)
Academics:
1.) Describe the academics at your school - what did you like most about it?
The academics at GS are very rigorous, I found this to prepare me extraordinarily well for life in college. The IB program is definitely something worth taking advantage of during your time there, while it may seem daunting, it's a remarkable achievement for college apps and in many cases you can get college credit for good scores on IB exams! This can definitely save you some time in college or give you more flexibility as you go into college with some requirements already met. Another benefit of GS academics is the wide variety of courses you can choose from. While the freshman year curriculum is pretty standard, as you get older you have many more options for what types of classes you would like to take. My sophomore year I shopped around at other comparable schools just for fun and didn't find any schools of similar sizes that offered the number of different courses to students the way GS does.
Athletics:
1.) Describe the athletics at your school - what did you like most about it?
Similarly to the wide variety of classes offered at GS, there are many different sports you can take part in. My personal favorite was "ultimate frisbee" that was offered in the fall. While GS doesn't have a reputation for being particularly strong in sports, it is still a very fun experience to participate in, and one that is also mandatory (typically two sports per year.) It may seem like a big commitment but GS offers sports for every skill level, and all of the sports are very inclusive, so if there's a certain sport you want to play and GS has a team for it, you'll definitely be able to play that sport.
Art, Music, and Theatre:
1.) Describe the arts program at your school - what did you like most about it?
I didn't have much experience personally with the music or theater programs, but the variety of different visual arts courses offered is fantastic! I took ceramics, sculpture, photography, and alternative processes photography. I adored all of these courses as you get a high level of freedom to create something different. Additionally, I was very impressed by the photography lab at GS, it even surpassed the capabilities of the darkroom at my college! While it may seem like a little bit of a drag to have to take film photography before digital, I found the process to be fascinating and I think it really helped to give me a solid foundation in photo that I may have otherwise not gotten. All the arts courses I took at my time there were an absolute pleasure.
Extracurricular Opportunities:
1.) Describe the extracurriculars offered at your school - what did you like most about it?
There are MANY extracurricular opportunities at GS. Student government, prefects, a HUGE number of different clubs. All are very fun and inclusive, and students are welcomed to add new clubs all the time. While you're not required to be a member of any clubs, they are all great opportunities to immerse yourself in the community and often are great resume and application builders!
Dorm Life:
1.) Describe the dorm life in your school - what did you like most about it?
Dorm life was awesome! All of the facilities were excellently maintained. During the warmer months it could be a little bit of a struggle as most of the dorms don't have AC, but typically during the time school is in session it wasn't an issue. Being a girl, you get to live for your sophomore, junior, and senior years in three different dorms located in the same building on campus. This building was built in the 1800's and has some really cool history! On top of that, you literally live right above the dining hall which is a great perk when you're running to catch you first class and still want to be able to grab breakfast! Plus in the winter, you don't have to go outside in the snow on a Saturday morning to get lunch.
Dining:
1.) Describe the dining arrangements at your school.
I definitely did not appreciate dining at GS in its fullest while I was there. The food is great! At breakfast there is always a hot bar (think eggs, waffles or pancakes, bacon or sausage, biscuits, etc) then a cereal bar, oatmeal, coffee machine, bagels, and toast. On the weekends there's also a waffle iron out for make your own waffles. For lunch every day there's a specialty food item (like different pizzas, make your own burgers, pasta bar, grilled cheese bar, etc) and then also the hot bar which has different side items like veggies, rice, french fries, stuff like that. Then for lunch there's also a salad bar and sandwich bar with different cheeses and meats to choose from. For dinner there's a bevy of buffet-style options to choose from in addition to the salad and sandwich bar. And for dinner there's also make your own stir fry every night!The dining hall set up is also great too, there's no assigned seating for dinners nor are you required to attend any meals.
Social and Town Life:
1.) Describe the school's town and surrounding area.
It was a quick and easy walk to the shopping center across the street which includes a grocery story, pharmacy, and several food options if you get bored with the dining hall. About a mile from campus is "downtown Newtown" where people love to walk to Starbucks or some of the tiny boutique shops.It was great to have things within walking distance, though to get to places like the mall it was definitely beneficial to have friends with cars! Walking off campus is very easy, just sign out at the dean's office and you're good to go. Getting off campus in a car could be a little more tricky as each student needs permission to do so. The driver needs permission to be able to drive students and each student needs to have permission to go with the driver. Many parents just grant their student blanket permission to do these things, but each time you want to go in a car you still need to go into the dean's office and ask for permission to go. Not a huge deal but if you don't have blanket permission to get in a car and your mom or dad isn't picking up the phone to give you permission to go, you're out of luck.
2.) Describe the social life at your school - what did you like most about it?
The social life here was great. It far exceeded my expectations for a high school experience. The girls weren't clique-y, and I bonded so strongly with the friends that I made in my four years there. Since each graduating class is relatively small, there's really nowhere to hide and everyone quickly knows you and you know them. I liked this aspect because it felt as if everywhere I went on campus there was a friendly face and someone that I could walk to class with or share a meal with. At times I can understand why some people may think it feels a little bit claustrophobic, since you know everyone on campus, but I liked the bond that that created between my peers and I and I liked how comfortable I felt around everyone.
Daily Schedule:
Weekday
10:00 AM
Meeting for Worship
Weekend
11:00 AM
Walk to Starbucks
10:00 PM
Check-in in dorms
Quaker school surrounded by a ton of beautiful and gigantic old trees that provides you with so many opportunities and resources not only in academics but in after-school activities to develop existing skills, find new. . .
George School's strong Quaker tradition brings tenants of the faith into the educational curriculum and living environment. In terms of education, there's a strong array of courses that challenge all levels of learners and a. . .
My favorite part of George School is the vast service learning opportunities across the globe. There are service learning projects in Nepal, Vietnam, Cuba, and even ones closer to home, like Washington D.C..Another unique aspect. . .
Show more reviews (

6 reviews

)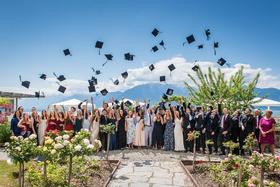 Nurturing Futures: A Journey through Boarding at Haut-Lac School in Switzerland
Nestled in the hills overlooking Lake Geneva in the French-speaking part of Switzerland lies an educational gem that embodies a unique blend of academic excellence, cultural richness and a profound sense of community. Founded over 30 years ago, Haut-Lac International Bilingual Day and Boarding School is now home to both 600 day students and a maximum of 30 boarders from around the world.
What To Wear at Your Job Interview
Navigating job interviews can be stressful, but knowing what to wear shouldn't be. Our comprehensive guide covers the essential dress code tips for men and women interviewing at boarding schools. Make your first impression count with style and professionalism.
Navigating the Modern Maze: Emerging Challenges for Boarding Schools
Explore the pressing challenges facing boarding schools, from marketing difficulties and rising insurance costs to facility maintenance and recruitment of competent trustees and teachers. This article delves into these complex issues and proposes innovative strategies to overcome them.