Reflections and Advice:
1.) What do you think makes your school unique relative to other boarding schools?
Andover is the biggest in student numbers of similar boarding schools and this gives it an incredibly diverse, dynamic character without losing the personalized feeling and small classes you would expect at this caliber. There is always so much to do, with a multitude of classes in subject area, every kind of club and sport you could imagine and constant student activities like battle of the bands, seasonal and cultural festivals and community service opportunities. It also has incredible financial aid which allowed me to have a kind of education that my family never could have otherwise afforded.
2.) What was the best thing that happened to you in boarding school?
Going to Andover and being able to try many pursuits and paths helped me understand myself better and was an important part of bringing me to where I am today. I came to know myself better and my challenges helped me learn to advocate for myself which has been an asset in college. I struggled in my final year because I had overloaded myself with demanding courses and began to feel like I didn't belong because I wasn't achieving. In my senior spring, I got my grades up again, and was rewarded with the "most improved" student award. It felt so special to be recognized and seen by my community--I realized that I didn't need to feel embarrassed for struggling, but proud of coming through and reaching the end, and standing on the lawn in our white dresses and navy blazers at graduation, I felt I belonged alongside my peers.
3.) What might you have done differently during your boarding school experience?
I wish I had had better academic advisors because I was placed in classes that did not suit me academically, and that effected my confidence in a place where everyone is very good at many things. I would encourage students to advocate for and believe in themselves and their reason for being there, especially if they come from a background that makes them doubt whether they deserve their spot at the school. You do deserve it, and help is there if you seek it.
4.) What did you like most about your school?
I liked the freedom to manage my own schedule and choose paths and opportunities that were right for me. I was inspired all the time by the creativity, intelligence and compassion of the students around me, and feel proud to be connected to this network of people doing such interesting things now that we're moving into the world 5 years later.
5.) Do you have any final words of wisdom for visiting or incoming students to your school?
I would definitely recommend Alumni House with Ms. Fulford--she was the sweetest house counselor and always made Andover feel like home. Spend some time walking around the campus to all its outer edges and more residential spaces like the Knoll and the Quads. If it's sunny, spend some time on the lawn or in the Sanctuary, and if the weather is rough, curl up in lower left with a cup of tea. Definitely check out the Addison gallery--having multiple professional galleries on campus was one of the most special, exciting things about Andover, and something many visitors overlook! I used to study in the art museum library, but it's also a great place to take in some spectacular modern art in an intimate setting.
Academics:
1.) Describe the academics at your school - what did you like most about it?
Teachers urged students to think at a complex, mature level, to ask important questions and to honor their desire to learn. At the same time, there were many resources available for students when we did need help, such as peer tutoring, one on one instruction with teachers and outside of class review sessions. What I loved most about Andover was that I could sit around with friends--other teenagers--and have conversations about world issues, ethical questions and the artistry of movies we'd seen and books we were reading. Coming from my public school, I found it refreshing that being thoughtful and intellectually hungry wasn't only accepted, it was encouraged.
Athletics:
1.) Describe the athletics at your school - what did you like most about it?
I spent most of my time at Andover dancing, and I have to say that the facilities were the best I had the opportunity to use in my 10 years of dancing. There were constant performance opportunities of high quality, artistic choreography for students at every level of training, and even a yearly showcase of student choreography. At one point, we had a chance to perform a Mark Morris piece and meet Morris himself, which is an experience I will always hold dear.
Art, Music, and Theatre:
1.) Describe the arts program at your school - what did you like most about it?
There were opportunities at literally every level in all of these areas.While I wasn't involved with music on a creative level, there were always student shows to go to and music by students to accompany All School Meetings and other events which was inspiring and enriching, and great experience for those involved. There are all kinds of music groups of every size and genre (from orchestra to student-led rock groups), and Andover offers private music lessons in a wide variety of instrumentsFor anyone interested in theater, there were large faculty-directed performances, smaller, student-led black box theater shows, the student improv group, 24 hour plays (of which I was once a part, as someone who has barely ever acted!), academic acting classes, student interest groups and more. The call for auditions and interest for most opportunities is rarely limited to those already established in a discipline, so announcements usually felt welcoming, not exclusive.At Andover, I had available a whole range of classes in the arts. I took many levels of film photography with a teacher who is very close to my heart, and honing this artistic practice was one of my most defining experiences in high school. I had many friends involved in the senior art show who produced professional level art.
Extracurricular Opportunities:
1.) Describe the extracurriculars offered at your school - what did you like most about it?
There was just so much to do in every area. It was easy to find people that I connected with through pursuing my interests and passions, and many of the people I met through extracurricular activities are still good friends today. I loved the mix of creative opportunities, community service, community building/affinity groups and events where we could have fun and unwind. I look back and am amazed at the level of speakers and workshop leaders that we had available to us--people like Spike Lee, Barbara Ehrenreich, Junot Diaz and W. S. Merwin, who you would expect to find on a college campus. One of the benefits of going to a school like Andover is being treated, in many ways, like a college student, and the array of extracurriculars is no exception.
Dorm Life:
1.) Describe the dorm life in your school - what did you like most about it?
My first few years, I was in a very small dorm with a house counselor who would make us cookies every week and gather us so we could read about our Myers-Briggs types together. It was a cozy, caring atmosphere that made me feel at home, and like I was part of a family. During my senior year, I had the opportunity to be a Proctor (like an RA) for the pilot program of a sustainable dorm, which was an exciting way for me to merge a passion of mine (sustainability) with my dorm life. The group of friends I made in that dorm would pile into one person's room, do our homework together and stay up into the night laughing, and they are some of my closest friends today. It's also worth noting that 2 out of my 3 years at the school, I had a single room.
Dining:
1.) Describe the dining arrangements at your school.
My first year, we ate in the former hockey rink because the dining hall was under construction, but when it was completed, the wait was all worth it. Andover has incredible, high quality, diverse dining options with 2 floors of food service and 4 dining rooms, each with their own personality. My friends and I sat in lower left, and still talk about our times in "lower left" to this day. The food at Andover is better than the food I get in college. All that said, even with the beautiful, modern renovations of the new dining hall, I have fond memories of watching the 2012 elections on a huge projector in the hockey rink!
Social and Town Life:
1.) Describe the school's town and surrounding area.
Andover is a small suburb of Boston with a fair amount to do, from coffee shops to the huge amount of preserved natural lands to Andover's best kept secret, the Andover Diner. Boston is just a commuter rail ride away, which makes it easy to get there and back within one day.
2.) Describe the social life at your school - what did you like most about it?
Andover is big but it's easy to get to know everyone. At times, I yearned for more anonymity (which I got when I moved to New York City for college!), but it was comforting to be a part of a community. When I was there, the school still had a ways to go in terms of being a truly inclusive place for women, queer students and students of color (though it was still far and ahead of many other schools), but from what I can tell more recent students have taken the reins to address many of the continuing struggles marginalized students experience. That said, Andover's values of diversity and selflessness are not just for show--they do truly work towards making the community a place where every student can thrive.
Daily Schedule:
Weekday
6:00 PM
Studying, homework
8:00 PM
Studying, homework
10:00 PM
Hanging out in dorm
Weekend
10:00 AM
Andover Dance Group Rehearsal
1:00 PM
Studying, homework
3:00 PM
In town for coffee
6:00 PM
Hanging out in dorm or around campus
11:00 PM
Hanging out in dorm
As I look back on my life, I found the English Department profoundly brilliant. The level of reading (weekly) was extraordinary. The level of commitment of the faculty was genuine.. . .
Our campus has a cluster system which means we have five somewhat distinct residential communities. It definitely helps build smaller communities within Andover's larger student body. Another thing that was unique about Andover was their. . .
Andover has a need-blind admissions policy, which means that they don't take into account someone's ability to pay for the school when deciding whether or not to admit them. This makes the school much diverse. . .
Show more reviews (

13 reviews

)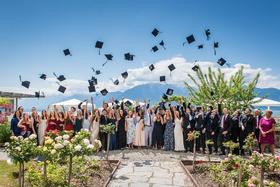 Nurturing Futures: A Journey through Boarding at Haut-Lac School in Switzerland
Nestled in the hills overlooking Lake Geneva in the French-speaking part of Switzerland lies an educational gem that embodies a unique blend of academic excellence, cultural richness and a profound sense of community. Founded over 30 years ago, Haut-Lac International Bilingual Day and Boarding School is now home to both 600 day students and a maximum of 30 boarders from around the world.
What To Wear at Your Job Interview
Navigating job interviews can be stressful, but knowing what to wear shouldn't be. Our comprehensive guide covers the essential dress code tips for men and women interviewing at boarding schools. Make your first impression count with style and professionalism.
Navigating the Modern Maze: Emerging Challenges for Boarding Schools
Explore the pressing challenges facing boarding schools, from marketing difficulties and rising insurance costs to facility maintenance and recruitment of competent trustees and teachers. This article delves into these complex issues and proposes innovative strategies to overcome them.