St. Timothy's School - Review #1
About the Author:

College Enrolled
Fordham University
Home Town, State (Country)
Dulles, VA
Years Attended Boarding School
2
Activities During Boarding School
I was on the Equestrian team, Model United Nations, Girl Up, and the Golf Team. I was also in one of the musicals.
Review

Description

Fordham University

St. Timothy's has so many special and unique traditions that really help to unite the student body. Everybody gets involved and comes together as a community and it connects everyone as a family, which is. . .
April 20, 2018
Actually, there is no secret to getting your child into boarding school. Just a lot of hard work and a heavy commitment of time.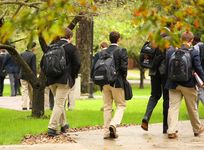 March 22, 2018
Some cynics think single-sex education is old-fashioned. The Kiski School shows how educating boys in a single-sex school is successful.
March 08, 2018
The wide range of fine academic, athletic, and other facilities found in boarding schools underscores the determination of schools to provide the very best for their students.