Reflections and Advice:
1.) What do you think makes your school unique relative to other boarding schools?
Milton is known for its very green and well-groomed quad that sits in the center of campus. We use the Harkness round-table style of discussion. Class discussions are fueled by students, and participation is a factor in teacher evaluations. Everyone at Milton wants their peers to do well. We don't have to often toxic competitive atmosphere commonly found in many elite prep schools, while still being rigorous.
2.) What was the best thing that happened to you in boarding school?
My dorm was probably the highlight of my boarding school career. To be able to grow so close to 40 other girls from such different places and backgrounds is something I never thought was possible. The amount of love and support I received was never ending, and I don't think I'll ever have another experience like this. I did a great deal of growing during this time with everyone around me, and I'll forever be grateful.
3.) What might you have done differently during your boarding school experience?
I think I would have prepared myself better to be challenged. I was so used to everything coming easily to me that when I suddenly didn't understand things, both socially and academically, I was thrown off. I would say to be open and know that this will most likely be unlike anything you've ever experienced, but don't let that scare you. Embrace it.
4.) What did you like most about your school?
My dorm and the clubs.
5.) Do you have any final words of wisdom for visiting or incoming students to your school?
Hallowell House forever. Also, go to the plays!
Academics:
1.) Describe the academics at your school - what did you like most about it?
I liked that we were pushed to succeed and break out of our comfort zones while still being supported. Teachers were always available to meet and we were encouraged to reach out to the Skills Center if we needed extra help. Every teacher at Milton has their own unique style and approach to their respective subject.
Athletics:
1.) Describe the athletics at your school - what did you like most about it?
Every student is required to participate in at least two seasons of athletics each year, three seasons as an underclassmen and upperclassmen have the option of taking a season off. For students, like myself, who are not athletically gifted, PE was a universal option. There are also intramural teams and mandatory PE credits like Project Adventure, Fitness Concepts, and CPR. At the end of every season we have Nobles Day, a day where we play our rival school, Noble and Greenough. In the fall there is a school-wide pep rally that incorporates our lower and middle schools as well.
Art, Music, and Theatre:
1.) Describe the arts program at your school - what did you like most about it?
Every season Milton offers three on-stage performances. We have mainstage shows, 1212 plays held in Wigg hall, and student-directed one acts, to name a few. We also have two dance concerts, our large, mainstage in the Winter and a smaller scale one in the spring. Students choreograph and cast both. We also have numerous visual arts classes including Ceramics, Studio Art, and Advanced Drawing that showcase their work in the art shows throughout the year. Milton also has the Nesto Gallery, which showcases work from students, local artists, and nationally-recognized visiting artists. In terms of music, we have a plethora of vocal and instrumental opportunities, including a jazz group, a capella, Chamber Orchestra, a classical Chamber Singers group, etc. The I liked the endless options. It really felt like there was something for everyone. Our Chamber groups and Jazz combo also tour and perform out of the country every two years. I had the opportunity to go to the Czech Republic and perform in Prague castles, an experience I'll never forget.
Extracurricular Opportunities:
1.) Describe the extracurriculars offered at your school - what did you like most about it?
There's a club for everyone at Milton and if you can't find one that piques your interest, you can start it. I liked the variety as well as the many leadership positions available. Each club has a faculty sponsor, but everything is really student-led. Some of our more unique offerings include a Hip Hop club, anime club, and Dumbledore's Army, our Harry Potter club. At the beginning of the year we have a big shop-around where each club will set up a booth in the quad an promote their clubs, often wearing costumes and offering snacks to people walking by.
Dorm Life:
1.) Describe the dorm life in your school - what did you like most about it?
Milton has eight dorms, four girls and four boys. Every boarder is assigned to a dorm before they arrive and they stay in the same dorm all four years. This creates a very close-knit, family environment, one of my favorite qualities about Milton. Rooming depends on the dorm, but in my experience every freshman is roomed with another freshman. Mid-year, we have Room Swap and freshmen are required to change roommates. All boarders have to check in by 10 pm on weekdays and by 11 pm on weekends. Freshman lights out during the week is 10:30 and sophomores have to be in bed by 11. Upperclassmen don't have lights out, but they can't be loud. Every dorm has a kitchen with a communal fridge, microwave, and oven. Every dorm has an elected senior Dorm Monitor who is in charge of planning events and maintaining a positive tone in the dorm. I was Dorm Monitor of Hallowell House my senior year and I had the opportunity to not only be a member of the dorm, but also meet with our faculty and House Head on a weekly basis to talk about the function of the House.
Dining:
1.) Describe the dining arrangements at your school.
There is one main dining hall in the middle of campus where all students each lunch. Every student has either 5th or 6th period free, and that's when lunch is. Breakfast is served until 7:50 each morning and continental breakfast is served until 9:00. For dinner, boarders have a sit-down dinner with their respective dorms 3x a week. Milton isn't known for its food, but it's decent.
Social and Town Life:
1.) Describe the school's town and surrounding area.
The town of Milton is a suburban area bordered by Quincy, Dedham, and Dorchester. It's a pretty quiet area, but since we're only 10 miles away from Boston, kids will often go into the city on the weekends. Milton offers shuttles to and from places like South Shore Plaza and Legacy Place every weekend, so getting off campus is fairly painless.
2.) Describe the social life at your school - what did you like most about it?
People at Milton are generally very friendly, and I often found myself saying hi to at least 5 people walking between each class. Since there's so much work, social hierarchies aren't as obvious as they are in other schools, but there are definite groups. The difference is no one really cares who hangs out with what group. It's not hard to find a set of friends, especially if you're in a dorm. People in plays, sports teams, and clubs also hang out with their respective groups, so you'll find lots of people with similar interests.
Milton is unique primarily due to the major emphasis on discussion in many classes through the harkness table method. This is prevalent in English and history classes. The organization of the student center allows for. . .
Despite its rigorous education, Milton has a very supportive community. The institution offers a lot of resources for students who need help relating to either personal or academic needs. Students at Milton truly want to. . .
Milton Academy is a pretty racially diverse school. We don't really have social hierarchies. Our location is very convenient, and our grass is always green and healthy.. . .
Show more reviews (

5 reviews

)
Mastering the Boarding School Selection Process: A 5-Step Guide
Discover the ultimate 5-step guide to choosing the perfect boarding school for your child. Explore essential factors, such as academics, campus facilities, extracurricular activities, and more. Make an informed decision to provide your child with an enriching and transformative educational experience. Read now!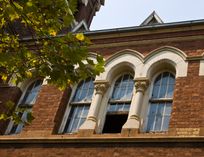 5 Founders and Their Boarding Schools
What prompts somebody to start a boarding school? The motives range from idealism to munificence right on through to capitalism. The common thread seems to be ample capital and a vision of what education can do.