Reflections and Advice:
1.) What do you think makes your school unique relative to other boarding schools?
The Harkness teaching method which uses small classes seated around a table to foster engagement by all students is a foundation of Mercersburg's teaching style. More significant is the school's emphasis on humility. While the school doesn't have the "cache" or name recognition of some New England boarding schools, I think this reflects well on the school community - it does not seek families to whom "name brand" is an overriding selection criteria. Mercersburg is comfortably low key and its students and alumni reflect this quality. Make no mistake, though, the school regularly produces alums who become Olympians, elected officials - including presidents of other countries, scientists, Nobel and Poet Laureates, entrepreneurs, and entertainers such as Jimmy Stewart.
2.) What was the best thing that happened to you in boarding school?
My son developed excellent leadership skills as a prefect, team captain, class officer, and literary society officer. His writing skills also developed nicely. He graduated ready for college - he was accepted to 8 of 9 choices and received merit aid offers ranging from 40 - 100%.
3.) What might you have done differently during your boarding school experience?
Look at a wide range of boarding schools with varying sizes and locations. Look beyond the "name brand" look at the happiness of the student body. Avoid high pressure schools.
4.) What did you like most about your school?
It is community of kind and humble people who work hard and find great success in college and beyond.
5.) Do you have any final words of wisdom for visiting or incoming students to your school?
You'll be impressed by all of the facilities, particularly the chapel, the student center, the performing arts center, the indoor track and the squash facility.
Academics:
1.) Describe the academics at your school - what did you like most about it?
I graduated in the early 80's and my son in '16. My son's experience is obviously more relevant. Classes are small - around 10 students with an emphasis on the development of critical thinking and writing skills. Teachers are highly experienced with graduate degrees. Also of note is the school's integration in 11th grade of a schol paid SAT tutoring program. The student body is geographically diverse with kids from 40+ states and 30+ countries.
Athletics:
1.) Describe the athletics at your school - what did you like most about it?
Facilities are superior, from turf fields, indoor track, squash courts, weight room and training staff. Level of competition is high in the MAPL athletic league. Teams regularly compete deep in the state playoffs in soccer, baseball, golf, tennis and squash. The swimming team is a national power.
Art, Music, and Theatre:
1.) Describe the arts program at your school - what did you like most about it?
The Burgin Center for Performing Arts is spectacular and includes two theaters, arts galleries, music, ballets and art studios. It is amazing.
Extracurricular Opportunities:
1.) Describe the extracurriculars offered at your school - what did you like most about it?
There is a wide variety of clubs that benefit from the school's proximity to Washington/Baltimore and interaction with other prep schools. Examples include the Model U.N., trips to the Supreme Court, Congress, the state capitol, New York, Philadelphia etc. The outdoor program is excellent with a dedicated building that includes a climbing wall. The outdoor program regularly takes trips to raft, hike, camp and kayak, including to locations in area, region and the West.
Dorm Life:
1.) Describe the dorm life in your school - what did you like most about it?
Dorms are small and grouped by sex and age. Good for younger students to be grouped together. All dorms have been updated with new air conditioning, common rooms, laundry facilities etc.
Dining:
1.) Describe the dining arrangements at your school.
Sage runs the dining services - this is the same company that manages many college dining halls. There is a wide variety of locally sourced food.
Social and Town Life:
1.) Describe the school's town and surrounding area.
The town is very small with a few restaurants and shops. It is approximately 20 minutes from Hagerstown, Md and 90 minutes from Washington and Baltimore. The area is close to excellent hiking, kayaking and rafting options.
2.) Describe the social life at your school - what did you like most about it?
Despite the geographic and other diversity, the school body is very cohesive. There are regular dances and other events, including semi-formals and formals. The Marshall-Irving competition in February culminates in a 120 year old Declamation competition which fosters school spirit and gives students an excellent opportunity to develop public speaking skills.
Mercersburg has an incredibly beautiful campus. It is a place for reflection as much as anything else. The gothic chapel is designed by the architect who built Princeton University's chapel, and it carries a rich. . .
Mercersburg has a unique community in that everyone is so connected and there really is a sense of family among the students and teachers. Everyone is incredibly kind, welcoming, ambitious, and curious. the relationships I. . .
Mercersburg had a rotating class schedule, and kept all classes under an hour. This way, students were able to learn for concentrated amounts of time, four hours a week, while not experiencing their least favorite. . .
Show more reviews (

17 reviews

)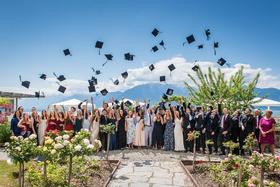 Nurturing Futures: A Journey through Boarding at Haut-Lac School in Switzerland
Nestled in the hills overlooking Lake Geneva in the French-speaking part of Switzerland lies an educational gem that embodies a unique blend of academic excellence, cultural richness and a profound sense of community. Founded over 30 years ago, Haut-Lac International Bilingual Day and Boarding School is now home to both 600 day students and a maximum of 30 boarders from around the world.
What To Wear at Your Job Interview
Navigating job interviews can be stressful, but knowing what to wear shouldn't be. Our comprehensive guide covers the essential dress code tips for men and women interviewing at boarding schools. Make your first impression count with style and professionalism.
Navigating the Modern Maze: Emerging Challenges for Boarding Schools
Explore the pressing challenges facing boarding schools, from marketing difficulties and rising insurance costs to facility maintenance and recruitment of competent trustees and teachers. This article delves into these complex issues and proposes innovative strategies to overcome them.