Reflections and Advice:
1.) What do you think makes your school unique relative to other boarding schools?
Williston has a great balance of day students and boarding students, which allow students to know and learn more about the area. With a widespread campus in a safe neighborhood and numerous stores and restaurants just steps from campus, the location is ideal. The five colleges nearby further educate and engage Williston students, which significantly contributes to the Williston education.
2.) What was the best thing that happened to you in boarding school?
I developed a keen sense of independence and self-reliance at boarding school that I otherwise would not have acquired. I also learned discipline and how to schedule myself and mange my time wisely--because I had to in order to function. It definitely prepared me for college in that I craved those relationships with my teachers and professors, I knew how to schedule myself and manage my time, and I learned how to study, exercise, socialize, and lead a balanced life.
3.) What might you have done differently during your boarding school experience?
If I could redo my first few months at Williston, I would have gotten involved in a big sports team with a lot of girls. I would encourage students to be friendly, hardworking, and involved in the community. There are so many new students in every grade every year, so new students are never in it alone. I would rely heavily on your advisor and choose one that you connect well with. Give everyone a chance to be someone who you can connect with or learn from, and don't assume that because someone is not going out of their way to meet you that they are not a nice person or that they do not like you. New students have to advocate for themselves and introduce themselves to others in order to immerse themselves fully into the environment.
4.) What did you like most about your school?
I loved the diversity, the location, the academics, and the numerous opportunities available to students.
5.) Do you have any final words of wisdom for visiting or incoming students to your school?
I urge new students to explore the area. Climb Mount Tom, go to a concert in North Hampton, and be sure to try the chicken bacon ranch pizza at Antonios.
Academics:
1.) Describe the academics at your school - what did you like most about it?
The relationships that Williston students have with their teachers, coaches, and dorm parents go beyond the normal faculty-student relationships at other schools. The faculty are always available for extra help, lending an ear, or making students food and hosting them in their apartments. The schedule works on a trimester system, so in this way, the students can choose electives based on their interests. There are numerous electives that cover topics that regular school curricula does not include. Thus, the workload is as easy or as challenging as you want it to be. With honors, AP, standard, and conceptual classes available, students are able to choose a level of difficulty that suits them. Additionally, the school provides Surface Pros, a laptop/tablet hybrid that allows students and teachers to interact digitally in real time, which really adds to the learning experience. At Williston, students are able to learn in an inclusive, inspiring, and non-competitive environment. Also, students typically have 1-2 free periods, which gives them 5-8 free hours a week to sleep in, do homework, or grab an early lunch with friends. It was a great way to break up the schedule and the daily routine. Every day was something new and I could plan it how I wanted.
Athletics:
1.) Describe the athletics at your school - what did you like most about it?
Williston requires that students do an afternoon activity each trimester, which get students exercising and forming close relationships with their teammates. While many teams are very successful and recruit athletes from all over, there are also less competitive sports or JV, third, or even fourth teams to accommodate those who want to learn and play. Williston offers a wide variety of sports each season, including Athletic Performance training for serious athletes in their off season. There is a large emphasis on athletics at Williston--perhaps too much emphasis for some. Certain Varsity sports teams essentially "run the school," such as Girls and Boys Hockey, Girls Soccer, Field Hockey, Football, and Lacrosse.
Art, Music, and Theatre:
1.) Describe the arts program at your school - what did you like most about it?
I loved the faculty involved in the music and theatre programs. They had a positive energy that allowed students to come out of their shell and feel like they were in a safe environment. There are all sorts of musical opportunities at Williston, such as the Orchestral ensemble, the jazz band ensemble, male and female concert choirs, Teller Chorus (extracurricular), AP music theory, and instrumental and voice lessons. The school initiated Open Mic Nights, performances in morning assemblies, and concerts for each group at the end of every trimester. Williston also offers acting classes of all different levels. There is a fall play and a musical every other year and, on the alternative years, a fall and spring play. All different levels of visual art classes are available, such as painting, drawing, design, ceramics, and more. There is an arts intensive program for those students who want to work on their art instead of play a sport. The dance ensemble is another popular choice for students each trimester, which puts on concerts twice each year.
Extracurricular Opportunities:
1.) Describe the extracurriculars offered at your school - what did you like most about it?
Any student can start a club is he or she can get enough student signatures and a faculty member who is willing to be the advisor. Some clubs are run very succinctly, whereas others are less organized and meet less often. There is always a club/organization fair at the beginning of the year in which students sign up for anything that they are interested in and later receive emails notifying them of meetings and events.
Dorm Life:
1.) Describe the dorm life in your school - what did you like most about it?
The bathrooms were always very clean. The dorm rooms were a reasonable size with great views of the quad and of campus. Study hall and bedtimes were both strictly observed, as well as check-in times. Some dorm parents were too strict, and others not strict enough, however every dorm parent was responsible and reliable. The roommate matching system is based primarily on living habits and less on personality and other similarities, however there are few instances of students moving out of their room. Seniors often get singles with no extra charge in tuition, which is nice. Williston used to have two house dorms for girls that were farther off campus and smaller than the dormitories on the quad, however not enough girls wanted to live in them in order for them to be put to use in 2015/2016. The boys, however, have multiple house dorms that accommodate a majority of males on campus.
Dining:
1.) Describe the dining arrangements at your school.
Sage dining was either really great or really bad. Certain meals were always exciting, such as stir fry, make your own pizza, and chicken tenders and French fries. They also always have diverse nights where they will make food from a designated area with music and decorations to go along with it. However, some days for lunch and dinner I found myself getting food at Tandem Bagel, Antonios Pizza, Riffs, or other local places. Lots of restaurants delivered, and there was a grocery store down the street, so if a student was willing to spend the money on other food, he or she could live off of that quite easily. Breakfast at the dining hall was always great--you could get scrambled eggs, omelettes, or eggs over easy. There was always coffee, juices, pancakes or waffles, fruit and yogurt, cereal, toast and peanut butter or jelly. At lunch and dinner there was always the sandwich bar, pasta bar, salad bar, or cereal. There was never assigned seating, however students tended to acquire their own designated tables or areas for each meal based on the season, sports teams, or grade level.
Social and Town Life:
1.) Describe the school's town and surrounding area.
I generally always felt safe in Easthampton as a young teenaged girl. I was confident that I could run on the bike path behind campus in the mornings and not run into danger. The town center is basically on campus, and includes a Rite Aid, Dunkin Donuts, Shelboure Coffee, a hardware store, a bakery, pizza places, churches, the Big E grocery store, consignment shops, and so much more. All of the restaurants, coffee shops, and bakeries accepted Button Bucks, which was spending money that parents put on students Sammy cards (school IDs),
2.) Describe the social life at your school - what did you like most about it?
The social scene is based largely on sports, however boarding students and day student friend groups are intermingled. There were always people attending sports games, dances, and movie nights on the weekend. My friends were also largely based on dorm life and classes. Having younger or older friends was the norm--it did not matter the grade level. With repeat students and PG students, Williston students ranged from age 14 to 20. My day student friends really came in handy. It was great to sign out a form and go to their house in their car, get off campus for a while, and eat a home-cooked meal. My boarder friends and I would watch movies together, do homework together, and share each other's clothes and food.
Daily Schedule:
Weekday
Weekend
7:15 AM
Northampton shuttle
Williston has a great balance of day students and boarding students, which allow students to know and learn more about the area. With a widespread campus in a safe neighborhood and numerous stores and restaurants. . .
Williston was the best community I could've ever established an identity with. My parents teach at the school, so we actually had a house on the campus. I developed close relationships with not only. . .
At a first glance, The Williston Northampton School appears similar to most college preparatory schools. It contains a beautiful New England campus, wonderful and caring teachers, and great athletic and artistic facilities. However, as many. . .
Show more reviews (

14 reviews

)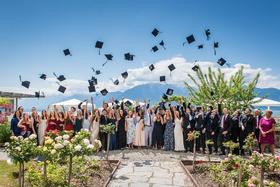 Nurturing Futures: A Journey through Boarding at Haut-Lac School in Switzerland
Nestled in the hills overlooking Lake Geneva in the French-speaking part of Switzerland lies an educational gem that embodies a unique blend of academic excellence, cultural richness and a profound sense of community. Founded over 30 years ago, Haut-Lac International Bilingual Day and Boarding School is now home to both 600 day students and a maximum of 30 boarders from around the world.
What To Wear at Your Job Interview
Navigating job interviews can be stressful, but knowing what to wear shouldn't be. Our comprehensive guide covers the essential dress code tips for men and women interviewing at boarding schools. Make your first impression count with style and professionalism.
Navigating the Modern Maze: Emerging Challenges for Boarding Schools
Explore the pressing challenges facing boarding schools, from marketing difficulties and rising insurance costs to facility maintenance and recruitment of competent trustees and teachers. This article delves into these complex issues and proposes innovative strategies to overcome them.