Reflections and Advice:
1.) What do you think makes your school unique relative to other boarding schools?
There is a required trip the week before spring break where you can go to the Bahamas to learn about marine life, go to China, France, New Orleans, and many other places. The majority of the campus is prairie lands that students can go running on or go on trail rides through.
2.) What was the best thing that happened to you in boarding school?
The best thing to happen to me was joining the riding program. At first I never thought I could join because I had never ridden a horse but once I did I was so happy that I did. Everyone was extremely supportive and helpful. Being around horses all the time was so therapeutic and helped me destress from the day. After one semester I moved into the advanced group an a semester after that I joined the rodeo team. Once I started competing our team became a family and we spent every night together and every weekend together preparing for competitions. It was very time consuming but helped me transform from a rebel to someone who was focused and determined to do well on the rodeo team and school.
3.) What might you have done differently during your boarding school experience?
I would suggest getting out of your comfort zone and doing what you want. Going in as a freshman is new and scary but everyone is in the same situation as you, so you shouldn't be scared. You should focus on building relationships with your peers and teachers because they are your biggest supporters when you have any problems. Don't let the stress of academics and sports get to you, take everything one step at a time.
4.) What did you like most about your school?
My favorite part about Fountain Valley is the relationships you make with faculty. To this day, I still write letters to my first dorm dad, and call him every week. He helped me get through relationship problems, the stress of academics, and brought me pizza when I was feeling down. He truly was my second dad and supported me in anyway I needed. If students put the effort in, faculty will put the same effort in as you.
5.) Do you have any final words of wisdom for visiting or incoming students to your school?
The milkshakes at the cafe are the best milkshake ever! My favorite dorm was penrose east because they had the largest rooms and best dorm layout. Visiting may seem intimidating but just imagine yourself doing all the things that the person you're following is doing. When you're new, don't be afraid to ask questions, because everyone was in that position at one time. Try as many sports as you can!
Academics:
1.) Describe the academics at your school - what did you like most about it?
The academics were rigorous and demanding. Teachers were always available during study, off periods, and in the dorms. The class sizes varied, in my French class there were 4 students but in my Calculus class there were 16. There were a lot of fun electives to take and teachers always tried to make classes fun. Students took academics very seriously and were pretty competitive against one another when it came to grades.
Athletics:
1.) Describe the athletics at your school - what did you like most about it?
There were a lot of sports to choose from including rock climbing, horseback riding, diving, soccer, and many more. Sports are mandatory for everyone each semester until senior year where you can do an independent project. Some teams are really competitive against public schools such as soccer and hockey but others don't do very well because of the lack of interest in the sport such as basketball. Most of the coaches are faculty but for some sports, there are coaches from off campus.
Art, Music, and Theatre:
1.) Describe the arts program at your school - what did you like most about it?
I didn't participate in the arts, music, or theatre program, but the school has a lot of mandatory concerts and art shows. Many students are in the local newspaper and put their work on display in the city. The facilities are all up to date and the art rooms are amazing. They are in an old barn that was renovated into art rooms. The plays and musicals the theatre program puts on are always entertaining but difficult to attend because all the family that comes in to watch.
Extracurricular Opportunities:
1.) Describe the extracurriculars offered at your school - what did you like most about it?
Junior year, every student must participate in a community service/volunteering activity. There are plenty of opportunities to volunteer, especially senior year when you can choose to volunteer instead of participating in a sport. Students are also allowed to volunteer over the weekends.
Dorm Life:
1.) Describe the dorm life in your school - what did you like most about it?
Each dorm is different when it comes to set up and room size. Each one has a kitchen, living room, and dining table. Some rooms are extremely small while others are very large. The room selection process recently changed so students write down their top 3 dorms they want to be in but teachers decide who goes where. Sometimes you'll get your first pick but other times you'll get a dorm you didn't even have on your list. If there are persistent problems with your roommate, the dorm parents are very helpful and if it becomes a problems will put you in a different room. They are not too strict on lights out, as long as you have the large light off, you can continue to study with a lamp on, or watch netflix as long as you're not being too loud. The kitchen is accessible all night if you need a snack but it's not a good idea to cook a meal.
Dining:
1.) Describe the dining arrangements at your school.
In 2015, they changed the food company and it was definitely for the better. They had online menus for the week so you could see what was being offered. There wasn't assigned seating and there was always a salad bar and variety of foods. Students couldn't always get a meal, but there were always fruits and small snacks available when it isn't regular meal hours. My favorite part was Sunday brunch. They had everything you could ever want and an omelette bar where you choose what to put in it and the chef cooked it for you.
Social and Town Life:
1.) Describe the school's town and surrounding area.
The school is in a very small town where there are only a few restaurants and grocery stores. It was nice to have the necessities so close by. There was a shopping center about 15 minutes away and the school was only 30 minutes away. It was always fun to go downtown on the weekends because they have small shops ,plenty of restaurants, and parades. It was expensive to have to take town cars but there weren't many options to choose from.
2.) Describe the social life at your school - what did you like most about it?
There was always time to socialize throughout the day. As a Junior transferring in, it was difficult because transfers weren't common and students already had their friend groups. The school offered a lot of activities over the weekends and we always had time to see friends between practice and study hall.
Daily Schedule:
Weekday
6:30 AM
Feed horses their breakfast
Weekend
For me, FVS was a one-of-a-kind experience. In my search for boarding schools, FVS stood out for two reasons. First, the school combines an Eastern education—liberal arts & sciences—with an adventurous and outdoorsy environment typically. . .
There is a required trip the week before spring break where you can go to the Bahamas to learn about marine life, go to China, France, New Orleans, and many other places. The majority of. . .
FVS is extremely unique in the sense that it allows students to engage in not just one aspect of life. There is a really healthy balance between academic, athletic, and artistic activities in the schedule. . .
Show more reviews (

1 review

)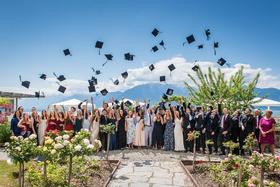 Nurturing Futures: A Journey through Boarding at Haut-Lac School in Switzerland
Nestled in the hills overlooking Lake Geneva in the French-speaking part of Switzerland lies an educational gem that embodies a unique blend of academic excellence, cultural richness and a profound sense of community. Founded over 30 years ago, Haut-Lac International Bilingual Day and Boarding School is now home to both 600 day students and a maximum of 30 boarders from around the world.
Navigating the Modern Maze: Emerging Challenges for Boarding Schools
Explore the pressing challenges facing boarding schools, from marketing difficulties and rising insurance costs to facility maintenance and recruitment of competent trustees and teachers. This article delves into these complex issues and proposes innovative strategies to overcome them.
What To Wear at Your Job Interview
Navigating job interviews can be stressful, but knowing what to wear shouldn't be. Our comprehensive guide covers the essential dress code tips for men and women interviewing at boarding schools. Make your first impression count with style and professionalism.