The Taft School - Review #1
About the Author:

College Enrolled
St. Olaf College
Home Town, State (Country)
Robbinsdale, MN
Years Attended Boarding School
4
Activities During Boarding School
Theatre Volunteering Head of Gospel Choir Admissions Council Member Head of Open Mic Club Dormitory Monitor Acapella Member
Review

Description

St. Olaf College

We had the Jigg shop which was a central hang out spot for ALL of the students on campus. If you wanted to find someone, they were most likely in the Jigg. At Taft we had. . .
April 20, 2018
Actually, there is no secret to getting your child into boarding school. Just a lot of hard work and a heavy commitment of time.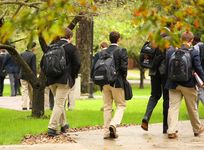 March 22, 2018
Some cynics think single-sex education is old-fashioned. The Kiski School shows how educating boys in a single-sex school is successful.
March 08, 2018
The wide range of fine academic, athletic, and other facilities found in boarding schools underscores the determination of schools to provide the very best for their students.