Reflections and Advice:
1.) What do you think makes your school unique relative to other boarding schools?
Taft really emphasizes supporting your community and . Taft has an incredible campus, with beautiful brick architecture and landscaping. In contrast to most boarding schools, the heart of Taft's campus consists of larger dorms and academic buildings, all centered around a pond. This creates numerous opportunities for interaction, which fosters a close community between students and teachers.
2.) What was the best thing that happened to you in boarding school?
The best thing that happened to me was meeting my friends. We were all pretty well rounded in our interests and activities, but most importantly they were committed to excelling academically. Without their support and drive, I would not have been able to accomplish my chief academic goal - attending a college that I could be proud of.
3.) What might you have done differently during your boarding school experience?
Its easy to get caught up living away from home for the first time, and being so independent. But make sure you keep focused on your grades and personal growth. If you can, get out of your room to get work done. Utilize the MAC and Library. Finally, be sure to get out of your comfort zone. Talk to as many people as possible, play the sport you're apprehensive about, or try out your acting skills.
4.) What did you like most about your school?
The people I met. I met lifelong friends and mentors. But, having a beautiful campus and incredible academic and athletic facilities was great too.
5.) Do you have any final words of wisdom for visiting or incoming students to your school?
If you can, tour the Library, its really fantastic, especially the study areas. Walk through the dorms. If possible, walk around the upper fields and around the pond, both of which offer beautiful perspectives of the school.
Academics:
1.) Describe the academics at your school - what did you like most about it?
The best part of the academics at Taft is the breadth of courses offered, and the teachers that instruct them. Besides my core classes, I was able to take courses focusing on personal interests that involved studying classic literature, world politics, and even built a trebuchet. The teachers at the school are not only smart and passionate, but try to make sure you succeed in their classes as well.
Athletics:
1.) Describe the athletics at your school - what did you like most about it?
Taft belongs to the Founders League, which means regularly playing some of the best peer boarding schools in the country in all sports. The level of competition means that as an athlete your potential or getting noticed is greater, and as a fan you can witness incredible talent. If you want something more casual, intramural sports are also offered.
Art, Music, and Theatre:
1.) Describe the arts program at your school - what did you like most about it?
I did not have much experience here, but certainly enjoyed the going to see my peers perform in the play every fall or see their work in the art gallery. Most memorable was the entire school cramming into the black box to watch the Improv performances.
Extracurricular Opportunities:
1.) Describe the extracurriculars offered at your school - what did you like most about it?
Taft mandates that students do some extracurricular activity, which is certainly for the better, since it adds to your resume but also encourages you to experiment and pursue new hobbies. I played soccer and baseball which I loved. I also participated in Yoga, Intramural Hockey, and Weight Lifting, and obviously numerous other sports are offered as extracurriculars. But I had several friends who did the Play, Robotics, and Volunteering.
Dorm Life:
1.) Describe the dorm life in your school - what did you like most about it?
Dorm life really is what makes boarding schools special. Although I was a day student, I was endlessly jealous of my friends who were able to live in the dorm. Even with some drawbacks, like limited food and wifi access late at night, living amongst your best friends is a ton of fun. You get to know students and teachers from all over the world. The dorm life was an invaluable experience at my time at Taft.
Dining:
1.) Describe the dining arrangements at your school.
In 2009 Taft heavily invested in the dining program at the school, and it shows. If you haven't seen images of Taft's three dining areas, they are quite impressive. The servery, which sits between the three dining areas, offers numerous options of food and drink breakfast, lunch, and dinner. Breakfast includes pretty much everything you could want, from eggs and bacon to omelets, oatmeal, fruit, and bagels. Salads, cold cuts, soups, pizza and pasta are served lunch/dinner every day, along with rotating entrees and specials. This doesn't even include the Jig, which serves as a hangout with quick eats. As someone in and now graduated form college, the Dining Hall is the thing I wish the most that I still had access to.
Social and Town Life:
1.) Describe the school's town and surrounding area.
In relation to other New England boarding schools, you could do a lot worse than Watertown. Its not a metropolis, but it does offer staples for pizza delivery and Chinese takeout. There are a few restaurants within walking distance as well. Even as a day student, when I was at school, I did not have a ton of interaction with the surrounding areas since students are busy all day.
2.) Describe the social life at your school - what did you like most about it?
The dorms at Taft are pretty unique, in that they are all fairly large. The smallest is Upper School Girls Dorm, "The Rock". But for the most part, the large dorms mean that you get to meet and interact with most of the students in your grade. Taft also tries its best to encourage active social lives, hosting dances and trips on the weekends. On a typical weekday, students are pretty busy, but do have time to hang out with friends.
Daily Schedule:
Weekday
Weekend
Mastering the Boarding School Selection Process: A 5-Step Guide
Discover the ultimate 5-step guide to choosing the perfect boarding school for your child. Explore essential factors, such as academics, campus facilities, extracurricular activities, and more. Make an informed decision to provide your child with an enriching and transformative educational experience. Read now!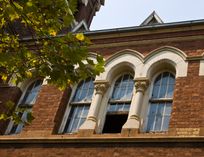 5 Founders and Their Boarding Schools
What prompts somebody to start a boarding school? The motives range from idealism to munificence right on through to capitalism. The common thread seems to be ample capital and a vision of what education can do.