Reflections and Advice:
1.) What do you think makes your school unique relative to other boarding schools?
On the surface Cate is defined by its dedicated commitment to service (the school motto is "Servons" meaning "to serve"), its more casual and down-to-earth California vibes, and its interest in the outdoors as a means of personal growth and exciting fun. And those things probably are the key differences to help you get an idea of what Cate is and stands for as an institution. But something Cate has you don't get anywhere else is a certain thing we call "the spirit of this place." It's a very physical rootedness in the beauty and hum of Cate's (stunning) campus that echoes the liveliness of a student body grateful for what they have and happy to be where they are. I've talked to a lot of other boarding school grads in college, and though they enjoyed their experience I don't think many other schools take up as much space in the hearts of its graduates as Cate does. By that I mean, the Cate experience I think goes a lot deeper than those of other boarding schools, and the fondness for the people and place your spent four years is much stronger.
2.) What was the best thing that happened to you in boarding school?
The obvious aspect of growth is independence — I'm certainly much more self-reliant after being at Cate for 4 years. Cate life certainly isn't easy, but it wasn't designed to be. I don't think it's possible to leave Cate without adopting some of its culture and philosophy. Now, after Cate, and for much longer I think I'll always gravitate towards a life full of the values Cate proposes: hard work, vigorous play, community, and service.
3.) What might you have done differently during your boarding school experience?
I think the most obvious answer here would have been to stay on campus more and be more involved in social life, but I can't say I really feel that way. You can't do it all 100%, you have to prioritize. I think my intellectual growth and endeavor at Cate was my main priority, and my social life focused on a few deep friendships and lots of friendly acquaintances. So shifting my priorities at Cate would have produced a different experience, but not necessarily a better one. It takes a bit to find your balance, but I think everybody does, and has the experience they choose as a result.
4.) What did you like most about your school?
This is weird and very Californian to say, but — its vibe. There really isn't anything like it and its hard to put in words. Well, I guess I just did, and I think the famous phrase "the spirit of this place" approaches the same thing. You might get an idea of it from these reviews and this website and other things, but really you just have to visit and you'll feel it, promise.
5.) Do you have any final words of wisdom for visiting or incoming students to your school?
If you haven't heard already, sunset bench is where it's at.
Academics:
1.) Describe the academics at your school - what did you like most about it?
Quickly: Through stress and ambition exist at Cate like at any other prep school, competition doesn't last long here. It's not rewarded, it's not necessary, and it's just not fun. Everybody tries hard to succeed, but nobody would want to do so at the expense of others. Some students don't get that message, but I think by the time students are seniors they recognize we're all better off when we're all supportive of one another.I found Cate's pedagogy as productive and beneficial as one can be. I had relatively close and casual relationships with many teachers -- visiting their house for help with homework, babysitting their kids, calling them by their nicknames (as so many Cate teachers have). It's not unusual to have class outside on a beautiful day, or to have a visitor in the form of a friendly dog or adorable baby. In fact, I think Cate is pretty subversive in that it promotes the idea that true academic growth and stressful competition are not inextricable, but that the latter is outright toxic to the former. Cate students learn, and they learn with smiles on their faces. A student leaving Cate is just as intelligent as one leaving another prep school, but they have the invaluable advantage of a educational philosophy grounded in calm pursuit of learning for the sake of knowledge, not for the sake of success.
Athletics:
1.) Describe the athletics at your school - what did you like most about it?
I was not a big athlete. I appreciate in hindsight the requirements regarding team sports, but at the time I was not a fan. The quality of facilities is generally very high -- the gym, tennis courts, aquatic center, athletic training center, and fields are all top-notch. As regards squash the courts are outdated, but they have plans to build better courts in the near future. I was grateful dance was offered as an intramural sport (meaning no team credit but able to satisfy the activity requirement of the sports time block), and appreciated that in my later days a "Varsity Art" program was debuted through which artists and dancers could swap some of their athletic requirement for independent work in the arts.
Art, Music, and Theatre:
1.) Describe the arts program at your school - what did you like most about it?
I was not very involved with theater, but had many friends who absolutely loved it. The crew seems airtight, and I know the friendships formed in production last forever. The stage itself is nice -- not a perfect facility, but great and I think the department will get some improved facilities sometime in the future. The music program got a new director my freshman year, who I'm told made an instant improvement in the presence of music around campus. When I graduated there was a thriving Orchestra, Chamber Ensemble, and multiple (competitive) jazz and rock bands. I enjoyed Orchestra, though there was the inherent difficulty involved with having so many different skill levels. I think it balanced well though, and shows were always fun. For more advanced players, there is a local Santa Barbara Youth Symphony available which plays at a much more rigorous level. The dance program is well-led and -structured, focusing on contemporary and modern dance but teaching some physical therapy, ballet, jazz, as well. I loved my experience there. Its facilities are seriously lacking, though -- in fall we practiced in the dining hall, with aluminum mirrors; in spring we practiced in the old gym. Construction plans seem to include a new dance studio, though, so that may change in the near future. With enhanced facilities, the dance program could grow to be incredibly strong.
Extracurricular Opportunities:
1.) Describe the extracurriculars offered at your school - what did you like most about it?
I enjoyed the flexibility and every-changing nature of extracurricular activities at Cate. By that I mean that clubs become more or less popular or intense as the student body changes, which means that the dedication of a few students can make one club extremely popular one year, and that once those students graduate a different club will really grow and become active as a different set of students dedicate themselves to it. I found the most fulfilling strategy when it comes to ECs at Cate is to find (or create) a club and be really active in and passionate about it. If you're just looking to join a bunch of clubs and kind of float by hoping somebody else will keep it going, that's not Cate. There is a direct correlation between student interests and which clubs are active/interesting/commitment-heavy.
Dorm Life:
1.) Describe the dorm life in your school - what did you like most about it?
I was a day student, so I'm not the expert. From my experience in the girls' dorm it was a really great source of community --- as if there's not already enough of that at Cate! But it was really great to form close, deep bonds with a group of girls and be with them for multiple years --- people often stay in one dorm year after year and consider it their Cate "home." But I can't much speak to the day-to-day realities of dorm life as I lived off campus.
Dining:
1.) Describe the dining arrangements at your school.
The dining hall is definitely a great communal space, and countless Cate friendships were formed there for me. The food was most often acceptably good, with the occasional YES YAY days and UGH NO days, like any other dining hall. But Cate has made advances with gluten-free options, a huge salad bar and lots of offerings. The toast room is another place of bonding, an option for a quick snack between classes, or a late breakfast in the morning after the Dhall has closed.
Social and Town Life:
1.) Describe the school's town and surrounding area.
I'm a local, so I'm biased. But I will say it definitely matches Cate's personality — small, beautiful, and extremely friendly. Santa Barbara is nearby for access to a larger (still beautiful and friendly) city with more restaurants, shopping, etc. There are buses into Carp almost every day and buses into SB on weekends, but days in Santa Barbara are usually more fun with a day student friend to drive you and show you around. If you're looking for an exciting huge city, Carp is not that. But it is a really wonderful place to live, and captures hearts very easily.
2.) Describe the social life at your school - what did you like most about it?
Social life is a very broad category and it's different for everyone. As a day student you have the option of staying on campus all the time that you can and completely immersing yourself into the Cate community, or you can choose to go home earlier and more often, often getting a less intense social life as a result. But everybody finds and keeps great friendships, even if the social scene can get cliquey at times.
Cate is a smaller boarding school and has a very much community bubble. This is a west coast boarding school so people are more liberal and open to alternative teaching. They also emphasize outdoor learning. . .
One aspect of Cate School that I think makes it unique is its campus. When I was doing my research for what kind of boarding school, I wanted to apply to, there were a few. . .
Cate is one of the unique places you could ever imagine. High up on a mesa with an ocean view surrounded by hundreds of acres of avocado trees, a utopian little community exists and thrives. . .
Show more reviews (

16 reviews

)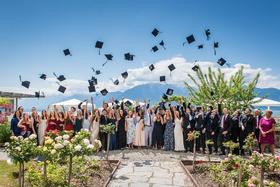 Nurturing Futures: A Journey through Boarding at Haut-Lac School in Switzerland
Nestled in the hills overlooking Lake Geneva in the French-speaking part of Switzerland lies an educational gem that embodies a unique blend of academic excellence, cultural richness and a profound sense of community. Founded over 30 years ago, Haut-Lac International Bilingual Day and Boarding School is now home to both 600 day students and a maximum of 30 boarders from around the world.
What To Wear at Your Job Interview
Navigating job interviews can be stressful, but knowing what to wear shouldn't be. Our comprehensive guide covers the essential dress code tips for men and women interviewing at boarding schools. Make your first impression count with style and professionalism.
Navigating the Modern Maze: Emerging Challenges for Boarding Schools
Explore the pressing challenges facing boarding schools, from marketing difficulties and rising insurance costs to facility maintenance and recruitment of competent trustees and teachers. This article delves into these complex issues and proposes innovative strategies to overcome them.