Reflections and Advice:
1.) What do you think makes your school unique relative to other boarding schools?
Admiral Farragut Academy is a very unique experience. With over 80 years of history and traditions, the school knows their product and execute it well. The experiences my peers and I shared was the catalyst to our development as young men and women and life long learning. Each faculty/staff is there to see each and every student succeed, no matter the individual personalities those more adolescent ones may have. The school truly shaped me and my classmates into being well rounded, strong minded, and forward thinking people.
2.) What was the best thing that happened to you in boarding school?
Love it and thank my family any chance I can for taking the time and effort to provide me with such a great education. I think back on my days often and remember there were some good and bad days, but I am proud to be a Farragut graduate each and every day! Its my school and means more to me than my college for the fact that everyone on the campus had my back. On the bad days, they were behind me, pushing me, helping me to get through with my head up! On the good days, they were there beside me, congratulating me, wishing me luck, and always pushing me to be better! What isnt there to love about that!
3.) What might you have done differently during your boarding school experience?
Simply put, I wish I had done more! Farragut is the land of opportunities. Everywhere you turn, their is something to do. Aviation, robotics, sailing, sports, extra curricular. Today, I encourage my own children to try new things as much as possible. Take a chance every now and then. It will make you a stronger, more diverse person!
4.) What did you like most about your school?
The community and atmosphere! When Charlie Duke '53 graduated from the school, he left for the US Naval Academy and later joined the Air Force. Later, he joined the astronautical science program in the Air Force, a new division that not many folks knew about. The word astronaut did NOT exist when he was at Farragut but today we know him as one of the twelve men to walk on the moon and ONE OF TWO men from Farragut to receive that honor. What I mean is simple. Farragut gives you the chance to be something bigger than yourself. The skills, tools, and knowledge you acquire during your formative years will set you up for success in life. Those such traits are formed at Farragut each and every day!
5.) Do you have any final words of wisdom for visiting or incoming students to your school?
Eat the cookies in the cafeteria! Look at the moon rock. Think of yourself spending Saturday afternoons sailing from the waterfront!
Academics:
1.) Describe the academics at your school - what did you like most about it?
I thoroughly enjoyed the well rounded education I received. Being private, there is no "teaching to the test" like in most public schools. The educators are experts in their fields, teaching their life long passion of their subjects. Their passion make their lessons more direct, manageable, and personal. Today, students must be interested in the subject matter to achieve long-term comprehension and understanding.
Athletics:
1.) Describe the athletics at your school - what did you like most about it?
Whatever sport you want, Farragut probably has it and then some. Should the school not other a specific sport, they encourage students to find a faculty sponsor to start it!!!!!
Art, Music, and Theatre:
1.) Describe the arts program at your school - what did you like most about it?
Was not really involved in these areas, so I don't know much about them
Extracurricular Opportunities:
1.) Describe the extracurriculars offered at your school - what did you like most about it?
Farragut offers a variety of clubs and extracurricular programs students can be involved in and should the club not exist at the time, the staff fully encourages the students to get involved in starting it. Collective buy-in is a huge part of what makes Farragut have such a strong sense of community and family! Most high school students participate in some sort of sport each season, keeping them active and busy.
Dorm Life:
1.) Describe the dorm life in your school - what did you like most about it?
Older style building, dating back tot he 1920's but with much of the modern amenities one would expect such as air conditioning, wifi, and private bathrooms in all dorm-rooms. 2-3-4 man rooms. Common trend when I was a student, we wanted to pack all of our friends into one room, though fire codes said no. Dorms are very communal and easy to make new friends.
Dining:
1.) Describe the dining arrangements at your school.
School has been known to have "ok" food based on the military school model.... But each time I have returned, I was blown away by the offerings available! SAGE Dining services does an outstanding job making sure there are plenty of options for the students and certain dietary needs are met with a smile!
Social and Town Life:
1.) Describe the school's town and surrounding area.
NEAR THE GULF OF MEXICO..... on Boca Ciega Bay, what more do you want! 300+ days of sunshine.... sure it gets hots, but WOW, what an area!
2.) Describe the social life at your school - what did you like most about it?
Community, family, brother/sisterhood hands down!
Boarding at Admiral Farragut Academy was one of the best experience of my life, even though I was a foreign student, I never felt home sick.Staff at Farragut where always supportive and well experience. They. . .
A naval preparatory school on Bocas Ciega Bay in St. Petersburg, Fl. making it ideal for naval sciences. It has increased it's curriculum of sailing and navigation to include snorkeling, scuba diving and marine. . .
Great education, although i didn't appreciate at the time. i also learned how to be a gentleman and Naval Science. . .
Show more reviews (

6 reviews

)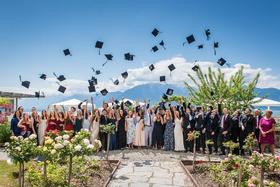 Nurturing Futures: A Journey through Boarding at Haut-Lac School in Switzerland
Nestled in the hills overlooking Lake Geneva in the French-speaking part of Switzerland lies an educational gem that embodies a unique blend of academic excellence, cultural richness and a profound sense of community. Founded over 30 years ago, Haut-Lac International Bilingual Day and Boarding School is now home to both 600 day students and a maximum of 30 boarders from around the world.
What To Wear at Your Job Interview
Navigating job interviews can be stressful, but knowing what to wear shouldn't be. Our comprehensive guide covers the essential dress code tips for men and women interviewing at boarding schools. Make your first impression count with style and professionalism.
Navigating the Modern Maze: Emerging Challenges for Boarding Schools
Explore the pressing challenges facing boarding schools, from marketing difficulties and rising insurance costs to facility maintenance and recruitment of competent trustees and teachers. This article delves into these complex issues and proposes innovative strategies to overcome them.