Reflections and Advice:
1.) What do you think makes your school unique relative to other boarding schools?
This school is not like any other school out there. I've attended a top public school and a top boarding school and valley forge is a completely different experience. when I was applying to valley forge, I assumed the school would be much more academically rigorous than my public school and have a better classroom environment. I.e. Smart boards, whiteboards fancier desk. Blah blah blah. But it didn't, the academics were on par with my public school and the classrooms were outdated. What was different was the teachers seemed to care a little more, they knew how to keep you engaged and really enjoy learning. Frankly, it really got me on track, in public school everything was so boring, at valley forge I felt engaged and the academics may have been easier, but I felt I was learning so much more. Looking back I probably learned more life lessons and real world skills than anywhere. I learned how to lead(with lots of failure along the way) , how to motivate and persuade, how to manage risk and to have pride in my work.
2.) What was the best thing that happened to you in boarding school?
I made some great friends from all over the world and learned some solid academic skills. When I was there I didn't really like it, but looking back it was really great place and most of my friend have the same feeling. Valley forge really saved me, I was on a bad path and they helped me get on the right path. You don't really see the benefit of valley forge until you leave.
3.) What might you have done differently during your boarding school experience?
I wish I would have taken more risks with new activities. At valley forge it is okay to fail. You can fail and fail again. This helps people learn from their mistakes before they go into the real world.
4.) What did you like most about your school?
The people were amazing. The school really fostered a true brotherhood atmosphere.
5.) Do you have any final words of wisdom for visiting or incoming students to your school?
Try to get in loved with as many thing as possible. Join sports team meet new people and try to have as much fun as you can.
Academics:
1.) Describe the academics at your school - what did you like most about it?
The academics at this school are as hard as you want to make them, like at any other school. Most teachers are pretty good at motivating kids to enjoy the learning process. For me this made me want to learn more. Teachers live on campus for the most part so having a teacher stay at school to help you till 10:00 pm wasn't unusual. I had a really good English teacher who used to really push us, he made us read a book about every two weeks with papers due almost every other day. I spent most of my study hall time working on his homework. Like I said earlier, you could college yourself as much as you wanted to, as the college was open for academy cadets. You could take college class instead of the academy classes if you felt you weren't being pushed hard enough.
Athletics:
1.) Describe the athletics at your school - what did you like most about it?
The athletics at valley forge have changed drastically since I was there. My junior year we had the number 1 ranked football team by max preps in the country. Sports were competitive, especially football and basketball. When I was there they recruit almost all their starters, and brought in post grads to play. Lacrosse want as competing, but during my years we one our conference and went to the play off the next year.
Art, Music, and Theatre:
1.) Describe the arts program at your school - what did you like most about it?
They have a band and field music group. I never was part of this group and I don't think we had a theater program. The band is extremely talented and the field music group is basically the JV band.
Extracurricular Opportunities:
1.) Describe the extracurriculars offered at your school - what did you like most about it?
I went to bible study and thoroughly enjoyed it. They would bring in people from outside. They had Boy Scout, hockey, almost any extra circular at any other school valley forge had.
Dorm Life:
1.) Describe the dorm life in your school - what did you like most about it?
Dorm life was hectic valley forge has a wide berth of student with inner city, country, rich and poor students. I had an issue with my first roommate, he was a drug user and didn't do well with other people. He ended getting kicked out and I go another roommate of whom is probably still one of my best friends. Ordering food was also allowed.
Dining:
1.) Describe the dining arrangements at your school.
The food wasn't bad. We had family style dinners on Monday nights the rest was buffet style. The food wasn't one of the high points of my time at valley forge. It was okay but nothing to write how about.
Social and Town Life:
1.) Describe the school's town and surrounding area.
Wayne is one of the best little town I've ever been in. The train station is a ten minute walk from school. The town has every type of restraint you could ever dream of with the best philly cheese steaks in the area. There was also a movie Theater and a ten minute drive to the larges mall in the United States. The king of Prussia mall.
2.) Describe the social life at your school - what did you like most about it?
The social life was great. I made a lot of friends from all over the globe. They set up mixers with local all girl schools that everyone attended, which was actually a blast.
This school is not like any other school out there. I've attended a top public school and a top boarding school and valley forge is a completely different experience. when I was applying to valley. . .
Valley Forge Military Academy is the premiere educator of character education in America today. Valley Forge's honor code and military environment teach and foster doing the right things in life when choices have to be. . .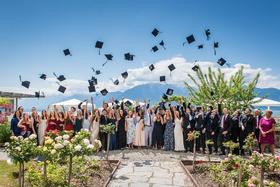 Nurturing Futures: A Journey through Boarding at Haut-Lac School in Switzerland
Nestled in the hills overlooking Lake Geneva in the French-speaking part of Switzerland lies an educational gem that embodies a unique blend of academic excellence, cultural richness and a profound sense of community. Founded over 30 years ago, Haut-Lac International Bilingual Day and Boarding School is now home to both 600 day students and a maximum of 30 boarders from around the world.
What To Wear at Your Job Interview
Navigating job interviews can be stressful, but knowing what to wear shouldn't be. Our comprehensive guide covers the essential dress code tips for men and women interviewing at boarding schools. Make your first impression count with style and professionalism.
Navigating the Modern Maze: Emerging Challenges for Boarding Schools
Explore the pressing challenges facing boarding schools, from marketing difficulties and rising insurance costs to facility maintenance and recruitment of competent trustees and teachers. This article delves into these complex issues and proposes innovative strategies to overcome them.