Delphian School - Review #4
About the Author:

College Enrolled
Fashion Institute of Design and Merchandising
Home Town, State (Country)
Alamosa, CO
Years Attended Boarding School
4
Activities During Boarding School
Delphian provides many extracurricular activities and requires a lot of them for graduation. In the four years I was a student I was apart of the soccer team, music class, film photography, fine art class, human rights club, student council, choir and varsity softball. I also had the opportunity to go to Chicago and New York on a business field trip touring and meeting with many successful business men and women including meetings at the Chicago board of trade, the New York stock exchange, Goldman Sachs and more.
Daily Schedule:
Weekday
| | |
| --- | --- |
| 8:30 AM | Academic Classes |
| 10:15 AM | Break |
| 10:30 AM | Academic Classes |
| 12:15 AM | Lunch |
| 1:15 PM | Academic Classes |
| 3:00 PM | Choir |
| 4:00 PM | Yoga |
| 5:00 PM | Art |
| 6:00 PM | Dinner |
| 6:45 AM | Study Hall |
Weekend
| | |
| --- | --- |
| 10:00 AM | Brunch |
| 11:00 AM | Study Hall |
| 2:00 PM | Snack |
| 2:15 PM | Hang out in Rec Room |
| 5:00 PM | Dinner |
| 7:00 PM | Student council weekend activity |
Review

Description

N/A

The main aspect of the Delphian School is their method of education and what the program has to offer. The program that they use, the Study Technology program, really helps students understand the things that. . .

Internship at Riding Academy in Los Angeles

I loved how every teacher there was your friend. They honestly cared how you were doing, that you had full understanding of all the subjects you were studying and especially that you had a purpose. . .

None

The Delphian School is an amazing place. Between the gorgeous campus, the proficiency based educational model and the fantastic opportunities it provides for it's students, it's truly a one of a kind place. One aspect. . .

Fashion Institute of Design and Merchandising

Delphian encourages their students to pursue what they are passionate about and to actually understand and be able to use their education. They encourage students not to study because they have to pass a test. . .

Musicians Institute

Delphian is an incredible school! One of the things I noticed when I first came here was the responsibility level of the students. They are so capable of doing things such as running an. . .

Show more reviews

(7

reviews)
April 20, 2018
Actually, there is no secret to getting your child into boarding school. Just a lot of hard work and a heavy commitment of time.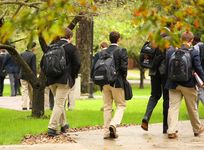 March 22, 2018
Some cynics think single-sex education is old-fashioned. The Kiski School shows how educating boys in a single-sex school is successful.
March 08, 2018
The wide range of fine academic, athletic, and other facilities found in boarding schools underscores the determination of schools to provide the very best for their students.