Reflections and Advice:
1.) What do you think makes your school unique relative to other boarding schools?
The Delphian School is an amazing place. Between the gorgeous campus, the proficiency based educational model and the fantastic opportunities it provides for it's students, it's truly a one of a kind place. One aspect in particular that I think is unique is the practical application of the things studied about. So, for example, a student might study about leadership and then go out into the student body and have to set up and run an activity for the other students to enjoy. Another example is if a student is learning about art history, they might then go actually make art similar to the types shown in history to get a better understanding of that time period.
2.) What was the best thing that happened to you in boarding school?
The best thing that happened to me was when I realized that I could be independent and learn and I could overcome any obstacle that I was up against. Delphian gave me the opportunity to grow as a student and make mistakes and then learn what I could do to fix those mistakes so that I was more prepared to face life. I completely changed while at Delphian and really felt myself become a more competent and able person.
3.) What might you have done differently during your boarding school experience?
I think the only thing I would have done differently would have been to focus more and study more while I had the chance and really participate in every group and activity I could have. Participating in various groups, clubs, classes, etc. Even ones you think you wouldn't like can turn up some interesting results. I found my passion for photography while testing out different things I liked to do at the school.
4.) What did you like most about your school?
I liked everything. From the faculty, to the campus, to the students and the program itself all aspects of my time at Delphian were fantastic. There aren't very many words to describe the magnitude of how much I learned while at Delphian. I got a fantastic education, made great friends, and learned so much.
5.) Do you have any final words of wisdom for visiting or incoming students to your school?
My final words of wisdom would just be to take advantage of the program that the school has and to really just get the most out of it that you can.
Academics:
1.) Describe the academics at your school - what did you like most about it?
The thing I liked the most about the academic program at Delphian is the practical application of the things you learn. One thing that stands out to me was learning about public speaking and how to deliver a speech to a group of people and how to prepare a speech, etc. After I graduated, that skill was immediately put to the test in my first job interview and it helped me immensely. A skill like this isn't one that every school teaches, and it's proven to be very valuable to me, as well as the other practical abilities I gained.
Athletics:
1.) Describe the athletics at your school - what did you like most about it?
I liked the coaching style and how supportive the coaches and my other teammates were. When we made a mistake our coaches didn't resort to yelling but instead worked with us on our mistakes and helped us improve in the areas that we were weak. All in all each team was very supportive.
Art, Music, and Theatre:
1.) Describe the arts program at your school - what did you like most about it?
Participating in the music and theatre programs at Delphian as well as in classes such as pottery, photography and art was an extremely rewarding experience. I learned a lot from how to read music to various ins and outs of theatre productions. I liked the diversity of the songs we sang and the plays we did. It opened up various bits of history to us and was always very interesting.
Extracurricular Opportunities:
1.) Describe the extracurriculars offered at your school - what did you like most about it?
I liked that there were so many different extracurricular activities for students to be able to participate in. Each part of the student government and other organizations were well organized and worked together to pull of weekend activities, or spread the word about human rights, etc.
Dorm Life:
1.) Describe the dorm life in your school - what did you like most about it?
In the dorm, you had a dorm captain who was like your older sibling. They helped you with things you might need, there would be dorm meetings where everyone would hang out together for a bit and the dorm became close over the time spent there.
Dining:
1.) Describe the dining arrangements at your school.
The diversity of the meals and the fact that you could chose what you wanted to eat was what I liked the most about it. I'm not sure if that is how it works at every school or not, but it was very nice to have.
Social and Town Life:
1.) Describe the school's town and surrounding area.
The surrounding area is beautiful. There's a nearby small city that is nice to go to and has everything a student would need. I liked that the area is so open and there's a lot of space.
2.) Describe the social life at your school - what did you like most about it?
I liked that there were places to hang out and things to do. There was a recreation room where students could hang out and buy snacks and such. The activities over the weekend were also fun and a good chance to hang out with friends.
What made my school different from other boarding schools was that I was able to move through my program at my own pace. I didn't have to worry about catching up with my class because. . .
The fact that we study for real world application rather than just trying to spit things back out on an exam. This makes the education 10 times more valuable than any other school I have. . .
Here at the Delphian School, all the exams are done one-on-one, where the examiner will ensure that all the student's questions regarding the subject they just studied are solved and answered to satisfaction.The Delphian. . .
Show more reviews (

21 reviews

)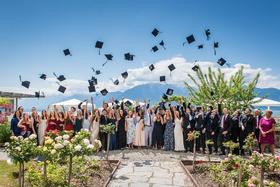 Nurturing Futures: A Journey through Boarding at Haut-Lac School in Switzerland
Nestled in the hills overlooking Lake Geneva in the French-speaking part of Switzerland lies an educational gem that embodies a unique blend of academic excellence, cultural richness and a profound sense of community. Founded over 30 years ago, Haut-Lac International Bilingual Day and Boarding School is now home to both 600 day students and a maximum of 30 boarders from around the world.
What To Wear at Your Job Interview
Navigating job interviews can be stressful, but knowing what to wear shouldn't be. Our comprehensive guide covers the essential dress code tips for men and women interviewing at boarding schools. Make your first impression count with style and professionalism.
Navigating the Modern Maze: Emerging Challenges for Boarding Schools
Explore the pressing challenges facing boarding schools, from marketing difficulties and rising insurance costs to facility maintenance and recruitment of competent trustees and teachers. This article delves into these complex issues and proposes innovative strategies to overcome them.