Reflections and Advice:
1.) What do you think makes your school unique relative to other boarding schools?
The first aspect of Wyoming Seminary that I really appreciated was the English department curriculum. Deviating from the "normal" high school English curriculum, Sem offered fun theme based trimester courses for juniors and seniors, such as "Modern Fantasy Fiction" and "Post-apocalyptic Literature."The second aspect is definitely the senior year long course entitled "Creative Spirit." This class is a joint effort put forth by the art and music departments to offer music history and AP art history in one class. This class helped foster my interest in the arts and set me up to be quite successful in my collegiate career.
2.) What was the best thing that happened to you in boarding school?
You are truly forced to think on your own in boarding school. Many students don't experience this until they go off to college; however, having this opportunity to think on your own is important when you are still young (14 or 15).
3.) What might you have done differently during your boarding school experience?
Be yourself! Get involved in what you want to be involved in--not just what your roommate wants to be involved in. Be your own person and learn to act independently.
4.) What did you like most about your school?
The music program is a force to be reckoned with. Don't be afraid to get involved in it, especially if you want a future in the arts.
5.) Do you have any final words of wisdom for visiting or incoming students to your school?
The art gallery is always a lot of fun to walk around. Even if you aren't artistic...take a ceramics class!
Academics:
1.) Describe the academics at your school - what did you like most about it?
I was able to take a music composition class my senior year at Sem, which really helped me when it came time to study composition in college. Also, when AP music theory conflicted with my schedule, they worked with me so that I could take it as an independent study.That being said, it is an extremely competitive environment; I could not stress that enough. Many emotional breakdowns were had; however, freshman year in college was a breeze!
Athletics:
1.) Describe the athletics at your school - what did you like most about it?
Sports were not a huge factor for me; however, we had very successful teams. A wide array of sports available, such as ice hockey, lacrosse, and rowing.
Art, Music, and Theatre:
1.) Describe the arts program at your school - what did you like most about it?
I can speak no higher of the arts at Wyoming Seminary. I was involved in almost every single musical ensemble on campus, and it set me up to be a successful musician in the future. The school's commitment to the arts is evident--they just recently unveiled a brand new performing arts center on campus which is absolutely gorgeous.
Extracurricular Opportunities:
1.) Describe the extracurriculars offered at your school - what did you like most about it?
My absolute favorite organization at my school was the International Club. Every spring, the club would put forth and international food night. The entire student body would be there, enjoying each and every culture showcased that evening.
Dorm Life:
1.) Describe the dorm life in your school - what did you like most about it?
The dorms are just fine at Sem. A bit old, which seems to be acceptable if you call the buildings "historic." No a/c, which in the summer is a bit hindering, but overall comfortable. You really do get to build a community within your dorms, and you make friends for life.
Dining:
1.) Describe the dining arrangements at your school.
The food could definitely be a bit more accommodating; however, there was always something for me to eat. They do make an effort to cater to international students who aren't quite used to American style dining hall food.
Social and Town Life:
1.) Describe the school's town and surrounding area.
The surrounding area is a bit depressed, but there are definitely things to do. With a small shopping center and Walgreen's within walking distance, you could always get what you needed. The movie theater is a short ride away from campus, and the mall is a short bus ride away as well. With being only a few hours away from both Philly and NYC, weekend trips were always possible.
2.) Describe the social life at your school - what did you like most about it?
The student body is extremely diverse, and I made many friends from multiple continents. World views were expansive, and I never felt left out of a discussion.
Daily Schedule:
Weekday
4:00 PM
Extracurriculars begin
Weekend
I believe "Sem" is special because it is not a boarding school in the strictest sense. Half of the students at Sem live nearby and commute while the other half live on campus. . .
One aspect that makes Sem unique is Society Day. It is a campus wide event at the end of the school year. The students divide up into four teams and participate in a variety of. . .
Diversity was and still is a huge aspect of the boarding school! The ability to learn from countless cultures and people allowed me to expand my horizon and my worldview. It made me a better. . .
Show more reviews (

2 reviews

)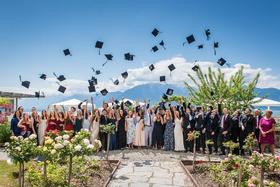 Nurturing Futures: A Journey through Boarding at Haut-Lac School in Switzerland
Nestled in the hills overlooking Lake Geneva in the French-speaking part of Switzerland lies an educational gem that embodies a unique blend of academic excellence, cultural richness and a profound sense of community. Founded over 30 years ago, Haut-Lac International Bilingual Day and Boarding School is now home to both 600 day students and a maximum of 30 boarders from around the world.
What To Wear at Your Job Interview
Navigating job interviews can be stressful, but knowing what to wear shouldn't be. Our comprehensive guide covers the essential dress code tips for men and women interviewing at boarding schools. Make your first impression count with style and professionalism.
Navigating the Modern Maze: Emerging Challenges for Boarding Schools
Explore the pressing challenges facing boarding schools, from marketing difficulties and rising insurance costs to facility maintenance and recruitment of competent trustees and teachers. This article delves into these complex issues and proposes innovative strategies to overcome them.