Reflections and Advice:
1.) What do you think makes your school unique relative to other boarding schools?
The campus is nicknamed "The Island" (and during my final year a flood made it temporarily a literal island-- the main campus sits on higher ground surrounded by a floodplain on which the athletic fields are built.) The terrain contributes to a sense of a tight-knit community; it feels like a place apart with most of its buildings facing inward toward a central quad, even though the business district of Windsor is just a short walk away. The faculty were very accessible, with many of them living on campus in the dorms and dining alongside students during dress-up "family style" dinners several times a week. A campus work program assigned all students a rather redundantly named "work job" each semester in some aspect of food service, cleanup or campus maintenance. I'm not sure whether the intended lessons were well-learned by absolutely all of the privileged students, but it was probably a salutary experience for many. There were classes on alternating Saturday mornings, which was another feature that kept students on campus and fostered community.
2.) What was the best thing that happened to you in boarding school?
I was initially a shy and introverted kid, and I really think that living in the dorm in close contact with others played a big part in helping me come out of my shell a bit and begin to make friends and learn how to interact with other people. That may in the long run have been the biggest benefit to me. Certainly the education I received there prepared me well for future studies as I went first into theoretical physics and later music.
3.) What might you have done differently during your boarding school experience?
I cannot think of very much that I would necessarily have done differently. Inevitably I made some stumbles as I made new friends and learned how to get along with people, but I really credit my time at Loomis with helping me develop some of those social skills that I think I was a bit late in developing compared to academic skills. I will mention a challenge that I perhaps wish I had been better prepared for: I came from a fairly modest middle-class background while the majority (although not all) of my fellow students came from considerably more affluent families. This sometimes made for a challenging adjustment, the more so because at the time I lacked the insight to fully articulate the fact that I had some perspectives and basic assumptions about the world that differed from those of most of my classmates. Perhaps I would advise kids entering a school like Loomis (from whatever background) to work a bit at developing an awareness of how that might affect your experience--- it will be a worthwhile insight for life.
4.) What did you like most about your school?
I initially went there for the academics, which were of high caliber, but in the end it may have been the independence and competence I gained by living away from home that benefited me the most.
5.) Do you have any final words of wisdom for visiting or incoming students to your school?
I was happy living in Taylor dorm for my three years. But I would not be surprised if things have changed since the 80s. I hope they still have good bagels at the Snug.
Academics:
1.) Describe the academics at your school - what did you like most about it?
The depth and diversity of classes were the main factors that led me to consider boarding schools including Loomis Chaffee. The teachers were dedicated and the academics really were far beyond what was available at my public school before I transferred. The education follows the liberal arts model in that a breadth of experience and reading are prized, and one becomes familiar with the classics of "Western Civ." (A small but illustrative anecdote was one year's April Fool's Day issue of the student newspaper, which announced that the headmaster was resigning in the wake of a plagiarism scandal and was planning after his departure to spend his time writing a play about a man who kills his father and marries his mother. As my dad remarked at the time, this joke would not necessarily have worked at every school. Along with the cultural reference, it also illustrates how much academic ethics were at the forefront of everyone's consciousness.) My main interest was in the sciences, but I also got a good exposure to the arts, literature, history, philosophy, etc. In particular I remember history courses as being demanding and requiring a rather deep level of analysis, including some work with primary sources.
Athletics:
1.) Describe the athletics at your school - what did you like most about it?
A thing I liked was that athletic participation was mandatory, but there was a wide range of activities to choose from including intramural sports. Interscholastic hockey and cross country were popular, but intramural and non-competitive sports were also taken seriously and given full resources, dedicated coaching and facilities. I participated in intramural soccer, bicycling and swimming. The bicycling program was large enough that there were several different groups at different levels of pacing, and I enjoyed working my way up from the intermediate to the advanced group.
Art, Music, and Theatre:
1.) Describe the arts program at your school - what did you like most about it?
The theatre program was I think one of the school's real gems, and performances were a highlight of each semester. The drama teacher who I expect is probably retired by now brought out excellent performances, and there was a dedicated core of students who practically seemed to live at the theatre. This included a couple of my best friends although I was not a drama person myself. I was more interested in music, and there were good opportunities there too, if not quite as stellar as the drama program. Practice rooms for music were one resource that I remember being somewhat undersupplied at the time--- that may well have changed by now.
Extracurricular Opportunities:
1.) Describe the extracurriculars offered at your school - what did you like most about it?
I participated in the debate team, and really enjoyed the van trips to tournaments across New England. Another great extracurricular activity was a day of student-led seminars that happened once a year, which provided an opportunity for students to share their expertise on something of interest to them, including crafts, games, sports outside of the regular offerings, etc.
Dorm Life:
1.) Describe the dorm life in your school - what did you like most about it?
Except for a couple of dorms that housed only freshmen, most people seemed to develop a loyalty to one dorm where they stayed for 3-4 years, and transfers were not all that frequent. For the most part, freshmen and sophomores were in rooms shared by 2-3, while many upper-year students had single rooms on a hallway sharing a bathroom. On weekday evenings there was a mandatory study period when you were required to be in your dorm or at the library, and then about an hour of social time before curfew. The regular late-evening pizza delivery (just before bedtime) was popular. Dorms also had a common area with ping-pong tables and a TV. Faculty lived in small apartments on each dorm floor and acted as dorm parents in very positive ways. I was fortunate in my initial roommate assignment--- I roomed with two kids who remained good friends for the rest of my three years although we started to lose touch a few years after graduation.
Dining:
1.) Describe the dining arrangements at your school.
On three nights a week there were family style dinners with assigned seating placing students and faculty together. Ties were required for boys and dresses for girls. The other meals were less formal and more cafeteria style. I rather liked that there was some balance between more and less formal meals--- family style dinners brought people together as a community, while cafeteria style meals were more relaxed and allowed a freer sort of mingling. Outside of the three scheduled meals, there was a basement snack bar (the Snug) offering bagels, sandwiches, etc., and a clique of "Snuggies" who spent a lot of time there. I remember the food as being mostly pretty good, despite the inevitable complaints. As I remember, the blintzes were a breakfast highlight.
Social and Town Life:
1.) Describe the school's town and surrounding area.
The campus is a short walk from downtown Windsor, a small New England town (wth a typical village green) just outside of Hartford. Windsor had decent shopping, ice cream, restaurants and a cinema. Hartford is also an easy bus ride away, and we could sign out to go to Hartford in the afternoon or on the weekend after classes were over. Going to Hartford to buy records (which were still a thing back then) was a favorite afternoon outing.
2.) Describe the social life at your school - what did you like most about it?
I found that the closest friendships were formed within the dorm, and I have fond memories of late-night "bull sessions" and listening to music together. The dorms more than anything else were set up to allow close friendships and bonding. The late-evening outdoor social time just before curfew was another big social institution.
Daily Schedule:
Weekday
9:00 PM
socializing on the quad
Weekend
9:00 AM
classes (on alternating Saturdays only)
1:00 PM
walk into Windsor, or long bicycle ride
1:00 PM
or take a bus to Hartford for shopping/entertainment
Loomis required all students to participate in a sport each trimester, which was a great way to get all students both involved and engaged with the school and the other students. It was a great. . .
Because we have a smaller campus than most prep schools in New England, we benefit from a strong sense of community. Everyone is a familiar face and in turn, Loomis feels more like "home". . .
Mandatory extra-curricular activities in each season, ranging from competitive athletics, theatre, bands, choirs, volunteer work, environmental clubs, etc appealing to a wide variety of interest.Dorms and academic buildings positioned around a main "quad" grass. . .
Show more reviews (

27 reviews

)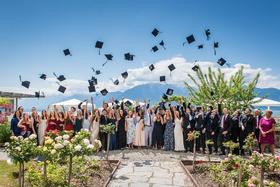 Nurturing Futures: A Journey through Boarding at Haut-Lac School in Switzerland
Nestled in the hills overlooking Lake Geneva in the French-speaking part of Switzerland lies an educational gem that embodies a unique blend of academic excellence, cultural richness and a profound sense of community. Founded over 30 years ago, Haut-Lac International Bilingual Day and Boarding School is now home to both 600 day students and a maximum of 30 boarders from around the world.
What To Wear at Your Job Interview
Navigating job interviews can be stressful, but knowing what to wear shouldn't be. Our comprehensive guide covers the essential dress code tips for men and women interviewing at boarding schools. Make your first impression count with style and professionalism.
Navigating the Modern Maze: Emerging Challenges for Boarding Schools
Explore the pressing challenges facing boarding schools, from marketing difficulties and rising insurance costs to facility maintenance and recruitment of competent trustees and teachers. This article delves into these complex issues and proposes innovative strategies to overcome them.