Reflections and Advice:
1.) What do you think makes your school unique relative to other boarding schools?
The two factors that made my experience at Proctor Academy so unique were the incredibly high quality recording studio, and travel abroad programs. As a musician, the recording studio set Proctor apart from all other schools I was considering. The study abroad programs unveiled to me my passion for travel, an opportunity to exposure I would not have gotten anywhere else.
2.) What was the best thing that happened to you in boarding school?
Study abroad was the best thing I experienced. I was able to live in Costa Rica for 3 months as well as Spain for another 3. I was exposed to so much culture. These experiences led me in my collegiate years to also study abroad for a whole year, between Greece and London (with a lot of other solo travel in between). It opened up my eyes, and I am truly not afraid to travel anywhere as a result. Language is not a border.
3.) What might you have done differently during your boarding school experience?
I would have utilized the teacher's extra help sessions more. I would also advise all students to go on at least one study abroad program (I wish I'd done a third!).
4.) What did you like most about your school?
The teachers are incredible, the extracurricular and study abroad programs set it apart from every other school I considered. I could not be happier with the experiences I had.
5.) Do you have any final words of wisdom for visiting or incoming students to your school?
Peabody Dorm is very nice, chocolate frappes in the wise center are excellent. Make friends with your teachers, it will go a long way.
Academics:
1.) Describe the academics at your school - what did you like most about it?
The teachers at Proctor Academy always had a genuine desire to ensure their students were learning. They went above and beyond in offering extra help every week, with one on one tutoring sessions if the students wanted it. The relationship between the teacher and student was more than the average school relationship, they were genuinely your friends.
Athletics:
1.) Describe the athletics at your school - what did you like most about it?
The 2 competitive sports I participated in were soccer and snowboarding. The winter sports program was absolutely incredible, I was given the opportunity to snowboard 6 days per week. Through the snowboard racing program I was able to travel around and go to various mountains in the northeast.
Art, Music, and Theatre:
1.) Describe the arts program at your school - what did you like most about it?
I could not speak more highly of the recording studio at Proctor Academy. It was the main reason I went to the school. I built trust based relationship with the head of the department, and was awarded a master key to the building so I could personally use the equipment at any time (I was one of 2 people with a key aside from the department head). This gave me the freedom to produce music with my roommate early in the morning before classes, and at night before study hall.
Extracurricular Opportunities:
1.) Describe the extracurriculars offered at your school - what did you like most about it?
Every year we had what was called "project period," which was a week where students were put into different groups for different projects. Each project was constructed around volunteering opportunities. Through one of mine for example, we traveled from NH to SC, and stopped at various locations to volunteer at soup kitchens and food stamp grocery stores.
Dorm Life:
1.) Describe the dorm life in your school - what did you like most about it?
Freshman year I was in a dorm that was far from classes, but the people I came to call my family were amazing. My roommate became one of my best friends, both having a passion for music we began producing together. Every student in the dorm was a genuine person. The dorm parents were very kind, always looking to help us if needed. They were hunters, and some nights after our study halls we would be treated to fresh venison burgers.
Dining:
1.) Describe the dining arrangements at your school.
The dinning hall was a bit subpar. The food was not always very good, some meals better than others. I always made a sandwich and salad at lunch rather than going for the hot food options. The hours and set up were not bad, they were accommodating to every student (however if you wanted the best food you had to get there when it opened). There was no assigned seating. Diversity of the food was alright.
Social and Town Life:
1.) Describe the school's town and surrounding area.
Proctor Academy essentially is the town, there is very little surrounding. As high school students we were not permitted to venture very far from campus. There was a skate park, gas station with a kitchen, and a pizza place within walking distance.
2.) Describe the social life at your school - what did you like most about it?
Everybody was extremely nice, I did not have any issues with any other students while there. People were very accommodating, willing to help other students.
Proctor is a unique school due to the experiential learning model. This includes a variety of off-campus programs including programs in Spain, France, Costa Rica, and Ocean classroom and mountain classroom. Proctor also owns over. . .
The off-campus programs that Proctor has to offer make it particularly unique in relation to other boarding schools. I was lucky enough to participate in Ocean Classroom, which is an off-campus program where we sail. . .
Proctor is unique in way too many ways to describe, but I will name a few. First, you get the opportunity to go abroad in high school! A four year student can have the opportunity. . .
Show more reviews (

9 reviews

)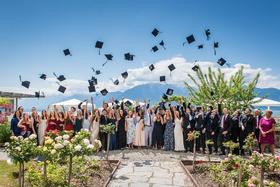 Nurturing Futures: A Journey through Boarding at Haut-Lac School in Switzerland
Nestled in the hills overlooking Lake Geneva in the French-speaking part of Switzerland lies an educational gem that embodies a unique blend of academic excellence, cultural richness and a profound sense of community. Founded over 30 years ago, Haut-Lac International Bilingual Day and Boarding School is now home to both 600 day students and a maximum of 30 boarders from around the world.
What To Wear at Your Job Interview
Navigating job interviews can be stressful, but knowing what to wear shouldn't be. Our comprehensive guide covers the essential dress code tips for men and women interviewing at boarding schools. Make your first impression count with style and professionalism.
Navigating the Modern Maze: Emerging Challenges for Boarding Schools
Explore the pressing challenges facing boarding schools, from marketing difficulties and rising insurance costs to facility maintenance and recruitment of competent trustees and teachers. This article delves into these complex issues and proposes innovative strategies to overcome them.