Fishburne Military School - Review #5
About the Author:

College Enrolled
UNC Charlotte
Home Town, State (Country)
Raleigh, NC
Years Attended Boarding School
2
Activities During Boarding School
Writer, editor, then Editor-in-Chief of the student newspaper Photographer for the yearbook Honors Program Cadet Chaplain Basketball, JV & Varsity Tennis Corp of Cadets - Band Company as a drummer, then drum major. Promoted to Battalion Staff where I was the Sergeant Major.
Review

Description

North Carolina State University

One aspect that Fishburne fostered was brotherhood. Every guy there was your brother. You leaned on your brothers and faced adversity together and that is what made that school and the relationships that I built. . .

West virginia university

Army JROTC which has held highest level of distinction for over 20 years due to stellar scores on annual RFI. Outstanding teachers and educational experience. Amazing alumni support. Small classroom and. . .

UNC

It is difficult for me to answer this question concisely, as there are numerous things unique to Fishburne Military School. I attended Fishburne during the mid 80's, however what was relevant to me then remains. . .

College of William and Mary

Fishburne is small and compact. All classes are small so that everybody knows everybody else. At present the entire campus contains a total of five buildings which includes the Alumni House. It. . .

UNC Charlotte

It is a small school, and after just a few weeks everyone pretty much will know everyone else, or at least their last name. That knowledge includes faculty and staff knowing each cadet, even. . .

Show more reviews

(0

reviews)
April 20, 2018
Actually, there is no secret to getting your child into boarding school. Just a lot of hard work and a heavy commitment of time.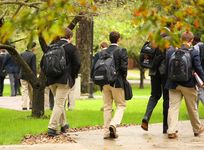 March 22, 2018
Some cynics think single-sex education is old-fashioned. The Kiski School shows how educating boys in a single-sex school is successful.
March 08, 2018
The wide range of fine academic, athletic, and other facilities found in boarding schools underscores the determination of schools to provide the very best for their students.