Reflections and Advice:
1.) What do you think makes your school unique relative to other boarding schools?
Holderness is a very unique school. Aside from the down to earth culture and genuine connections you will make with faculty, two things that make it unique are 'Special Programs' in the spring and the dedicated winter sports program. Special Programs are two weeks each spring during which each grade halts from the normal scheduling and does a special trip or activity. Freshmen do a service trip, sophomores do an art program, juniors do an intensive backpacking trip and seniors do a dedicated project of their choosing.The winter sports program allows students to have special class schedules that allow them to spend the entire afternoon doing their winter sports, we had a super competitive freestyle ski team and ski racing team. I came to Holderness for ski racing, transitioned into freestyle skiing my senior year which was an incredible experience and allowed me to continue competing in freestyle skiing in college and then run my college ski and snowboard club.
2.) What was the best thing that happened to you in boarding school?
I feel like I grew up a lot and developed a really great sense of values while I was there. The whole feel of the school is aimed at establishing a good work ethic and solid core values as a human. I look back at my time there and feel like it motivated me to work hard after I graduated. You will grow a lot during high school and being somewhere that motivates good growth and keeps you busy and surrounded by like minded individuals makes that growth worthwhile.There isn't a 'best thing' that happened to me there, its more the sum of a lot of small experiences that all culminate to an amazing experience.
3.) What might you have done differently during your boarding school experience?
The advice I have is to be open to new experiences while you are there. If I could do anything differently I would have worked harder in classes and been more open to my peers.
4.) What did you like most about your school?
Overall, what I liked most was being in a community that was completely dedicated to making sure I was learning in the classroom and outside. The accessibility to amazing outdoor adventures and sports is unparalleled. I loved that I was able to learn so much and be challenged in classes while still being able to spend a ton of time outside and getting a lot better all all different types of sports. I also made life long connections with friends I know I will be always be in touch with.
5.) Do you have any final words of wisdom for visiting or incoming students to your school?
My final words of wisdom would be to engage with professors while you are there and be open to all typed of students as friends. I would also recommend trying a sport you aren't familiar with at some season, just to try something new in a supportive environment.I would recommend the Connel dorm, it was such a fun group of girls when I was there. Check out the chapel while you're visiting, it is beautiful.
Academics:
1.) Describe the academics at your school - what did you like most about it?
The academics were very rigorous, but the support from teachers was very helpful. I transitioned from a public school where the workload was not as rigorous. When I first arrived I did feel that the academics were a lot more comprehensive, however the class size is so small that teachers can really cater to your needs. Also, there is a mandatory study hall every night that gives you plenty of time to get things done.
Athletics:
1.) Describe the athletics at your school - what did you like most about it?
The athletics program is incredible. I loved that they offer non-traditional sports. They offer rock climbing and mountain biking, along with amazing winter sports. All my experiences on teams were great, they coaches are generally also teachers allowing you to deepen your connection with faculty. The teams are competitive but they also offer JV and even JV2 teams for all levels. I have a background in climbing and biking so it was awesome that I could pursue those activities there.Be warned, there is mandatory participation in a sport all three seasons!
Art, Music, and Theatre:
1.) Describe the arts program at your school - what did you like most about it?
The arts program seemed to be slightly lacking when I was there. We did have a great music staff and open mic nights along with lessons, but other aspects were lacking. The schools commitment definitely seemed to be further towards sports and less arts when I attended. There wasn't a large community of arts students either.
Extracurricular Opportunities:
1.) Describe the extracurriculars offered at your school - what did you like most about it?
There were a good amount of extra curricular activities like school sponsored hikes and dances. They allowed us to get to know other students well and get to know the surrounding area. The staff seemed to work hard to make sure this opportunities were well attended. There were volunteer opportunities frequently.
Dorm Life:
1.) Describe the dorm life in your school - what did you like most about it?
Dorm life was very 'homey' I lived in the largest female dorm, which still only had about 25 girls in it. There are faculty houses attached to all the dorms and they try hard to make sure that every student feels at home. The faculty will have nights where they invite students into their homes for activities. Dorm life is also very strict, there is strict curfew and visitation hours. The buildings themselves are very nice, with medium sized rooms and big shared bathrooms. Not a lot of late night food options, and it is super easy to select a roommate you desire after freshmen year.
Dining:
1.) Describe the dining arrangements at your school.
The dining options were somewhat limited. Because it's a small school they do as much as they can. There are specific hours for breakfast, lunch and dinner along with a 'snack bar' the snack bar doesn't have a ton of selection. They do cater well to food allergies and vegetarian options but the food is easy to get sick of when you eat it 24/7.The Chefs did sometimes get local food and cook it which was awesome.
Social and Town Life:
1.) Describe the school's town and surrounding area.
The school is located in Plymouth, NH which is a cute quaint town with a college (Plymouth State University) The natural area is amazing. If you take advantage of sports like climbing and biking you will be able to see all the amazing trails and nature nearby. New Hampshire has amazing hills/mountains/wildlife to explore. There are beautiful lakes and trails very near to campus, fall is an especially great time. Winter can be hard because it gets dark so early and is bitterly cold.The town is within walking/biking distance and there is a pedestrian path you can use. There are cute coffee shops and boutiques and a central park.
2.) Describe the social life at your school - what did you like most about it?
You will know everyone in your grade, it is nice being in such a small community. The downside is that people can be cliquey sometimes. Overall, for a boarding school community, people tend to be down to earth and happy to get to know everyone. the sports and extra curricular make it easy to get to know all different types of students. People in the same dorms tend to become especially close.
Daily Schedule:
Weekday
8:00 AM
First Class of the day
8:00 PM
study hall from 8-10pm every week night
Weekend
8:00 AM
Saturday class (yes there is half day of classes every saturday)
12:00 AM
sports (long day of sports on saturdays)
8:00 PM
usually some activity or dance every sat. night
My two years at Holderness prepared me well for life by teaching me about civic pride and community participation through the student jobs program. I learned that I could overcome adversity and be self-reliant though. . .
Small classes sizes, from 2-15 people really forced me to be interested and taught me it's better to have attempted to do work than not do it at all - which frankly I was able. . .
Holderness is a very unique school. Aside from the down to earth culture and genuine connections you will make with faculty, two things that make it unique are 'Special Programs' in the spring and the. . .
Show more reviews (

5 reviews

)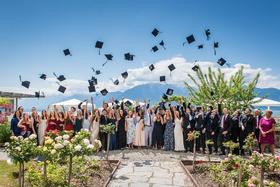 Nurturing Futures: A Journey through Boarding at Haut-Lac School in Switzerland
Nestled in the hills overlooking Lake Geneva in the French-speaking part of Switzerland lies an educational gem that embodies a unique blend of academic excellence, cultural richness and a profound sense of community. Founded over 30 years ago, Haut-Lac International Bilingual Day and Boarding School is now home to both 600 day students and a maximum of 30 boarders from around the world.
What To Wear at Your Job Interview
Navigating job interviews can be stressful, but knowing what to wear shouldn't be. Our comprehensive guide covers the essential dress code tips for men and women interviewing at boarding schools. Make your first impression count with style and professionalism.
Navigating the Modern Maze: Emerging Challenges for Boarding Schools
Explore the pressing challenges facing boarding schools, from marketing difficulties and rising insurance costs to facility maintenance and recruitment of competent trustees and teachers. This article delves into these complex issues and proposes innovative strategies to overcome them.