Reflections and Advice:
1.) What do you think makes your school unique relative to other boarding schools?
I found the intensive schedule was more to my skills than taking many classes at once. 4.5 week 'mods' (x 7 mods per year) & 1.5 hour classes, 2 - 3 per mod, made learning a 2nd language faster as you spend more time w classmates & teacher, actually speaking the language. Since there was no bell ringing every 50mins., I spent more time finishing up the classwork rather than anticipating the bell ringing. I learned subject matter that interests me today. My Russian History before 1917 class is still 1 of my favorites!There are a variety of athletic options not generally available...dance, intensive theater experience (buildingstriking sets, & practice on all 3 yrly productions got me athletic credits!) Plus the regular sports, if course, it is a great option for anyone!The relationship with the teachers makes this school experience endearing. The interaction is constant...they come to lunch with us, they relax around campus too. Many are also dorm parents. This close-knit community is absolutely a must see, if not a "sign me up, Mom & Dad!"
2.) What was the best thing that happened to you in boarding school?
Such an amazing experience has to be gotten. The more creative you are, no matter what your hobbies or sports, you will find friends at Cambridge. You will find life-long mentors in the teaching staff. You will stretch your mind, awareness & social skills, but you will have a ball doing so.Though I am over 50 now, I have vivid memories of Cambridge School. All of them are pleasant.
3.) What might you have done differently during your boarding school experience?
If I had had the choice, I would have loved 4yrs at Cambridge School. And the dorm experience may have helped me adjust better to an away college. But I certainly would recommend that a curious mind should be exploring the options here! So much to do, and learn, you will never lack for activities of all varieties.And the alumnus are a great way to experience the school.
4.) What did you like most about your school?
I loved the sense of belonging to something great. Minds that went on to museums, to write books, teach, travel, & even to explore the Heavens working at NASA! The need to belong us strong in teenage years. Cambridge School gave me that ability to write my own story, while being part of the stories around me.I have Never regretted being a student at Cambridge School. It was the best learning experience in my life! And I hope it will be the best in yours too!
5.) Do you have any final words of wisdom for visiting or incoming students to your school?
If you choose to go to Cambridge School, you will be gifting yourself a future, one that cannot be gotten just anywhere. You will make friends, open your mind & go places you'd never dreamed of existing! And you will grow...which is the whole point of education. To grow in skills, certainly, but also socially, emotionally, & physically. I really think you will be pleased to get your high school education at my beloved Cambridge School.
Academics:
1.) Describe the academics at your school - what did you like most about it?
The diving into a subject & sticking with it to the end. 1½hrs per day was great for math, over a 4 mods (18wks). I did learn!History was easier for me as a 1mod, 1block (1½hrsday for 4½weeks) class. I was able to take US History before Kennedy, Russian History before 1917, & Boston Art History (for both history & art credit) We walked through Boston, and learned the difference between different eras of builders, & purposes.French was a 3hr, 9wk class. I took 3rd & 4th yr French. We even took a class trip to gorgeous Quebec City. I loved learning the difference between types of French, then Mum & I would speak to each other in French!Cambridge School is small, about 300 student great. 9 -12. Therefore, the class size is small. Each group is wholly immersed in the subject matter! We used to have Law Day - speakers on a variety of social justice issues could be seen, or sign yourself up for their workshop. Now, there is a "Social Justice" required courses, probably still a variety of subject matter. This is a fabulous way to discover the world around you, & see places & people you may never have had the opportunity to experience. In 1980, we participated in the Model UN, in the nation's capital! We got Rumania... I was stunned to discover later that my paternal grandmother was Rumanian! We met students from so many schools, & had a ball learning.That was what made my junior & senior yrs; suddenly at Cambridge School, learning was fun!
Athletics:
1.) Describe the athletics at your school - what did you like most about it?
Variety... I was in love with the athletic program. I was a spotter for both the Weight Room & the Ropes Course... I even did stretching at lunch (1½hrs was more than enough time!) which turned into a group effort! One student commented that his basketball skills improved!Cambridge School is about community; being part of a team in athletics is just a different dynamic of the community. And the students get along well.
Art, Music, and Theatre:
1.) Describe the arts program at your school - what did you like most about it?
Theater was a boon for me. I had loved performance art since I was 6. I was chorus & crowd in the 1st play. Then again in play #2. By play #3 Junior year, I was Stage Managing, & thrilled to have the option.Later in life, those skills came into play in my own management jobs! Cambridge has developed some great actors.The Music Dept. produced some amazing talent as well. Musicians, singers, & any other aspect you can imagine.
Extracurricular Opportunities:
1.) Describe the extracurriculars offered at your school - what did you like most about it?
Cambridge had some amazing students. During morning break, several students decided to start a coffee shop. It was opened after school as well for tea, coffee, muffins & donuts....just what we needed to get to after school activities. There is a choice at this school as to which activities you desire: dance, acting, choral society, art in many forms, photography, school newspaper, sports, field trips to different cities, & New England towns. The Boston area is rich with culture & Cambridge School dips their students into it! There are Museums to see, Galleries to attend!
Dorm Life:
1.) Describe the dorm life in your school - what did you like most about it?
As a day student, I didn't experience dorm life 1st-hand. There were sleepovers with friends tho, during drama season so we didn't have to do our long commute. Lucky that all the kids in our carpool were in the plays!The dorm parents step in as parents, there are rules like you have at home, but the dorm students did seem happy on the whole.The dining hall was open for Campus meals. If you stayed after school, dinner was available for day students as well. The food was lovely: lots of fresh veggies, fish, grains, meat. The family that ran the dining hall knew their food!
Dining:
1.) Describe the dining arrangements at your school.
There was a rule in the dining hall...shoes were mandatory. But, with few rules at Cambridge & a community of students who understood respect for self & others, the Dining experience was exemplary. There were always plenty of options available for vegans to meat & 'taters folks.There are big windows, lots of light & a small bunch of students & teachers who are together in small to large groups. We had 1½hrs, so not all are at once. Then, off to favorite activities.
Social and Town Life:
1.) Describe the school's town and surrounding area.
As I mentioned before, Weston is right outside Boston, MA! Boston is rich in US Revolutionary battlefields, museums small & large, such as The Museum of Science. There are shops, & sports stadiums: Red Sox, Bruins, Revolution, & Patriots round out the New England sports line-up.New England is accessible to students as well...By has skiing & hiking, as does NH, but NH has ocean shoreline, however it is small. MA, RI & CT have long Atlantic Ocean shoreline. MA has 3 islands to visit, Nantucket, Martha's vineyard & Cape Cod. The are a number of Colleges(Boston College, Smith, Amherst) & Universities (Boston U, UMAAmherst) and many more schools, like Berklee School of Music, in MA alone!There is never a boring day if you live around Boston!
2.) Describe the social life at your school - what did you like most about it?
The students at Cambridge came from all different countries, lifestyles, cultures & financial backgrounds. We are all equal at Cambridge...students coming from every socio-economic background have one thing other schools had been lacking in my experience: Respect for Others!We learned from each other, & befriended day & dorm students alike! We signed up for activities solo, knowing that whoever was there, we were all happy to learn. So many amazing minds was a wonder for me; I had moved around as a kid, but Cambridge School was home for me.
Daily Schedule:
Weekday
3:00 PM
SportsAfter School activities
Weekend
I started very soon after the module system started at CSW. The module academic system coupled with an integrated studies design or approach to curricula are two aspects that truly make CSW unique.In addition. . .
The Cambridge School of Weston is a liberal arts institution filled with some of the most incredible teachers in the world. The atmosphere is incredible. There is a special place for every student, teacher, and. . .
The academic program at CSW was surely the most obvious attribute that made it unlike any other school. The "module program" , along with broad requirements, allowed a really personalized and self-directed education. At no. . .
Show more reviews (

12 reviews

)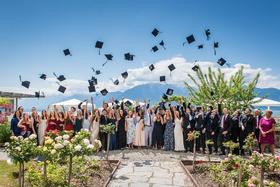 Nurturing Futures: A Journey through Boarding at Haut-Lac School in Switzerland
Nestled in the hills overlooking Lake Geneva in the French-speaking part of Switzerland lies an educational gem that embodies a unique blend of academic excellence, cultural richness and a profound sense of community. Founded over 30 years ago, Haut-Lac International Bilingual Day and Boarding School is now home to both 600 day students and a maximum of 30 boarders from around the world.
What To Wear at Your Job Interview
Navigating job interviews can be stressful, but knowing what to wear shouldn't be. Our comprehensive guide covers the essential dress code tips for men and women interviewing at boarding schools. Make your first impression count with style and professionalism.
Navigating the Modern Maze: Emerging Challenges for Boarding Schools
Explore the pressing challenges facing boarding schools, from marketing difficulties and rising insurance costs to facility maintenance and recruitment of competent trustees and teachers. This article delves into these complex issues and proposes innovative strategies to overcome them.