Reflections and Advice:
1.) What do you think makes your school unique relative to other boarding schools?
Quiet secluded campus on a lake. Wonderful mix of International students. Always upgrading facilities to keep up with safety, security, teaching techniques, networking.
2.) What was the best thing that happened to you in boarding school?
Made lifelong friends. Got to see a part of the country that I had not seen before. Became a die-hard Boston sports fan to this day, even though I was from Pennsylvania, and currently reside in Virginia.
3.) What might you have done differently during your boarding school experience?
Don't be afraid to be yourself. You will make friends and feel better about your experience if you are open and not afraid to admit your shortcomings and fears. If you hide from others, you will not get to know them, or yourself very well.
4.) What did you like most about your school?
The entire experience was most memorable. I will remember my days there very fondly for the rest of my life.
5.) Do you have any final words of wisdom for visiting or incoming students to your school?
It is better to have it and not need it, than to not have it and need it. Think about that for a minute, and you will learn it's practical applications!
Academics:
1.) Describe the academics at your school - what did you like most about it?
Great professors, small student to teacher ratio, challenging studies and workload combined with ample assistance from students and faculty. Overall, a very challenging environment that was ell worth the extra effort demanded.
Athletics:
1.) Describe the athletics at your school - what did you like most about it?
Plenty to choose from. Great competition with other schools that rivaled a college experience. Coaches were very good and facilities were always clean and upgraded.
Art, Music, and Theatre:
1.) Describe the arts program at your school - what did you like most about it?
Very well attended by the students. Lots of participation in all aspects and the faculty were really, really dedicated to making things both challenging as well as fun/creative!
Extracurricular Opportunities:
1.) Describe the extracurriculars offered at your school - what did you like most about it?
Dorm & Chapel Prefects.
Dorm Life:
1.) Describe the dorm life in your school - what did you like most about it?
Clean and close to classrooms. Dorm Masters were always available and shared their life experiences and encouraged students to do the same.
Dining:
1.) Describe the dining arrangements at your school.
Very good meals, lots of healthy food. Staff was always pleasant and willing to assist with any special dietary needs or requests....including meals sent to the infirmary. (First hand knowledge due to a broken leg suffered on the soccer pitch one year.)
Social and Town Life:
1.) Describe the school's town and surrounding area.
Beautiful area of Northern Mass. Close to other schools as well as shopping and transportation. You felt safe.
2.) Describe the social life at your school - what did you like most about it?
Students got along very well. We were an all boys school until my senior year, so there was an interesting transition. My class '80 was the last all-male graduating senior class.
Daily Schedule:
Weekday
Weekend
12:00 PM
Start the weekend
Strong sense of community, lack of judgment for unique individual qualities (bullying because of different personalities), adaptive teaching techniques for individual needs. . .
The community at Brooks, including teachers, staff and students, all share an extremely tight-knit bond that I've never experienced at any other institution. Teachers care about the students, and get to know them extremely well. . .
Be prepared for a 6-day class week at Brooks. While Saturday classes are a requirement, schedules even out with a half day schedule on Wednesdays. . .
Show more reviews (

7 reviews

)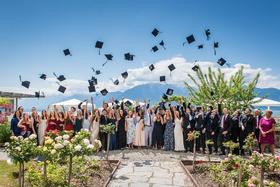 Nurturing Futures: A Journey through Boarding at Haut-Lac School in Switzerland
Nestled in the hills overlooking Lake Geneva in the French-speaking part of Switzerland lies an educational gem that embodies a unique blend of academic excellence, cultural richness and a profound sense of community. Founded over 30 years ago, Haut-Lac International Bilingual Day and Boarding School is now home to both 600 day students and a maximum of 30 boarders from around the world.
What To Wear at Your Job Interview
Navigating job interviews can be stressful, but knowing what to wear shouldn't be. Our comprehensive guide covers the essential dress code tips for men and women interviewing at boarding schools. Make your first impression count with style and professionalism.
Navigating the Modern Maze: Emerging Challenges for Boarding Schools
Explore the pressing challenges facing boarding schools, from marketing difficulties and rising insurance costs to facility maintenance and recruitment of competent trustees and teachers. This article delves into these complex issues and proposes innovative strategies to overcome them.