Reflections and Advice:
1.) What do you think makes your school unique relative to other boarding schools?
Westtown had an extremely unique sense of community. One thing that helped to foster this was Work Program. This is a system developed at Westtown during World War II when most of the school staff had gone to war. Due to the lack of hired labor available, the school utilized the students to complete tasks such as cooking, setting tables, tidying classrooms, and cleaning the dining hall after meals. After the war ended Westtown continued the program. Each student is assigned a job on a team, with a faculty adviser, and they work together to complete their assigned task every day of the school week. We felt like a huge extended family, with teachers playing the roles of uncles, and aunts; classmates feeling like siblings. Work Program was the environment in which I created the deepest relationships I have ever made in my life. Additionally, Westtown has a mandatory service requirement. we must complete 40 hours of service over the course of our high school career. Those hours I spent working for the benefit of others, helped me realize that I want to live a life that revolves around helping other people, rather than just myself, and pushing the world to be a more generous and inclusive place.
2.) What was the best thing that happened to you in boarding school?
I learned so much about how I interact with other people, how I am most comfortable, and how I should set up my life to be the happiest. Although I am extremely outgoing and extroverted, I found that in order to be that way during the day, I need a lot of alone time. Having a roommate was extremely challenging for me in a way that I never imagined it would be. I loved both of my roommates, but found that I needed to find ways to be alone in other spaces, because my room was not just my space, it also belonged to my roommates. Another thing I found was that I cannot do work after 5 pm. Westtown has a 2 hour study hall Sunday through Thursday from 7-9 PM. This was great for lots of people! They loved having time set aside in the day to do their homework but it did not work for me. I was always asleep before the end of study hall. I do not work well in an environment filled with lots of quiet people working. I learned that the best time for me to do my homework is either at 4 in the morning before everyone else on dorm is awake, or alone in a busy coffee shop, where there is a lot of white noise.
3.) What might you have done differently during your boarding school experience?
I would not change how I went about my first year boarding. the advice I would give is to involve yourself in as many different groups as possible, and see which people you get along with the best. It is really easy to get streamline your experience by finding one friend, and only spending time with them and their friends. The most well rounded people I met at Westtown were those who had feet in many different pools. They had the most people around them to learn from and the most examples to follow. Getting involved in lots of different groups also helps strengthen the community as a whole, because it helps build connections and develop relationships between disparate groups.
4.) What did you like most about your school?
Westtown allowed me to develop close friendships with my teachers, advisers, and dorm parents. This is what I found most valuable about the school. We were encouraged to get to know our teachers personally, and learn from them in the classroom, and at the lunch table. The relationships I built with teachers helped me to get my first jobs and taught me to interact with educated adults. My teachers were role models for me, and made me want to expand my horizons and expand my intellectual boundaries. They did not push me to be a better person, but I wanted to impress them, and that pushed me to new levels.
5.) Do you have any final words of wisdom for visiting or incoming students to your school?
Walk in the woods, swim in the creeks, sled down south lawn. Go outside and appreciate the landscape.
Academics:
1.) Describe the academics at your school - what did you like most about it?
The academics at Westtown are taught in two distinct ways. The first is a harkness-style, discussion based class. Most humanities classes are taught this way. The teacher will provide reading, questions, and guidance, as the students discuss the reading, address the questions, and responding to one another. Most religion classes use this format, and some history and english classes. There are a LOT of interesting english and religion electives, and I personally had bad luck with history courses, but I know other people took classes that they enjoyed. I found the workload completely manageable, although there were times, when I had to prioritize some classes over others, but life is like that and I am glad I learned that at Westtown. Science and Math classes are on the other side of the structure dichotomy. Those classes are taught in lecture style. I went to class, took notes, practiced for homework, and was quizzed and tested on my knowledge. Science classes have the added factor of labs and projects. I found that in the science department, the advanced classes were slightly too advanced for me, but that the regular classes moved far too slowly. Language classes stood somewhere in between these two teaching styles. They were mostly lecture style in lower levels, but with more frequent projects. In advanced levels we graduated to having harkness discussions and longer readings in the language. I studied Spanish, so I cannot speak to the other languages.
Athletics:
1.) Describe the athletics at your school - what did you like most about it?
In my first 2 years of high school, I was very serious about ballet, so I was able to do an "independent sport" I went 6 days a week to a ballet company near school and was credited for my sport through that. In my second two years, I did a variety of different activities instead of a competitive sport. I know that they have changed the rules now so that team based athletics are required, but I was able to choreograph two musicals, manage the field hockey team, and garden at the farm in place of a team sport.
Art, Music, and Theatre:
1.) Describe the arts program at your school - what did you like most about it?
I was fortunate to be able to take most of the visual arts classes provided at Westtown. In my senior year I stopped taking a language, math, and science, in order to focus more seriously on arts and humanities. I found all of those classes to be extremely engaging and versatile. I was able to put my own spin on the projects, focus in on what I was interested in, and do extra projects in my free time. The theater program also allowed me to be involved in whatever capacity I wanted. I was able to help with make-up, hair, costumes, and I even helped to win a Cappie (high school version of the Tony awards) for the choreography of the musical Pippin. I was never involved in the Music Program because I am painfully cursed with tone-deafness.
Extracurricular Opportunities:
1.) Describe the extracurriculars offered at your school - what did you like most about it?
I found the clubs at Westtown to be varied in their involvement, activity, and time commitment. Some clubs require weekly attendance, some only expect a little help with a bake sale once a semester, and others have one huge event that they plan each year. It is definitely possible to start a club from the ground up, with some motivation and commitment. The clubs that were most active while I attended Westtown were The Rainbow Alliance, Black Student Union, Green Coalition, and Jewish Student Union.
Dorm Life:
1.) Describe the dorm life in your school - what did you like most about it?
Most dorm rooms in the main building had old wood floors, loft beds or bunk beds, and tall windows facing north and south. The building is split between girls' and boys' end by "the link" which is a middle section of the building where teachers have apartments. There are two people per room, and after freshman year students pick their own roommates, and rooms are picked through a lottery. Student leaders get first picks, and the rest of students draw numbers and pick rooms at the end of the previous school year. Dorms all have common spaces with TV's, games, couches, and usually a collection of books. During holidays the students decorate their dorms. If there is a roommate issue that cannot be resolved with the help of a dorm parent, arrangements can be made to change the living situation. Most students have mini-fridges and keep food in their rooms.
Dining:
1.) Describe the dining arrangements at your school.
There is one large dining room in which the whole school eats breakfast, lunch and dinner. We also have snack between breakfast and lunch, and before sports. The dining hall is buffet style, but we used to have a sit down dinner once a week called community dinner. I liked community dinner because afterwords students would put on performances, like a song, dance, poetry reading, or holiday celebration. The kitchen staff is really good about accommodating dietary needs. They clearly label when foods are vegan, gluten free, or vegetarian. They are also happy to help organize food for students who have religious or sports related time constraints. There is also "The Bellfry" which is above the school store. This is a snack stand where students can purchase snacks in times when the dining hall is not open.
Social and Town Life:
1.) Describe the school's town and surrounding area.
Westtown is situated about 4 miles from the town of West Chester Pennsylvania. There are many restaurants, cafes, and shops in West Chester. Students can get there by bike, or on foot, but it's a bit of a hike. (I only did that once.) There are lots of weekend trips that drive to events and restaurants all over West Chester and the surrounding area. It is also pretty easy to find a teacher to drive you into town on the weekends. I grew up about 45 minutes from Westtown, and I will forever be in love with the forests and creeks of the area, and the beautiful open farmland. Westtown itself has both of those environments right on campus that students can walk through, but it is also really nice to go off campus for a change of scenery.
2.) Describe the social life at your school - what did you like most about it?
There were very distinct groups of people at Westtown like I think there are everywhere, but I found that they were more fluid than I have seen in other places. I was also not quite a part of one single group, but tended to flit from one to another. I had many limbs in different areas, because of the diversity of my interests, and friendliness of my nature. I also attended Westtown from the sixth grade, so as I grew and matured with my classmates, we changed and morphed into different people, but stayed friends throughout the whole thing.
Daily Schedule:
Weekday
9:30 AM
assembly-recess-snack
Weekend
10:00 AM
elements practice
8:00 PM
trip to westchester christmas parade
Westtown has a beautiful campus. It was beautiful and especially safe to walk around any time of day. Also the style of teaching is very hands on and has small classes, usually with. . .
Small Quaker school, tight group, not so much focused on strong academics as much as creating good individuals in society.. . .
Extremely beautiful campus. It is a Quaker boarding school with wonderful teachers. They require a senior project where students can travel the world. Also encourages volunteer work and has a campus farm. . .
Show more reviews (

41 reviews

)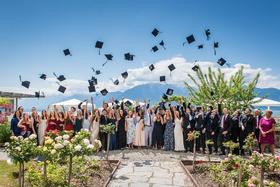 Nurturing Futures: A Journey through Boarding at Haut-Lac School in Switzerland
Nestled in the hills overlooking Lake Geneva in the French-speaking part of Switzerland lies an educational gem that embodies a unique blend of academic excellence, cultural richness and a profound sense of community. Founded over 30 years ago, Haut-Lac International Bilingual Day and Boarding School is now home to both 600 day students and a maximum of 30 boarders from around the world.
What To Wear at Your Job Interview
Navigating job interviews can be stressful, but knowing what to wear shouldn't be. Our comprehensive guide covers the essential dress code tips for men and women interviewing at boarding schools. Make your first impression count with style and professionalism.
Navigating the Modern Maze: Emerging Challenges for Boarding Schools
Explore the pressing challenges facing boarding schools, from marketing difficulties and rising insurance costs to facility maintenance and recruitment of competent trustees and teachers. This article delves into these complex issues and proposes innovative strategies to overcome them.