Reflections and Advice:
1.) What do you think makes your school unique relative to other boarding schools?
Idyllwild Arts truly prepared me for college and helped me start to build a career in the arts. As an international student and creative writing major, finding my voice and exploring new ways of expressing myself was extremely important. Unlike other schools, IAA's creative writing program allowed me to experiment with the different fields of writing so I had a chance to discover exactly what path I wanted to take in college.
2.) What was the best thing that happened to you in boarding school?
I think boarding school helped me realize that I can survive the real world with an arts career. Before going to IAA, I was somewhat unsure about whether or not I had enough talent to be a writer. The academy really helped me develop my talent and grow so much I never had to wonder if I was talented or not ever again.
3.) What might you have done differently during your boarding school experience?
I wish I had attended more presentations and submitted to more contests.
4.) What did you like most about your school?
Idyllwild is like a big family, composed by students, teachers and personnel. Even after students graduate, the school is very welcoming and remains close, which shows just how strong the IAA arts community is.
5.) Do you have any final words of wisdom for visiting or incoming students to your school?
Go to as many shows as you can, even if they are not relative to your major or you friend is not in them. Don't miss class and don't be afraid to asking for help. Use every hour you can to work on your art.
Academics:
1.) Describe the academics at your school - what did you like most about it?
The teachers gave individual attention to each student. Because the classes were small, every student had a chance to ask questions and fill in doubts.
Athletics:
1.) Describe the athletics at your school - what did you like most about it?
Idyllwild's PE class allowed students to build their own PE schedule.
Art, Music, and Theatre:
1.) Describe the arts program at your school - what did you like most about it?
There was a great interaction in between arts departments. Throughout the year, the academy has different shows, which are attended by students of other majors. This gives everyone an opportunity to appreciate the arts and become part of Idyllwild's art community.
Extracurricular Opportunities:
1.) Describe the extracurriculars offered at your school - what did you like most about it?
Idyllwild has different student associations and clubs. Students have different opportunities to connect with people of similar interests and backgrounds.
Dorm Life:
1.) Describe the dorm life in your school - what did you like most about it?
Dorm life at Idyllwild is truly about spending time together and building a community. Students like to hang out at the common rooms and have sleepovers during the weekends.
Dining:
1.) Describe the dining arrangements at your school.
Idyllwild has a wide variety of food types to choose from. Students with vegan, gluten-free, or vegetarian diets will always find good food at the dining hall.
Social and Town Life:
1.) Describe the school's town and surrounding area.
Idyllwild is a small town rural town. Even though there are no shopping malls or Starbucks, the town has its own magic. This is the perfect place for someone who wants peace and really wants to focus on improving their performance in the arts.
2.) Describe the social life at your school - what did you like most about it?
Most of my friends where creative writing majors. What I liked the most about making friends in IAA was that we could share the regular high school classes (ex. math, science, english) and then share art classes. In this way, we could experience regular school and an arts academy together.
Idyllwild Arts Academy is renowned for its dedication to providing a comprehensive arts education. The school serves pupils in grades 9 through 12 and provides a wide variety of artistic disciplines, such as music, dance. . .
Comprehensive Arts Education: Idyllwild Arts Academy's dedication to providing a comprehensive arts education is one of its standout features. The academy offers a wide variety of artistic disciplines, including music, dance, visual arts, drama, film. . .
The academy lays a lot of emphasis on encouraging its students' creativity, focus, and artistic expression. A strong academic program is combined with a demanding arts curriculum to give children a well-rounded education. Students are. . .
Show more reviews (

21 reviews

)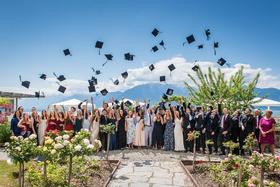 Nurturing Futures: A Journey through Boarding at Haut-Lac School in Switzerland
Nestled in the hills overlooking Lake Geneva in the French-speaking part of Switzerland lies an educational gem that embodies a unique blend of academic excellence, cultural richness and a profound sense of community. Founded over 30 years ago, Haut-Lac International Bilingual Day and Boarding School is now home to both 600 day students and a maximum of 30 boarders from around the world.
What To Wear at Your Job Interview
Navigating job interviews can be stressful, but knowing what to wear shouldn't be. Our comprehensive guide covers the essential dress code tips for men and women interviewing at boarding schools. Make your first impression count with style and professionalism.
Navigating the Modern Maze: Emerging Challenges for Boarding Schools
Explore the pressing challenges facing boarding schools, from marketing difficulties and rising insurance costs to facility maintenance and recruitment of competent trustees and teachers. This article delves into these complex issues and proposes innovative strategies to overcome them.