Reflections and Advice:
1.) What do you think makes your school unique relative to other boarding schools?
Idyllwild Arts truly prepared me for college and helped me start to build a career in the arts. As an international student and creative writing major, finding my voice and exploring new ways of expressing myself was extremely important. Unlike other schools, IAA's creative writing program allowed me to experiment with the different fields of writing so I had a chance to discover exactly what path I wanted to take in college.
2.) What was the best thing that happened to you in boarding school?
I think boarding school helped me realize that I can survive the real world with an arts career. Before going to IAA, I was somewhat unsure about whether or not I had enough talent to be a writer. The academy really helped me develop my talent and grow so much I never had to wonder if I was talented or not ever again.
3.) What might you have done differently during your boarding school experience?
I wish I had attended more presentations and submitted to more contests.
4.) What did you like most about your school?
Idyllwild is like a big family, composed by students, teachers and personnel. Even after students graduate, the school is very welcoming and remains close, which shows just how strong the IAA arts community is.
5.) Do you have any final words of wisdom for visiting or incoming students to your school?
Go to as many shows as you can, even if they are not relative to your major or you friend is not in them. Don't miss class and don't be afraid to asking for help. Use every hour you can to work on your art.
Academics:
1.) Describe the academics at your school - what did you like most about it?
The teachers gave individual attention to each student. Because the classes were small, every student had a chance to ask questions and fill in doubts.
Athletics:
1.) Describe the athletics at your school - what did you like most about it?
Idyllwild's PE class allowed students to build their own PE schedule.
Art, Music, and Theatre:
1.) Describe the arts program at your school - what did you like most about it?
There was a great interaction in between arts departments. Throughout the year, the academy has different shows, which are attended by students of other majors. This gives everyone an opportunity to appreciate the arts and become part of Idyllwild's art community.
Extracurricular Opportunities:
1.) Describe the extracurriculars offered at your school - what did you like most about it?
Idyllwild has different student associations and clubs. Students have different opportunities to connect with people of similar interests and backgrounds.
Dorm Life:
1.) Describe the dorm life in your school - what did you like most about it?
Dorm life at Idyllwild is truly about spending time together and building a community. Students like to hang out at the common rooms and have sleepovers during the weekends.
Dining:
1.) Describe the dining arrangements at your school.
Idyllwild has a wide variety of food types to choose from. Students with vegan, gluten-free, or vegetarian diets will always find good food at the dining hall.
Social and Town Life:
1.) Describe the school's town and surrounding area.
Idyllwild is a small town rural town. Even though there are no shopping malls or Starbucks, the town has its own magic. This is the perfect place for someone who wants peace and really wants to focus on improving their performance in the arts.
2.) Describe the social life at your school - what did you like most about it?
Most of my friends where creative writing majors. What I liked the most about making friends in IAA was that we could share the regular high school classes (ex. math, science, english) and then share art classes. In this way, we could experience regular school and an arts academy together.
Idyllwild Arts has an incredibly unique community of faculty and students. Since the campus and the town of Idyllwild is so isolated, those who live there become very close to each other.. . .
Living in the incredible town of Idyllwild is a really incredible setting for any aspiring artists around the high school age. It was inspiring to be living in nature while also being close enough to. . .
IAA was a unique institution because it fostered a learning environment centered around the arts. The small faculty-to-student ratio allowed students to connect with professors and be supported in all aspects of their learning. Keeping. . .
Show more reviews (

17 reviews

)
Mastering the Boarding School Selection Process: A 5-Step Guide
Discover the ultimate 5-step guide to choosing the perfect boarding school for your child. Explore essential factors, such as academics, campus facilities, extracurricular activities, and more. Make an informed decision to provide your child with an enriching and transformative educational experience. Read now!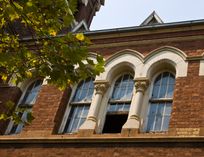 5 Founders and Their Boarding Schools
What prompts somebody to start a boarding school? The motives range from idealism to munificence right on through to capitalism. The common thread seems to be ample capital and a vision of what education can do.