Reflections and Advice:
1.) What do you think makes your school unique relative to other boarding schools?
We looked at 3 other schools in the south before deciding and this may not help but my parents said the choice was mine. I chose Darlington, truth be known, because it was coed. I did not realize the international relationships I would make or the family atmosphere the teachers created.
2.) What was the best thing that happened to you in boarding school?
I know, without exaggeration, I would not have graduated high-school without Darlington. My ADD labeled me, in most environments, a problem without diagnosing me ADD. I struggled to make a single 'B' in private schools in Atlanta. I made mostly 'B's at Darlington and not because it was easy. I would not call it hard either. I just know I did the work, learned to love literature, found out that people really do sit around and talk about books and what they think they mean, talked about experiments Dr Campbell did in class and have someone show you the formula for rotational physics that you didn't write down because you kept doing the experiment... and lastly made me realize the smart kid was not a nerd and really liked when you asked him about a lesson because we were all in it together. Why? Overall Darlington was not cliquish nor did it have a pecking order.
3.) What might you have done differently during your boarding school experience?
Strip away everything you thought you were..from wherever you came. You are your own person now, as is everyone else, and the image of God that is in you will come out without the former social, economic or other false definitions that the community you grew up in labeled you.
4.) What did you like most about your school?
See above ;-)
5.) Do you have any final words of wisdom for visiting or incoming students to your school?
I had friends at Mcallie, Baylor, Christ School. For most part we all enjoyed our schools and thought ours was the best. I know Darlington was based on the rules were clear but not strict, there were girls and it is a beautiful campus!
Academics:
1.) Describe the academics at your school - what did you like most about it?
here is what I tell everyone. after attending what could arguably be the 2 top schools in Atlanta, Darlington did what no other school could do. I was (am) extremely ADD. I remember every teacher and every subject at Darlington yet the other school prior were a haze to me. While I hate to say 'passionate, caring teachers' because it is such a cliche, there are no other ways to describe the atmosphere in which I flourished academically. To this day I still struggle with math. However, getting a 'B' in calculus my senior year is nothing short of miraculous. The reason why? The teachers expected nothing but the best. The students wanted to learn because the teachers made it interesting...and I do not know how Syd Lockhart managed to teach one student who was a straight 'A' student calculus and me in the same class and we both excelled.
Athletics:
1.) Describe the athletics at your school - what did you like most about it?
At Darlington, we were not a powerhouse in anything. However, the mandatory after school participation kept us active. I played some sports, intramural, that I would never have played if I was not at Darlington.
Art, Music, and Theatre:
1.) Describe the arts program at your school - what did you like most about it?
I did not participate in theater but as a boarding student we went to our own theater productions often.
Extracurricular Opportunities:
1.) Describe the extracurriculars offered at your school - what did you like most about it?
I did not do much extra curricular activities. A lot of us went to each others hometowns on the weekends or to the river.
Dorm Life:
1.) Describe the dorm life in your school - what did you like most about it?
Dorm life was the best. It made one independent, accountable and most of all social. Darlington was special because although the buildings were old and spartan, they were comfortable. Having girls across campus kept us all from turning in to slobs!
Dining:
1.) Describe the dining arrangements at your school.
There are boarding schools with good cafeteria food? All kidding aside, some was good, some was bland but like much else at Darlington, it was at our discretion and had to make decisions on when to eat. You could also purchase limited food from the store
Social and Town Life:
1.) Describe the school's town and surrounding area.
Rome is beautiful. It is not in the middle of no where nor is it close to an urban area with inherent problems. We could day trip to whitewater, mountains, Altanta
2.) Describe the social life at your school - what did you like most about it?
We had lots of free time around classes to socialize, boys and girls, I understand huckabees is no longer there but it was on the edge of campus and we could buy snacks the campus store didn't have
Daily Schedule:
Weekday
Weekend
6:00 PM
Vespers and talk about the weekend!
The campus is breathtakingly beautiful. Complete with its own lake and full brick buildings from the dorms to the classrooms. There was never a dull day on campus because just sitting out around with friends. . .
Walking onto the campus and seeing the beautiful architecture and landscape of Darlington is absolutely a highlight of the school. You feel like you've been transported somewhere incredibly quaint and special.One thing that I. . .
I thought it was very unique how my school would pair boarding students with families of day students who lived in the area and attended the school in order to give the boarding students opportunities. . .
Show more reviews (

8 reviews

)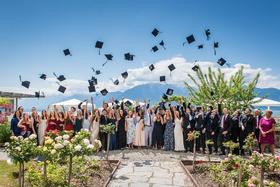 Nurturing Futures: A Journey through Boarding at Haut-Lac School in Switzerland
Nestled in the hills overlooking Lake Geneva in the French-speaking part of Switzerland lies an educational gem that embodies a unique blend of academic excellence, cultural richness and a profound sense of community. Founded over 30 years ago, Haut-Lac International Bilingual Day and Boarding School is now home to both 600 day students and a maximum of 30 boarders from around the world.
Navigating the Modern Maze: Emerging Challenges for Boarding Schools
Explore the pressing challenges facing boarding schools, from marketing difficulties and rising insurance costs to facility maintenance and recruitment of competent trustees and teachers. This article delves into these complex issues and proposes innovative strategies to overcome them.
What To Wear at Your Job Interview
Navigating job interviews can be stressful, but knowing what to wear shouldn't be. Our comprehensive guide covers the essential dress code tips for men and women interviewing at boarding schools. Make your first impression count with style and professionalism.